Shifting sands
In a week in which the Premier League fixtures were revealed, which of the sides at the top of the Premier League has the edge? As Daniel Storey examines, they certainly all have their worries
Last Updated: 21/06/13 2:31pm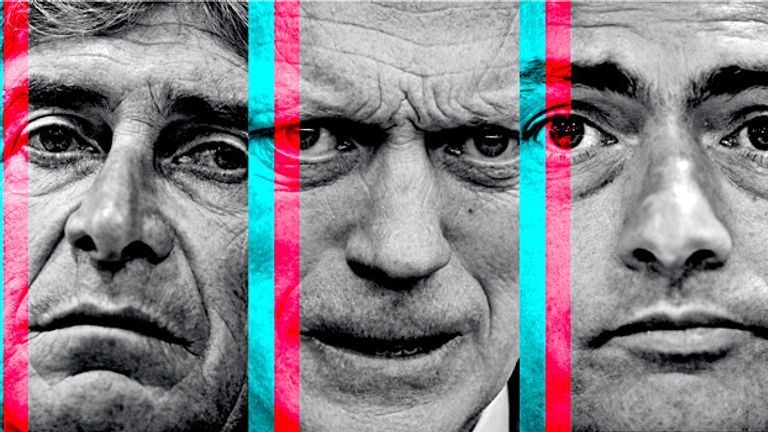 The action may still be two months away but the Premier League title race already promises to be one of the most intriguing in years. It is unprecedented that three different clubs are available at such similar odds to lift the trophy in May, and Sky Bet currently have Manchester United priced at 9/4, Manchester City 12/5 and Chelsea 5/2. The justification for this is clear, as this is also the first time in Premier League history in which the top three clubs all have new managers.
Whilst David Moyes, Manuel Pellegrini and Jose Mourinho will all use the summer to familiarise (or re-familiarise, in Mourinho's case) themselves with their new surroundings, formulating tactical plans and introducing themselves to players, uncertainty is inevitable at the appointment of a new manager. A new coach (often with new backroom staff) will undoubtedly take time to imprint their ethos on the playing squad, but the Premier League is a stage on which it is important to learn quickly - title races can be severely damaged within three or four games.
So, with the bookmakers unable to split the rivals, we take a look at the concerns that stop each of the top three sides being clear favourites for the title...
Manchester United
It was said as a deliberate ploy to undermine rivals Manchester City, but Ryan Giggs' comments last season that retaining the Premier League title being significantly harder than winning it suddenly reflect back on United. The Old Trafford club wrestled their crown back from their city rivals last season with impressive assuredness, but now face a daunting prospect - life after Ferguson.
Having seemingly decided that they wanted to appoint a British manager, David Moyes was United's only realistic appointment, but there was an initial underwhelming reaction from supporters. There is no doubting Moyes' achievement on a stringent budget at Everton, but doubts must remain about his ability to manage at the very highest level.
Moyes' toughest task is not his squad, but the man he has replaced. The dynasty that Fergie created at Old Trafford heightens the pressure on every decision the new manager makes, that much is inevitable. From the moment his United side take to the field at the Liberty Stadium in August, Moyes will effectively be pitched against his predecessor - it is only natural for fans and media (both partisan and neutral) to make such comparisons. That he also has the task of retaining the title simply adds to the pressure.
The concern is not how Moyes deals with the smooth but the rough. The first dropped points, first defeat, first injury and first lead squandered, all will be a test of the Scot's nerve. There should be no doubts of Moyes' acumen, but his task is to follow football's ultimate Lord Mayor's show. That would be a significant examination of any manager's talent.
Manchester City
Although the decision to remove Roberto Mancini from his position in May was not met with universal agreement, there is no doubt that Manchester City regressed last season. Defending their title always promised to be tough, but to effectively concede defeat in the title race by February (when United established a 12-point lead) was reasonably considered to be unacceptable. Add a second consecutive failure in the Champions League and the Italian's position became untenable.
Manuel Pellegrini has therefore been tasked with affecting an upturn in fortunes in Premier League performance, whilst also given the remit of improving European fortunes. The Chilean's task was spelled out exactly by chief executive Ferran Soriano: "In the grand scheme of things, if we look at the next five years and I could plan now, I would say I want to win five trophies in the next five years." No pressure, then.
Unfortunately for Pellegrini, he is also following a fans' favourite in Manchester. Whilst Roberto Mancini did not build an empire comparable to Ferguson, he did provide the club's first trophy for 35 years and first league title in 42 - the Italian retains a significant fanbase at the Etihad.
Furthermore, Pellegrini has been asked to look after more than just first-team affairs. The club's use of the word "holistic" in their statement announcing Mancini's dismissal indicated that the owners will want the Chilean to improve all aspects of the club's operations. This must include a significant interest in the youth system, something his predecessor was guilty of avoiding.
Effectively he has been tasked with winning a major trophy within his first two years (and pressure will be dramatically increased if he suffers a trophyless debut season), whilst also being responsible for bringing all elements of the club closer together. And this is all to be achieved in his first season at a new club, in a league or country in which he has never coached before, at the richest club with the biggest budget. Let's hope Manuel Pellegrini has the stomach for a fight.
Chelsea
Chelsea may have won the Europa League last month, but 2012/13 will be remembered as the season during which the club truly became English football's soap opera. The sacking of Roberto Di Matteo in November caused cracks in the relationship between club and fans to widen significantly, and supporter reaction to their interim manager Rafael Benitez displayed their evident unease at the appointment, threatening to undermine on-field performances.
Di Matteo always felt like a temporary option at Chelsea, but after eight managers since the beginning of 2007/8, Roman Abramovich has created a scenario where every appointment seems to command such a tag. And so, perhaps in an effort to re-track and rebuild, they have gone back to what they know.
Chelsea have not been in a serious title race since 2009/10, when they pipped Manchester United to the post. Despite significant investment last summer they fell comfortably short in both the Premier League and Champions League, and Mourinho's first task is to effect an upward trend.
It must be said, however, that this is a much-changed Mourinho. He is no longer fresh-faced, and during his last season in Madrid fell out with several high-profile names - doing a similar thing at Stamford Bridge has led to managers losing their jobs. In addition, Jose's time at Real was not an unmitigated success - £160m spent to win one title and one domestic cup in three years.
The other complication for Mourinho is the presence of technical director Michael Emenalo. The Portuguese has publicly stated his happiness at the future relationship, but the fact remains that Mourinho is a manager that demands authority. He is an all-encompassing boss, wanting to control every aspect of a club's affairs.
There is a danger that Jose's first spell in charge of Chelsea has been romanticised, and fans must hope that time is a healer. His relationship with Abramovich was degraded to such an extent that they parted ways, and the appointment seems to be more of an 'I need you and you need me' decision made by heart rather than head.
On the coattails
Such issues within the Premier League's top three will give others hope, and Arsenal fans may feel more confident during this summer than any other in recent years. None of their high-profile players look set to be sold, and chief executive Ivan Gazidis recently revealed the club's increase in budget: "Of course we could do that [spend £20m on a player and offer £200,000 a week wages]. We could do more than that. We have a certain amount of money which we have held in reserve."
Elsewhere, Andre Villas-Boas' decision to stay, and Franco Baldini's appointment, at Tottenham hints that significant transfer funds will be made available, whilst Liverpool have already made moves to secure exciting players fitting Brendan Rodgers' football philosophy.
One thing is sure - uncertainty inevitably creates doubt, which opens up the possibility of weakness. That makes for a potentially thrilling season at the top of the Premier League.