Free Agent - Alan Lee
The first free agent to fall under our microscope in his search for a new club is former Ipswich and Huddersfield striker Alan Lee. Over the next month or so we'll be speaking to a host of footballers at a crossroads in their careers as they look to get hooked up for next season.
By Chris Burton
Last Updated: 26/06/13 9:52am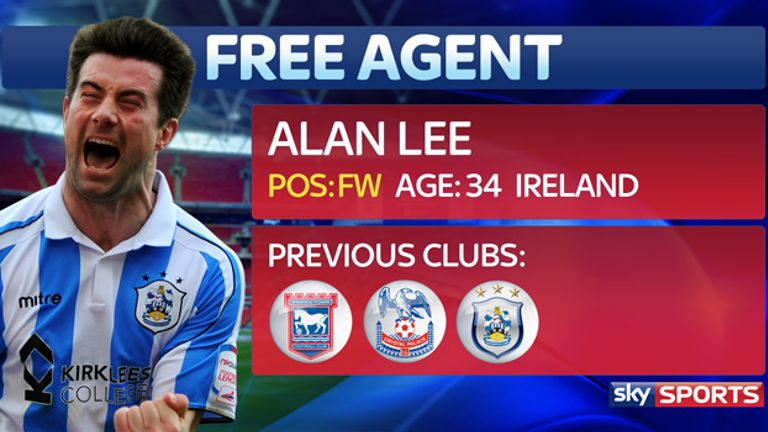 Alan Lee is unaccustomed to finding himself without a club, with the experienced frontman having dropped into the free agent pool for the first time in his career.
Now 34 years of age, the former Republic of Ireland international was released by Huddersfield after helping them to preserve their Championship status in 2012/13.
He is a striker who has scored goals wherever he has been, with the likes of Rotherham, Cardiff, Ipswich and Crystal Palace having benefited from his killer instinct in the final third of the field.
What's your situation at the moment and what mindset are you taking into the summer?
I'm quite relaxed, really. I was obviously disappointed to be released but it's presented me with an opportunity, so I'm quite looking forward to that. I've had a couple of offers, so I'll think them over in the next couple of weeks. I'm keeping my options open. We've just had our first child, so it's got to be the right thing for me.
So you have a couple of offers on the table already?
Yes. I have got to have a couple of meetings, but I'm just going to hold back and not make a decision just yet.
You've been taking your coaching badges, so are you looking to combine duties on and off the field?
I have completed my B and I'm halfway through my A. I've really enjoyed that so I'm thinking if there is an option of playing and coaching and getting some experience, I'm hoping that might be part of the deal. If I signed in the summer, I could maybe do a bit of work with the academy as I do my coaching badges.
Is it something you have to accept in the modern game, with fewer long-term contracts, that you might have to drop into the free agent pool at some stage?
I'm 34 years of age and this is the first time I have ever been released. There are a lot of players who get released a few times in their career, so I've been very lucky. I am very happy with my career but I'm not ready to stop just yet.
I take it you are looking to get something sorted out as soon as possible. You don't want to miss too much of pre-season do you?
I'm okay on that front. I have kind of not stopped. I had a week off, but I play a lot of tennis in the off-season at my local tennis club. I know I'm in good shape. At my age, I know from experience you can't go and have three or four weeks off. What I've had is have a rest and then been very lucky that I know a tennis coach at the local club and I've been doing fitness work with him. I know I will be in good shape whenever I sign for a club.
But you want to get in somewhere and get to know a new group of players and a new manager don't you?
That's important. It goes with the right club. I want to make sure the manager of the club has the right ethos. It's very important that, getting to know the lads. I just want to keep my options open. I'm optimistic for the future whatever happens.
You made 20-odd appearances in the Championship last season, so do you feel that is a level you can still do a job at?
I certainly feel I can. I know I made a big impact as a substitute. I know at 34 I won't be top on anyone's target list, but I feel I can definitely do a job. I got Huddersfield a lot of points last year and hopefully I can do the same. Last season was also on the back of a missed pre-season with a knee injury. But the back half of the season I was able to get into a lot better shape and I feel really good.
You will have family commitments to think about, but would you be prepared to relocate one more time?
That's the catch 22. At the moment we live in Huddersfield and we have also got a base in Suffolk. Maybe we would be more biased towards heading over somewhere that fits in with travelling distance from Huddersfield or Suffolk. I'm not sure if it would be possible for us to move right across the country again. We'll see. It depends on the club really.
You have a good base to branch out from don't you, with there a lot of clubs across Yorkshire and Lancashire?
And Huddersfield is right in the middle of it. That's one thing about living up here, you have got a lot of options. There are a lot of clubs within an hour's travelling distance. It's definitely something to consider.
Do you feel that your experience is your trump card, that you can offer much more than just a number in a squad and an extra attacking option?
I think as you get older you realise it's not just about you and what you do on the pitch, it's about setting a good example - be first in, last to leave and show the enthusiasm. The young pros look up to the senior lads and very often take account of what they are doing, take their lead from them. I hate seeing lads come in unenthusiastic. As a senior pro, you've got to be the most enthusiastic and you can make that rub off on the other lads. That's something I think I have done a lot more. When I was younger, we used to come in and train and notice these things. I know I can influence training sessions and other senior pros can. That's a big part of it for me. I have always loved training.
And at this stage of your career, is it about finding a challenge you will really enjoy and something you can sink your teeth in to?
Entirely. It's nothing to do with money. I love playing football. I'd love another experience, another promotion or another achievement. That's what it's all about, that and getting a bit of experience coaching if possible. They are my priorities. Money doesn't even come into it.
We would like to hear your thoughts on the best free transfers out there. Who should we be talking to? Who are this summer's bargains? Who should your club be targeting?
Maybe you are a player that would like to be featured, or an agent looking to get a client fixed up for next season. To offer your suggestions fill in the feedback form below or get in contact with either chris.burton@bskyb.com (@SkySportsChrisB) or alex.dunn@bskyb.com (@SkySportsAlDunn).