Free Agent
The next free agent to fall under our microscope is former Derby, QPR, Nottingham Forest and Norwich goalkeeper Lee Camp. Over the next month or so we'll be speaking to a host of footballers at a crossroads in their careers as they look to get hooked up for next season.
By Chris Burton
Last Updated: 06/07/13 12:00pm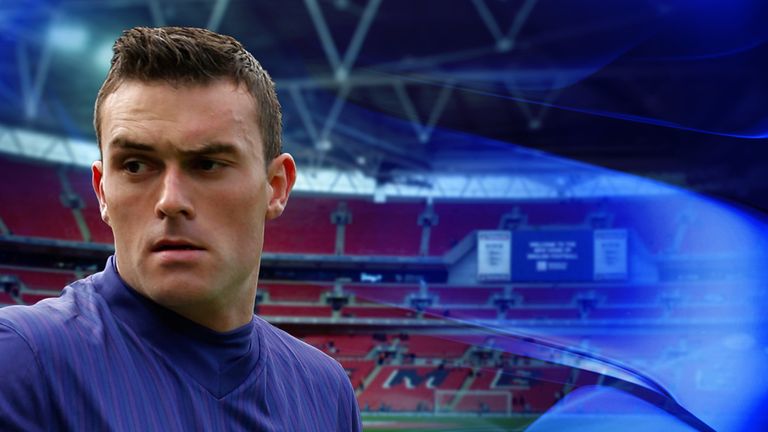 A CV which boasts over 300 career appearances, Premier League experience and nine international caps for Northern Ireland suggests Lee Camp will not be in the free agent pool for long.
Spells at Derby, Queens Park Rangers, Nottingham Forest and Norwich have allowed the 28-year-old goalkeeper to forge quite a reputation, and he is looking forward to opening a new chapter in 2013/14.
Where he ends up remains to be seen, but Camp is ruling nothing out in his search for regular first-team football at the highest possible level.
What's your situation at the moment and your mindset at this stage of the summer?
I'm a free agent and I haven't got a club. My mindset has been the same now for a while. I always had in mind that I would see out my contract at Nottingham Forest. Once negotiations broke down, I went to Norwich in January - which was fantastic, but I knew that was a short-term deal to help them out. It also helped me out no end. I always knew that I would probably come around to this situation, unless something changed in January or if something a bit more came up at Norwich - which you never say never in football. It was a very short-term thing, though, and I always knew I would get into this position. I'm quite comfortable with where I'm at at the minute.
Is it just a case of being patient and waiting for the right opportunity to present itself?
Being a goalkeeper as well, there is only one position - two within a matchday squad - so my position is a little bit different to an outfield player who can perhaps play in a number of positions and add variety. I respect that there are only so many spots. It's about finding the right thing. I like playing football - I'm not one to sit around and do nothing, I like the pressures of a match day and playing. It's about trying to find the right one and getting back playing. I missed playing when I was at Norwich and that's important for me. But I understand that the position with a goalkeeper, you can only play one at a time. I will never rule anything out, but I enjoy playing.
It's the first time in your career that you've been in this situation, are you trying to look at it positively - with your fate in your own hands now?
It's the first time in my career that I have come across this. I have been in situations before where I have been told that I can leave football clubs, but I've always had time on my contracts and I've eventually been able to move on. Hopefully I'll find something that's right for me. It's nice to be able to think that your destiny is in your own hands, in a way. In another way, that only happens if you've got offers, a couple of clubs, and you can pick and choose. It's nice to think that if something comes around that suits all parties you can move on quite quickly and it makes the transition a lot smoother with not having a club to speak to or try to get out of or things regarding a transfer. It could be very straightforward.
Are there any regrets about how things ended at Forest, given that there were contract talks and Billy Davies returned shortly after you left - someone you have enjoyed playing under?
Not really. I think my time was up there. The new owners came in and they have got ideas about what they want to do and where they want to take the football club - chopping and changing the managers. I was in a position where my contract was running out and they have got to do what they think is right for their football club. I respect that. It's business and I don't take anything personally in football. They had to do what was right for their football club and I was in a position where my deal was coming up and we reached a mutual agreement, simple as that. With Billy coming back, would I have hung around if I knew he was coming back? I don't know. I think my time was up there and you move on. The football club moves on and you have to move on personally. It was probably the right thing for everybody.
Back in the present, has there been much interest so far - you've been keeping yourself fit at Dundee United haven't you?
Yeah, there is talk and I've had phone calls and spoken to a few people. There are some really good things that I have spoken about but nothing has come to fruition as of yet. I've got family in the Dundee area so I'm really grateful to Jackie McNamara and the goalie coach Craig Hinchcliffe up at Dundee United and the rest of his staff for allowing me to come in for a week to get fit and use their facilities. I am really grateful for that. I am a big believer in training, I like to train, and the easiest thing is to go away and have an extra holiday and do other things but I want to be fit, I want to be ready when something happens. I don't want to be playing catch-up or having to worry about fitness, I want to hit the ground running. I am really grateful to them for that and hopefully with one of the things that have gone, something will fall into place sooner rather than later and I can just fall into it and hit the ground running.
What level are you looking at - you're a proven performer in the Championship aren't you?
I think you have to be realistic There are obviously teams looking for goalkeepers, but there are only a limited amount of places that are looking. You hope that someone inside the football clubs likes you and they want to do a deal and you can strike a deal. I'm like anybody, I want to play at the highest level I can possibly play at. I had six months in the Premier League and it opened my eyes to how special it is, and it's the place to be. I was lucky that I was at a great club with some really fantastic people at Norwich and it opened my eyes. I won't lie, I'd love to be in there again, but I'm also realistic and know I'm more proven at Championship level than in the Premier League - I've only been there six months, I accept that. Whatever opportunity comes around, I'll look at everything. The Premier League is the place to be for anybody and if you haven't got aspirations of being in there, then there is something wrong.
While you want to play as high as possible, you are also someone who wants regular games so are you hoping to go in somewhere where you will be first choice?
Yeah, I want to go and play football. Realistically, if I want to get back playing and have that, the Championship is the target I have to be looking at. I'm not going to walk into any Premier League club and be the number one there. It's the place to be and if there is an opportunity to go and compete or be around it then that is something I will look at, but anybody who knows me knows that I enjoy playing and that's what I want - that responsibility and pressure. But it's about being realistic and setting your targets right and keeping things in perspective.
And relocation isn't an issue I take it, you're prepared to go where the best offer takes you?
I'm open to anything. I like to experience new parts of the country. I've been down south before, spent time down there, and I'm obviously a Midlands boy. I have got family in the Dundee area in Scotland, so location isn't overly important to me. It's about the right things for myself and the football club I go to. I'm open to all experiences in life. I think it broadens the mind, as they say.
I imagine you're keen to get something sorted quickly aren't you, with pre-season already under way?
I speak to friends who have started back and it's that thing, a week before pre-season you start thinking about all the running and, from a goalkeeper's point of view, hitting the deck again, but I've enjoyed it this week being back in with the boys at Dundee United. Once you start back, I think players like it no matter how much they moan about it - it's nice to be back in with the lads. It would be nice to find somewhere I can call my own and be part of a team again and really get my teeth into something. I'm itching for a challenge. I like playing and I want to be a part of something. It's something I miss and I would like to have something sorted. Everyone likes a bit of security in their lives and know what they are doing and move forward.
Are you looking forward with optimism? Are you confident that you will get something sorted that excites you and presents the kind of challenge you are after?
I think so. It's just a waiting game. Football clubs have got to take care of business. You can sometimes get wrapped up a little bit in that you are the be-all and end-all of everything, but you have to realise that football clubs are probably doing a lot of deals and a lot of things bringing players in and out and getting offered players left, right and centre and the usual stuff that goes on. It's just being patient and being ready. If something comes around sooner rather than later, fantastic. But it's one of those things, you can't force it. You have to be patient, be calm, be confident in your ability and when it comes around be ready.
We would like to hear your thoughts on the best free transfers out there. Who should we be talking to? Who are this summer's bargains? Who should your club be targeting?
Maybe you are a player that would like to be featured, or an agent looking to get a client fixed up for next season. To offer your suggestions fill in the feedback form below or get in contact with either chris.burton@bskyb.com (@SkySportsChrisB) or alex.dunn@bskyb.com (@SkySportsAlDunn).