Liverpool's greatest?
Who has been Liverpool's best manager? Sky Sports is launching a vote to discover the finest boss in the history of each current Premier League club and we want your opinions
Last Updated: 19/07/13 1:57pm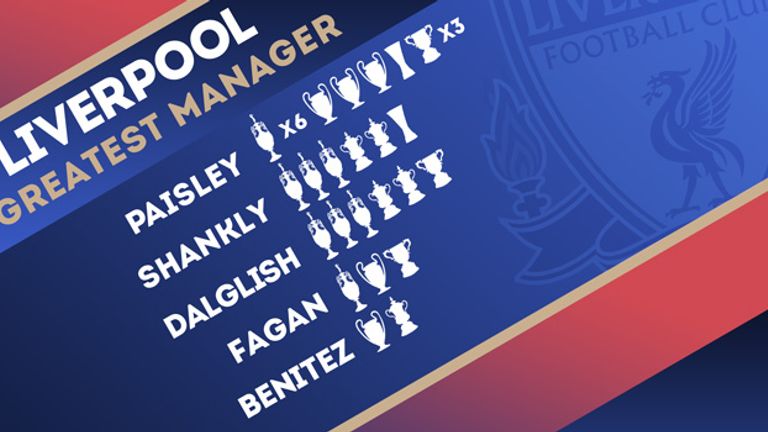 For a club whose managers were frequently produced from Anfield's famous bootroom, Liverpool's bosses have often been held in high regard on The Kop. Combine this with the success the five-time European Cup winners have enjoyed over the decades and the Merseyside club's tacticians are also recognised as legends around the world. But who has been the greatest? Sky Sports has narrowed it down to five candidates in Rafa Benitez, Kenny Dalglish, Joe Fagan, Bob Paisley and Bill Shankly. Now, we want your vote for the best of the bunch. Have your say and we will announce the winner in the week commencing 12th August.
Rafa Benitez (2004-2010)
The Spaniard arrived from Valencia in 2004 to manage a Liverpool side a long way short of the quality Kopites had been used to in the 1970s and 1980s. That did not prevent him from leading the team to UEFA Champions League glory in his first year. Liverpool beat AC Milan on penalties after one of the most astonishing comebacks in modern football, with Benitez credited for inspiring his side to recover from 3-0 down at half-time to draw level at 3-3. He added an FA Cup in 2006 and came closer than any manager in the Premier League era to ending the club's wait for a league title in 2008/09, finishing second to Manchester United. Liverpool also finished as Champions League runners-up in 2007.
Kenny Dalglish (1985-1991 & 2011-2012)
Widely considered the best player ever to wear the red of Liverpool, Dalglish took over as player/manager in 1985. A league and FA Cup Double in first season was the perfect start and he was in charge of arguably the most entertaining Liverpool side in history between 1987 and 1989. The way he dealt with the Hillsborough tragedy only added to respect for Dalglish from Liverpool fans. He resigned in 1991 after winning three league titles and two FA Cups before returning for a second spell as boss in 2011. He could not match the success of his first tenure but did win the League Cup to end Liverpool's six-year wait for silverware before being sacked in the summer 2012.
Joe Fagan (1983-1985)
His appointment continued Liverpool's tradition of promoting from within and the latest bootroom manager continued where Bob Paisley left off. In his first season in charge, Liverpool won the Treble of the league title, League Cup and European Cup, exceeding even the most optimistic of expectations. Fagan left the club at the end of the following season in the aftermath of the Heysel disaster having led the side to another European Cup final.
Bob Paisley (1974-1983)
Assistant during Bill Shankly's reign, the softly spoken Geordie was quite a contrast to the man he replaced. But his success would eclipse that even of his old boss. Paisley managed an incredible 20 trophies in nine seasons as Liverpool manager, including six league titles and three European Cups. He remains the only manager to have achieved that feat.
Bill Shankly (1959-1974)
When he arrived at Anfield in December 1959, Liverpool were languishing in 10th place in England's second tier. Shankly transformed the club, taking them up before winning three league titles, two FA Cups and a UEFA Cup in 14 years on Merseyside. However, those achievements do not come close to illustrating the impact of the charismatic Scot. He made Liverpool the dominant side in English football and laid the foundations for much future success.
Who do you think has been the greatest manager in Liverpool's history? Have your say via the feedback form below and vote in our poll. Voting closes on 9th August