Higher stakes
Arsenal are not accustomed to top-table negotiations for big-money buys. Talk of a bid for Luis Suarez seems to show a flaw in their strategy, writes Jon Holmes
Last Updated: 08/07/13 5:56pm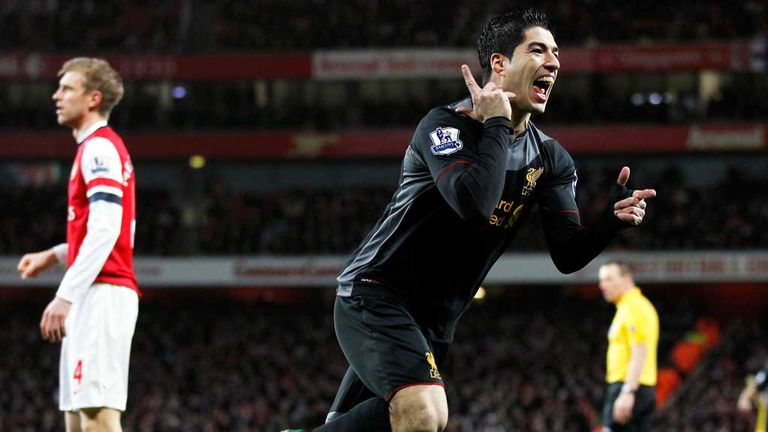 "An undisclosed fee" and a "long-term deal" - the staple details of pretty much every Arsenal press release that announces a new arrival.
That is why the verbal posturing in June from Emirates chief executive Ivan Gazidis that the club was preparing "an escalation in financial firepower" seemed so unusual - particularly as he even referenced a warchest figure of £70million. Having taken top dollar from Gunners fans for so many years and been deliberately coy where the money ended up in terms of fees and wages, here was a surprise strategy.
He stopped short of parking tanks on the lawn of his club's Premier League rivals (after all, in spending terms, Abu Dhabi and Roman Abramovich can still blow Arsenal away) but he did appear to be signalling a dramatic character transformation, like Scrooge shrugging off the miserly spirit and promising to bring a plump turkey to Bob Cratchit's door on Christmas Day.
So will Arsenal smash their transfer record this summer, and land one of European football's top strikers? Last summer, Olivier Giroud came in for £12million while Robin van Persie left for £24million, and although it is unfair to say the Frenchman was a direct replacement, the prices looked about right. Comparing combined goals and assists in the Premier League, the Dutchman directly helped Manchester United register 36 goals while Giroud's contribution resulted in 14. Add in the fact that the North Londoners collected a £1.5million bonus payment when United won the title, and it shows the two clubs were operating at different levels. The Gunners require a higher-calibre forward - and he will not come cheap.
Numbers are usually shrouded in mystery at Arsenal - it is not even clear who the club's record signing is anymore. We do know the Gunners paid £15million (or possibly £12million plus add-ons) for Andrey Arshavin, but only because Zenit St Petersburg told us so in January 2009. It is that much harder to play cloak and dagger when your trading partners insist on revealing the numbers.
Even back in 2000, Arsenal refused to say how much they paid for Sylvain Wiltord (it was understood to be £12million), although four years later they were prepared to admit shelling out an initial £10.5million for Jose Antonio Reyes. A further £6.5million was dependent on clauses, but seeing as Reyes hit only 16 goals in 69 league appearances, we can be fairly confident he is not the biggest buy.
More likely, it is his fellow Spaniard, midfielder Santi Cazorla (a reported £16million plus add-ons last summer), but whoever holds that heftiest price-tag, it is clear Arsenal like a little mystery in their maths - or specifically, they do not want the likes of you or rival Premier League clubs to see their working.
So Gazidis quoting an actual budget was rather startling - and now he is raising eyebrows by making offers, too. As it stands, that major addition - and the considered opinion is that it should be a striker - is yet to arrive; the only confirmed deal is for youngster Yaya Sanogo, who has hit four goals for France at the Under-20 World Cup and admittedly looks a classic 'one for the future' purchase. Moving up the financial scale, there has been plenty of talk of a move for versatile teenager Matthias Ginter of Freiburg, while Arsenal have certainly attempted to strengthen their midfield but have been knocked back in approaches for Bayer Leverkusen's Lars Bender and Lyon's Clement Grenier. But if there has been frustration over the failure to land any of those targets, it is nothing compared to the angst Arsenal fans are experiencing as the club attempts to land Real Madrid ace Gonzalo Higuain.
It would not be Arsenal without a strong element of saga to the story. Whether it is the slow shuffling towards the exit door of Van Persie or (slower still) Cesc Fabregas, or the 'sign da ting' sluggishness of Theo Walcott's contract talks, matters are rarely concluded swiftly when Gazidis and his colleagues are at the table. Even when discussing the "additional high-margin revenue" at Arsene Wenger's disposal, Gazidis was putting in provisos, insisting: "The key to this summer is going to be making the right decisions without damaging the great team unity and spirit which we have."
His first mistake, therefore, was revealing the funds with which Wenger has to play. With their ticket prices so high, no one is in any doubt over the colour of Arsenal's money but their summer spending policy did not need to be explained in such specific terms. Real rightly realise they can eke out more for a player who might want to stay at the Bernabeu, were he only to be given some assurances by new boss Carlo Ancelotti. So what would a Luis Suarez bid on the side achieve?
Perhaps Wenger genuinely wants the Uruguayan, despite the substantial baggage he would bring (he still has six games of his current 10-match suspension left to serve) and the fact he would rather move out of England than within it. But considering Suarez's talent, a £30million offer is underwhelming, even for an opening gambit. If it is an attempt to chivvy along the Higuain transfer - a tactical flirtation with one of Real's top targets - it might just make the Madrid club feel they are under-valuing their own player, who has hit 122 goals in 266 appearances over the course of the last seven seasons.
Manchester City have brought in Fernandinho and Jesus Navas, Chelsea have grabbed Andre Schurrle and Marco van Ginkel, while Manchester United look set to add Thiago to the capture of Wilfried Zaha - those who finished above Arsenal last season are actively recruiting. Meanwhile, there are fresh claims that another club looking for a striker is interested in Higuain, a club that's already made a statement signing in the last week and has just missed out on David Villa. Suarez stories must be taken with a pinch of salt but if Arsenal lost out to Tottenham in the race for Higuain, that really would stick in the throats of Gunners fans.