Benteke options
With the news that Aston Villa talisman Christian Benteke has handed in a transfer request, Sam Drury takes a look at where the highly-rated striker may end up
By Sam Drury
Last Updated: 10/07/13 5:46am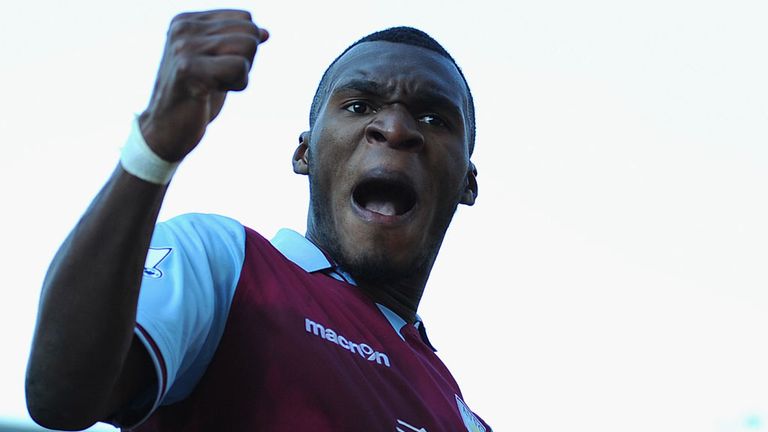 After scoring 19 Premier League goals for a side battling against relegation, Christian Benteke was always going to attract some interest this summer.
In his first season in English football, Benteke quickly showed he is made for the fast and physical nature of England's top flight. He was the shining light in an Aston Villa team struggling for much of the season, with the likes of Liverpool and Everton suffering at the hands of the big front-man.
His transfer request will disappoint Villa supporters but perhaps won't come as a complete surprise, with the striker making noises about the possibility of moving on almost as soon as the season ended.
His manager Paul Lambert has been keen to stress the dangers of leaving the Midlands club too soon, warning his sought-after goalscorer that, while a move to a bigger club might be appealing in the short term, a lack of regular playing time could hamper his development over a longer period of time.
It seems Benteke has decided such a risk is worth taking and certainly there will be no shortage of suitors now the Belgium international has made his intentions clear.
PL 2012/13
Christian Benteke
Robin Van Persie
Luis Suarez
Romelu Lukaku
Rickie Lambert
 
 
 
Games Played
34
38
33
35
38
 
 
 
Goals
19
26
23
17
15
 
 
 
Goals (left-footed)
3
18
5
7
0
 
 
 
Goals (right-footed)
12
6
15
5
11
 
 
 
Goals (headed)
4
2
3
4
4
 
 
 
Goals (outside box)
3
3
5
2
2
 
 
 
Goals (inside box)
16
23
18
15
13
 
 
 
Goals (penalties)
3
3
0
2
3
 
 
 
Hat-tricks
1
2
2
1
0
 
 
 
% of Team's Goals
40%
30.2%
32%
32%
30.6%
 
 
 
In his first spell in charge at Stamford Bridge, Jose Mourinho favoured a tall, physically strong central striker to lead the attack, with Didier Drogba a crucial player in the Blues side that won back-to-back league titles. Comparisons between the Ivorian and Benteke were made time and again last season and, although the 22-year-old has a long way to go before he can be put in the same bracket as Drogba at his peak, he certainly seems a player in the same mould.
It comes as little surprise then that the Villa man has been linked with a move to west London in recent weeks. With Fernando Torres only showing glimpses of his former self and Demba Ba unable to recreate his Newcastle form since his January move, the 'Special One' may well see Benteke as the man to lead the line.
One reason Chelsea may hesitate before pushing ahead with a move for Villa's no.20 though, is the fact they have their very own powerful Belgian striker. Romelu Lukaku spent last season on loan at West Brom and impressed with 17 Premier League goals of his own, just two short of Benteke despite having significantly less game time.
If Mourinho believes Lukaku, 20, can provide the same threat as the Aston Villa striker, he may reconsider whether splashing out the reported £25m+ the Birmingham side want for their star man is wise.
Liverpool - 12/1
Brendan Rodgers' men know all too well the damage Benteke can cause as the forward scored three and assisted another in his two games against the Merseyside club last season; Martin Skrtel is likely still having nightmares after his brace at Anfield. The youngster tore Liverpool's backline apart with his speed, strength and movement.
With Luis Suarez angling for a move away from Anfield, reinforcements up front will be required to supplement the likes of Daniel Sturridge and Fabio Borini, with the former Genk attacker supposedly on Liverpool's wish list.
Questions will be asked about whether the Villa man would fit in to the style of football Rodgers wants Liverpool to play, especially after another target man, Andy Carroll, was deemed surplus to requirements.
However, Benteke's ability on the ground and, perhaps most crucially, his mobility means he's more suited to the passing philosophy favoured by the Liverpool boss, whilst providing them with a different option in the air. If Suarez does indeed leave, a bid for the Villa front man shouldn't be ruled out.
Tottenham -8/11
Simply put, Tottenham need strikers. They got through last season with just Jermain Defoe and Emmanuel Adebayor as their forward options and, whilst the former started the season well, the latter never got going. When the goals dried up for the Englishman in the second half of the season, Spurs' deficiency up front was masked by the brilliance of Gareth Bale. However, if the north London outfit want to make the top four this coming year they cannot afford to rely so heavily on the Welshman.
Benteke has all the attributes to fit in to Andre Villas-Boas' team with the pace to be a threat on the counter-attack and the awareness in the box to get on the end of crosses from the likes of Aaron Lennon, Bale and Kyle Walker.
A move to White Hart Lane would ensure he got first-team football and played for a club challenging high up the league. If Spurs can stump up the cash then, on paper, it looks a good fit.
Arsenal - 7/2
All the signs point towards Arsene Wenger and Arsenal finally loosening the purse-strings and going after some of Europe's big-name players.
However, despite all the talk, nothing has come to fruition. A move for Gonzalo Higuain has been dismissed by Real Madrid, just days after suggestions it was all but complete, whilst a reported £30m bid for Suarez was never going to be successful.
Benteke is a completely different type of player to either Higuain or Suarez and indeed to Stevan Jovetic, another name regularly linked with the Gunners earlier in the summer. That may indicate that Wenger is after a player with qualities the Villa striker simply does not possess.
A move shouldn't be totally ruled out, however, with the DR Congo-born forward perhaps seen as an upgrade on Olivier Giroud - the Frenchman's goal tally not matching up to his clever link-up play - and similarly to how he could fit in at Liverpool, Benteke has the touch and movement to be a success at the Emirates.
The lure of Champions League football would also be sure to appeal to Benteke.
Atletico Madrid - 33/1
PL 2012/13
Christian Benteke
Robin Van Persie
Luis Suarez
Romelu Lukaku
Rickie Lambert
Assists
4
9
5
4
5
Goal Assist from Open Play
4
5
5
4
5
Goal Assist at Set Play
0
4
0
0
0
Aerials
474
106
42
162
201
Aerial Won
269
50
12
68
83
Aerial Lost
205
56
30
94
118
Fouls Conceded
66
37
48
22
35
Fouls Won
51
54
61
10
26
Diego Simeone's men have seen their main goal-threat Radamel Falcao tempted away by the money of Monaco and, despite agreeing a deal for Spain striker David Villa on Monday, Atletico are still likely to have a significant amount of the Falcao fee remaining, even taking into account the cut taken by third-party owners.
Benteke's form has not gone unnoticed in Spain and, having shown himself to be a success in England, albeit in just one season, a new challenge on the continent may appeal to him. The chance of linking up with a player such as Villa would also be something of a pull.
For Atletico's part the contrast of styles between the former Barcelona striker and the Premier League star could ensure opposition defences both domestically and in Europe have plenty to think about.