Business as usual?
Following the controversial appointment of Joe Kinnear as director of football at St James' Park, Lewis Rutledge looks at how Newcastle will have to adjust as they strive to push on from the difficulties of last season
Last Updated: 11/07/13 5:33pm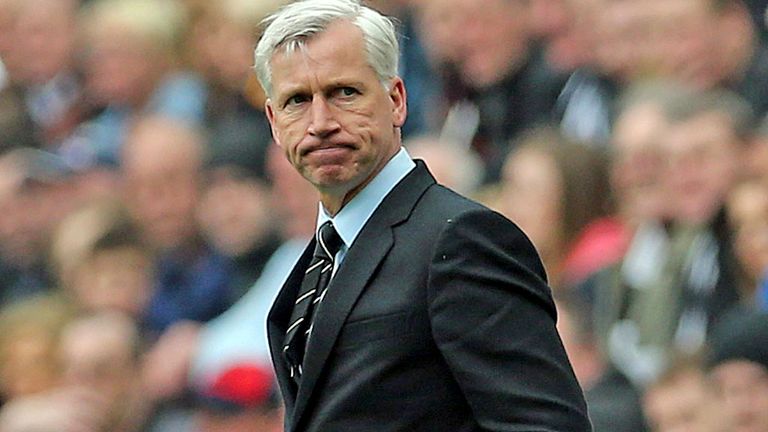 There was a collective sigh of relief from Newcastle United fans on the penultimate weekend of last season when they secured their Premier League survival following a relegation battle that was far too close for comfort.
The Magpies spent most of the campaign perched precariously just above the bottom three when really they should have been nowhere near, but supporters could at least point to mitigating factors such as a lengthy injury list and gruelling European campaign, and look forward to a relaxing summer.
Life is rarely that simple on Tyneside, though, and the appointment of Joe Kinnear as director of football generated bad publicity and left the Toon Army demanding answers about the backroom changes.
Kinnear's return to the club was unexpected to say the least. Here was a man who had a spell as manager in 2008/9 - standing down before the end of a season that ended in relegation after suffering a heart attack - back in a role that would risk undermining the authority of current boss Alan Pardew.
Kinnear caused anger and bewilderment in the week of his arrival with a string of interviews in which he got his facts wrong and mispronounced names, while he also said he had 'more intelligence' than fans and criticised club legend Alan Shearer.
Described upon his unveiling as 'the senior executive in charge of all football-related matters', Kinnear insisted that he would have the final say on signings.
Derek Llambias, full of praise for what Kinnear could bring to the club on the day he was appointed, promptly left his role as managing director and speculation increased that Pardew may soon follow out of the exit door.
Since then, though, attempts have been made to repair some of the damage and the focus of everyone at the club has been to look forward at the possible benefits of such a working relationship.
Dignity
Kinnear has always maintained that he will not interfere with team affairs, and distanced himself from past comments that he would see a director of football post as a route back into management.
He has also stressed that he will work closely with Pardew and head scout Graham Carr on transfers, whilst also attempting to build bridges with the fans by saying he has a huge affection for them.
Pardew has also emerged from a clumsily handled situation with a great deal of credit, maintaining his dignity and doing his best to appease both the players and fans without disrespecting Kinnear.
Admitting that Kinnear needed to make apologies to those whose names he had got wrong, Pardew has also left nobody in any doubt as to who will be running the team.
It was not surprising that he initially kept quiet about Kinnear's appointment until he learned more and spoke directly to his new colleague, but he did make it very clear from the outset that he had no intention of leaving.
Having signed an eight-year deal last September, we cannot know for certain how Pardew felt about Kinnear coming in, but we do know that he has done his best to bring stability to the club and is determined to see the job through.
He says it is business as usual and the two men can now get to work on trying to strengthen Newcastle's squad ahead of the new season.
The key to success will be to have clearly defined roles, with Premier League rivals such as Tottenham convinced that such a structure can reap rewards. Having appointed Franco Baldini as technical director at White Hart Lane, Spurs boss Andre Villas-Boas recently said: "I am used to working with a technical director and it is something I proposed because it is complicated to concentrate on the current squad and search for new players."
Targets
Kinnear and Pardew seem to be in agreement that Newcastle's main priority this summer is to recruit a striker or two, having been over-reliant on Papiss Cisse last season following the January departure of Demba Ba to Chelsea.
Darren Bent and Loic Remy are both on Newcastle's radar, according to Pardew, while Manchester City winger Scott Sinclair could be another player to boost their attacking options.
Carr has helped Newcastle make some shrewd purchases over the past few years, particularly in the French market, and his continued involvement is vital.
Whether Kinnear lives up to his bold claim of being 'head and shoulders' above other directors of football in the Premier League is doubtful, but he does have a good relationship with owner Mike Ashley and should be able to persuade him to invest more heavily if needed.
Pardew's focus last summer was on keeping the nucleus of his squad intact and it will again be vital to hold on to the likes of Yohan Cabaye, who has been linked with a switch to Paris St Germain.
Fabricio Coloccini has provided a boost by declaring his commitment to the club, having wanted to move back home to Argentina throughout the second half of last season, and if Newcastle can add a couple of top-quality signings to their existing squad there is hope for the future.
The Magpies finished a magnificent fifth two seasons ago but last term had to cope without leading players for long periods, with the squad stretched to its limit by a Europa League adventure that did at least offer some bright moments.
Newcastle will have to reassess their ambitions this season but if Pardew is allowed to get on with his job and Kinnear can use his experience to help, then at least the next 12 months should not be quite so uncomfortable.