Healthy ambition
There are plenty of Premier League clubs who have spent themselves into trouble but Norwich are showing the right kind of ambition in their transfer dealings, writes Sarah Winterburn.
By Sarah Winterburn
Last Updated: 17/07/13 10:09am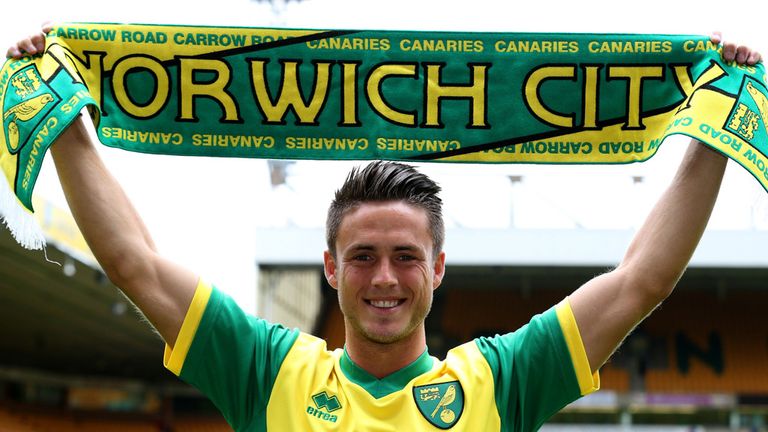 When Ricky van Wolfswinkel asked Dutch legend Johan Neeskens for advice on his next move after two goal-laden years at Sporting Lisbon, Neeskens rather surprisingly pointed him in the direction of East Anglia. Neeskens might have been a European champion three times with Ajax before moving to Barcelona, but he had no hesitation in recommending that his prospective son-in-law took a rather more circuitous route to the main stage via Norfolk.
"He said only one thing: 'Ricky, you have to go. It's a great club for you, if you have a great feeling, do it,'" revealed Van Wolfswinkel after completing his unlikely £8.6m move to a club oft-described as one of the Premier League's 'less fashionable' clubs. But forget fashion, this was - as the Dutchman later admitted - a 'perfect move'. This was a sensible, stable, family-orientated club in need of a hero. If the advert had read 'Small Pond Seeks Big, Hungry Fish' it could not have landed a better candidate than van Wolfswinkel.
His signing can safely be filed under 'coup'. This is a player who has scored 28 goals in 55 league appearances in Portugal but knew that he needed to prove his prowess in one of Europe's big five leagues to forge even half a chance of establishing himself in the Dutch national side. Norwich asked and he said ja - presumably after hearing about a squad whose spine (Ruddy, Bassong, Johnson, Snodgrass) are all in their mid-twenties and equally as hungry to fulfill two ambitions, to a) further establish Norwich in the Premier League and b) further their own careers.
Chris Hughton will hope that Van Wolfswinkel sees himself at a bigger club than Norwich in two years' time because that will mean he has scored a bucketload of goals and significantly increased his value. You pay £8.6m for a 24-year-old because at 26 or 27, he could be worth double that price. Plenty have written in the past about the importance of sell-on value and the Canaries' signings of Van Wolfsinkel and Leroy Fer are classic examples of that concept. They offer short-term value but also massive potential for long-term profit and further re-building.
Impressive
Fer's signing could eventually prove even more impressive than that of his fellow Dutchman. Everton were prepared to pay over £8m for his services in January before he failed a medical; now Norwich have signed a highly rated 23-year-old midfielder with five years' top-flight experience for £4m. The failed medical may make him a gamble but, at £4m, that's not an expensive gamble - Crystal Palace have spent more on Dwight Gayle.
Two summers ago I wrote that I would be excited if I were a Newcastle fan watching the arrivals of Yohan Cabaye, Demba Ba, Sylvain Marveaux and Davide Santon (despite media-led panic about the exits of expensive Englishmen like Kevin Nolan and Joey Barton). I get the same feeling watching Norwich bring in Van Wolfswinkel, Fer, Martin Olsson (a sensible, solid purchase of a sensible, solid player) and Nathan Redmond (potentially either a waste of £3.5m or the signing of the decade). Norwich have been in the Premier League for two years and they are acting like a club who expect to be there a lot longer. That's great to see as a neutral so it must be wonderful to watch as a fan.
This is not the kind of 'ambition' that sees players coming in on £80,000 a week or players on a downward career curve arriving from big clubs with big egos, this is the kind of 'ambition' that keeps you in the Premier League in the long term. Norwich have made signings they absolutely could not have made two years ago and probably could not have made a year ago. When you see the mess QPR made in trying to run before they could walk, you look at Norwich and rejoice that there are still some clubs with a proper, progressive plan. It really shouldn't feel so rare.
A version of this article originally appeared on Football365