What's the Mata?
There is persistent speculation that Jose Mourinho is willing to dispense with the services of Chelsea playmaker Juan Mata but any logic behind the move appears flimsy, writes Adam Bate.
Last Updated: 18/07/13 11:18am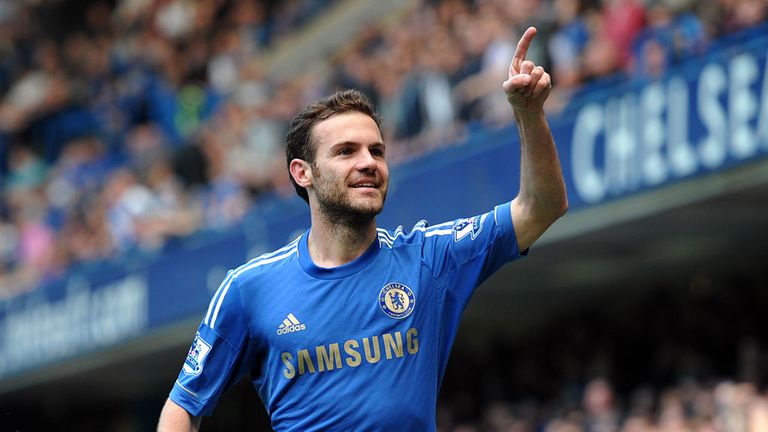 "I know in Spain," said Jose Mourinho, as his time at Real Madrid ended in disarray. "Many people hate me." Given the persistent rumours regarding Juan Mata's future, maybe the Portuguese coach is so sick of his Iberian kin that he cannot bear the sight of them around Cobham either?
It's a curious one. The reports that Mourinho simply 'does not fancy' Chelsea's star playmaker began to crop up even before his return to Stamford Bridge. The Blues continue to dismiss such talk but the speculation goes on. And such is Mourinho's reputation, doubts start to creep in. What is it that this world-class manager might have spotted that the rest of us are missing?
The logic seems to go something like this. People recall the functional powerhouse that was Mourinho's Chelsea from 2004 to 2006. The side that steamrolled the Premier League, winning back-to-back titles and boasting a home record of 32 wins, six draws and zero defeats in the process.
That side was built around a solid midfield trio that included Claude Makelele with two midfielders ahead of him. It was too much for English football to deal with. "If I have a triangle in midfield, Makelele behind and two others just in front," explained Mourinho, quoted in The Italian Job. "I will always have an advantage against a pure 4-4-2 where the central midfielders are side by side.
"That's because I will always have an extra man. It starts with Makelele, who is between the lines. If nobody comes to him he can see the whole pitch and has time. If he gets closed down it means one of the two other central midfielders is open."
As indicated by Mourinho's comments at the time, his strategy was a direct response to the standard 4-4-2 system that was so popular in England. Even famously progressive managers such as Arsene Wenger favoured a variant of the formation at that time. But the game has moved on - and Mourinho's tactics have developed too.
The 50-year-old coach evolved his approach during his time in Italy, operating in a league where there is far more tactical variation between teams. Wesley Sneijder, a player not highly-regarded for his work rate or defensive awareness, became a key figure for the Portuguese, playing as a No.10.
At Real Madrid, Mourinho constructed a team that smashed the Primera Liga goalscoring record - netting 121 times in their 2011/12 title-winning campaign. Here he utilised the considerable qualities of Germany international Mesut Ozil as his '10' - a player who, like Sneijder, is a creative rather than physical presence playing in advance of the midfield.
The bargain buy from Werder Bremen was a revelation. "Ozil is the best No.10 in the world," said Mourinho last year. "From Luis Figo to Zinedine Zidane, I have seen everything. But I still stand by my position. He has amazing talent."
That is not to say that Mourinho indulged his young playmaker. Ozil played the full game in just 27 of the 103 La Liga appearances he made during the coach's reign at the Bernabeu. And his manager even hinted that it had taken time for Ozil to adjust to his demands - and put an end to any doubts. "He stands out for the ease he has to assimilate new things," said Mourinho during his first season. "He has won us all over, fans and team alike."
Mata v Ozil - 2012/13 League season
Discipline
Juan Mata
Mesut Ozil
Goals
12
9
Assists
12
13
Shots per game
2.0
0.9
Chances created per game
2.7
2.9
Passing accuracy
85.2%
84.1%
So where does all this leave Mata? Well, the individual statistics suggest that he is more than capable of fulfilling a similar role to that of Ozil in Mourinho's system. He is more of a direct goal threat than the German but also possesses that same ability to create openings for others. Mata rivals Ozil for chance creation and assists, while his passing accuracy was slightly superior last season.
It is not as if Mata was operating in a more advanced area of the field than Ozil either. The example of when each man visited Old Trafford to face Manchester United in the spring reveals further evidence that this is a valid comparison. While Ozil operated in a slightly tighter band in the attacking midfield zone and Mata tended to pursue the ball around the field more - they were essentially performing similar roles.
And even if Mourinho did wish to return to a more defensively-minded midfield trio, it seems clear that the Chelsea boss does not have a squad that makes it feasible to do so. The man himself has already listed Mata, Eden Hazard, Oscar, Andre Schurrle and Kevin de Bruyne as evidence of the depth within the squad in the attacking midfield positions - and Mata is among the more tactically astute among them.
Certainly, Rafael Benitez is not a manager with a reputation for telling players just to go out and express themselves. The Spaniard's commitment to tactical discipline is such that his praise of Mata is significant here. "He is a player who is very dangerous getting into the box and also outside the box," said Benitez last season. "He is doing really well. Even without the ball, he is working really hard and when we are in possession, he is making a difference."
Given the animosity between Benitez and Mourinho, perhaps it was Mata's assessment that it had been a pleasure to work with his predecessor that has sparked the speculation... Friendship with Rafa? Nationality? Utterly ludicrous suggestions, of course. But what is equally clear is that - despite all the talk - there is no obvious tactical explanation for the reports of Mourinho wanting to dispense with the services of Juan Mata.