The Third Man
Much of the focus this summer has been on David Moyes taking over at Manchester United and the return of Jose Mourinho to Chelsea. This has allowed Manuel Pellegrini to get on with the job of putting his own stamp on Manchester City, writes Matt Stanger.
Last Updated: 19/07/13 12:16pm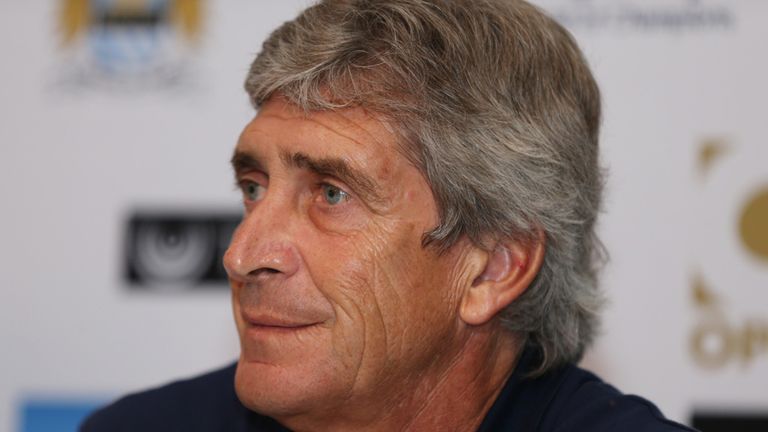 It takes a confident character to join a club at which the chief executive has set a target of winning five trophies in five years, but in two little words Manuel Pellegrini instantly dismissed the pressure of Ferran Soriano's demands. "Just five?" responded Manchester City's new manager on his first day in the job as journalists gathered hopefully for a first glimpse of uncertainty. If he were any more relaxed, he'd be horizontal.
You would think that being appointed as the new manager of the richest club in England would have caused more of a stir, but so far Pellegrini has been able to calmly go about his business with few distractions. As Chelsea and Manchester United tour Asia and squabble over Wayne Rooney, City have escaped on a pre-season tour to South Africa where Pellegrini has largely been able to avoid the limelight of his counterparts.
The main reason for this relative freedom is that Pellegrini is only the third most intriguing appointment of the summer, owing to David Moyes's promotion to Old Trafford and Jose Mourinho's return to Stamford Bridge. While Mourinho has a reputation to uphold and Moyes has one to build in his first and perhaps only shot at a top job, Pellegrini has been able to slip in the back door at the Etihad with speculation over Rooney making him even more inconspicuous.
Advantage
This is potentially a massive advantage for City, allowing them to enjoy the absence of intrusive coverage as the new manager impresses his ideas on the team. One of the leading criteria for replacing Mancini was that former Barcelona duo Soriano and Txiki Begiristain wanted a more attractive style of football, and Pellegrini has already set about fulfilling this aim. "Pellegrini likes us to press high up and press in numbers, to get the ball back as soon as possible and then play simple football," said Jack Rodwell recently. "You look at Barcelona and what they do and it works for them so hopefully we'll adapt."
Unlike Moyes and Mourinho, and evidently Mancini last season, Pellegrini has little to lose in his first 12 months in charge. As long as City keep pace in the title race and progress to the knock-out stages of the Champions League - something he achieved with debutants Malaga last year - he is likely to hold onto his job. After expressing his wish for five trophies, Soriano added: "That may mean we win no trophies one year and two in another, but on average I want one trophy or title a year." There is clearly a huge amount of pressure, but Pellegrini has at least some room to manoeuvre should City end up pot-less again next season. And even if his spell at City ended in disaster, the manager has such a strong reputation in La Liga that it wouldn't be long before he was back in work.
City's objectives are clear and in Pellegrini they have a steady hand who is capable of dealing with pressure and challenging for honours at home and in Europe. While it's United now making all the noise with the uncertainty that surrounds the new era under Moyes - provoked further by Mourinho's pursuit of Rooney - this period of quiet calm at City is exactly what they need ahead of the new season. The squad has been strengthened with three quality new additions and the decision to replace Mancini was dealt with swiftly and decisively. If Pellegrini can now continue to play the role of the Third Man at the top of the table, City could be the least-convincing dark horses in next season's title race.
This article originally appeared on Football365