Missing link
While the depth of talent at Manchester City might be described as an embarrassment of riches, Adam Bate feels the acquisition of Fernandinho might just provide a spark in midfield that Roberto Mancini's side often lacked.
Last Updated: 24/07/13 3:43pm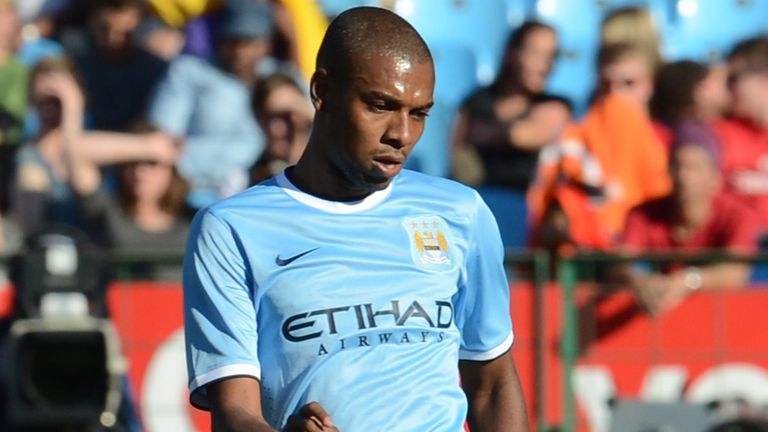 In a reign that will surely be remembered for the outrageous manner of the title win on the field and the soap-opera drama surrounding Mario Balotelli off it, Roberto Mancini's forlorn search for a deep-lying playmaker is likely to be forgotten. But for the man himself, things may be different. As long ago as 2011, Mancini identified Daniele De Rossi as "the perfect man to improve City" but the signing was not secured. So while Balotelli was jettisoned before Mancini got the boot, the search for creativity from deep was the problem that the City boss never did manage to solve.
Javi Garcia and Jack Rodwell showed few signs in their first seasons at the club that they are able to fulfil that remit just yet, while it seems reasonable to conclude that Gareth Barry - solid Citizen though he is - has limitations at the very highest level in Europe. Even Yaya Toure, for all his qualities, has been required to do some of his best work further up the field. As a result, Mancini has found himself turning to the likes of Owen Hargreaves and David Pizarro in the hope of finding short-term solutions to help solve the riddle of how to break teams down from deep.
Perhaps this was in Manuel Pellegrini's thoughts when he targeted the signing of Shakhtar Donetsk midfielder Fernandinho upon becoming Manchester City manager this summer. "I made Fernandinho one of the top priorities," said the Chilean boss. "He has impressed me on a number of occasions over the past few years and is another player I've taken a keen interest in. He is an experienced international who will further strengthen our midfield and I think he will be well suited to the Premier League. He is a superb athlete with a wide range of passing, can score goals and most importantly, can quickly turn defence into attack."
Successful dribbles - UCL 2012/13
Player
Club
Dribbles per game (8-game min.)
Fernandinho
Shakhtar
3.88
Isco
Malaga
3.25
Andres Iniesta
Barcelona
2.70
Frank Ribery
Bayern Munich
2.42
Marco Reus
Borussia Dortmund
2.23
Cristiano Ronaldo
Real Madrid
2.08
Arjen Robben
Bayern Munich
2.00
Joaquin
Malaga
2.00
Lionel Messi
Barcelona
1.91
Although Fernandinho is far from a playmaker in the mould of a Paul Scholes or an Andrea Pirlo, there is more than one way to spring attacks from deep. Pellegrini is likely to have noted the Brazilian's astonishing UEFA Champions League campaign last term in which the player emerged as something of a statistical phenomenon with his dribbling proving particularly impressive. Fernandinho produced more successful dribbles per game than the likes of Lionel Messi and Cristiano Ronaldo - offering a spark from deep positions and thus opening up the game for his side. In a man of the match performance at home to Dortmund in February, he embarked upon no less than five successful dribbles in his own half alone.
Topping the dribbling stats ahead of the biggest names in Europe is one thing, but the physicality of the Premier League necessitates an ability to compete in the centre of the field too - especially for a risk-taker like Fernandinho. Fortunately, the 28-year-old also boasts formidable defensive statistics having come up with more than seven tackles and interceptions per game in last season's Champions League. That's a figure only bettered by the robust figure of Paris Saint-Germain's Blaise Matuidi among regulars in Europe's premier club competition last term and is indicative of Fernandinho's all-round ability to make an impact in the middle.
Tackles & interceptions - UCL 2012/13
Player
Club
Tackles & interceptions (8-game min.)
Blaise Matuidi
Paris St Germain
7.33
Fernandinho
Shakhtar
7.25
Giorgio Chiellini
Juventus
7.00
Arturo Vidal
Juventus
6.89
Manuel Iturra
Malaga
6.88
Javi Martinez
Bayern Munich
6.82
This defensive capability presents the intriguing prospect of pairing Fernandinho with Toure in the centre of the pitch - an attacking option that could be implemented at the Etihad Stadium without leaving the home side too vulnerable defensively. The passing graphic for Shakhtar's 2-1 victory over Chelsea in October suggests that Fernandinho is comfortable operating in deeper midfield positions as well as further forward in attacking zones and the hope at City will be that the player has enough tactical awareness to pull off this dual role.
At 28-years-old, the price for Fernandinho is undoubtedly high and City are paying the premium that comes with buying a player at somewhere near his peak from a club with little financial need to sell. Respected scout and former Monaco chief executive Tor-Kristian Karlsen has been one of those to question the fee - particularly in comparison to the price paid by Tottenham for fellow Brazilian Paulinho, who is four years younger than his compatriot. But Karlsen does make the point in The Guardian that "Fernandinho is more creative, agile and quicker than the new Spurs midfielder in the final third," before adding: "I'm a huge fan of Fernandinho. I do believe he was long one of the most underrated midfielders of world football."
Of course, having proven himself in Europe, Pellegrini is getting a mature player with the potential to make an instant impact. And while Karlsen cites defensive discipline as an area in which Fernandinho can still improve, there are signs that the player himself is keenly aware of the tactical side of the game and willing to continue to learn in this regard - unusual in a player of his experience.
Before securing his transfer to City, Fernandinho said: "If I had the opportunity to play in the Premier League I think that my qualities would improve even further. I believe that the tactical roles of the players are very important, as well as their defensive responsibilities. However, these last years we have seen new, more aggressive players with very diverse styles, which make the games even more interesting. If I could combine all these roles, I could give considerable value to the Premier League."
Indeed, if Fernandinho can successfully combine all of these roles it is he, of all the club's high-profile signings so far this summer, who could play the most significant role in Manchester City's bid to regain the Premier League title and make an impact in the Champions League. One senses Mancini would approve.