Depth is key
Manchester City's summer spending is far from over yet, with Manuel Pellegrini hinting that his squad is not complete despite £90m being spent so far. Tim Oscroft asks whether the defensive unit will be tweaked next and discusses where some fringe players stand with the new man in charge.
Last Updated: 29/07/13 1:11pm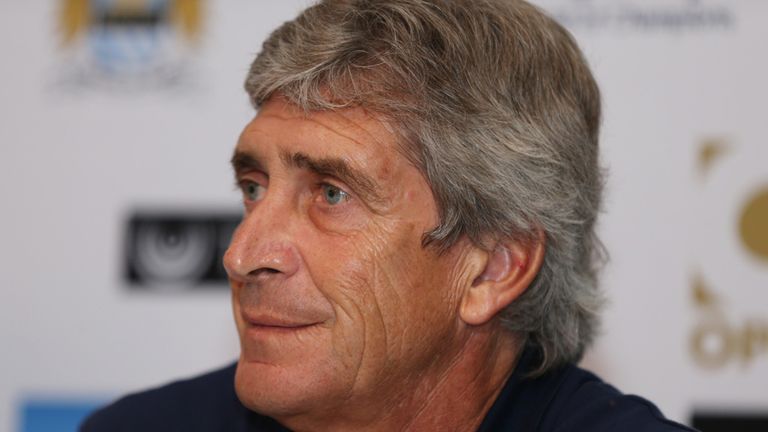 So, just when we thought Manchester City might, just might, be done when it came to incoming transfers, Manuel Pellegrini uttered these words on the pre-season visit to Hong Kong:
"We have the month of July and some days of August to finish the squad completely. It's not absolutely complete, but it's very near to being complete."
With that, the manager of the Premier League's wealthiest club has signalled that he feels his squad, despite the additions of Fernandinho, Jesus Navas, Stevan Jovetic and Alvaro Negredo, needs bolstering as he aims to improve on his new employer's most recent campaign. And with the new arrivals mostly of an attacking nature, adding to the defence could be next in Pellegrini's sights.
The Premier League runners-up spot and an FA Cup final would have gone down in the file marked "success" for City until recently, but not anymore. Roberto Mancini, like Mark Hughes before him, was set targets, failed to meet them and was ruthlessly despatched by the club's Abu Dhabi-based owners. Coming a distant second to Manchester United and failing in the Champions League were the key factors, while the sight of City's players trudging off with their losers' medals in the pouring rain at Wembley, beaten by soon-to-be-relegated Wigan, was the final straw.
Pellegrini knows the pressure of expectation that comes with the job, and is being well rewarded for it, but while the club invests in its youth policy for the future with ground-breaking new academy facilities, the Chilean is tweaking the senior squad with the here and now very much in mind.
His signings so far all have proven track records in Serie A, La Liga, international football and in some cases the Champions League. Rather than take a chance on the club's own youngsters, or inexperienced up-and-comers from elsewhere, Pellegrini has opted for pedigree that will immediately put him on the road to the ownership's stated aim of five trophies in five years.
The youngsters can wait for now seems to be the message, as Pellegrini prepares to add at least one more new face. Attack and midfield have been added to, does that mean the defence is next?
The recent name in the frame is that of Pepe of Real Madrid. In fairness to the City boss, Pellegrini has yet to start openly talking about players with other clubs, and may well be clever enough to avoid the issue when he faces the press in the coming weeks.
But with Kolo Toure having left for Liverpool, the promising Karim Rekik on loan to PSV and Joleon Lescott one year from the end of his contract the back four would seem to be the next in line for an addition.
Pepe would add strength in depth with City's ambitions at home and in Europe in mind, but a fit and firing Micah Richards may well mean City don't have to make many additions to their back line.
A knee injury wiped out five-and-a-half months last season for the England international, who ended the campaign fit but very much behind the outstanding Pablo Zabaleta in the City pecking order.
Pellegrini's arrival gives Richards a perfect chance to show why he was so highly regarded a few years back. With full-time centre-backs in Vincent Kompany, Matija Natasic and Lescott all on the payroll, Richards' days in that position may be permanently be a thing of the past. In that case, he has to compete with the indestructible Argentine, who is also a hugely popular figure with City fans.
It's too early to tell what Pellegrini's intentions are regarding what his "best XI" might be, so now is the time for Richards to impress and give himself a chance. Opportunities for players even less experienced than him will be few and far between once the season starts, but part of Pellegrini's remit has been to show more of an interest in younger players than his predecessor.
Marcos Lopes scored a few seconds into his brief substitute appearance against Watford in January, but that aside, it was slim pickings last season for City's young players. John Guidetti earned the tag "highly rated" after a prolific loan spell at Feyenoord in 2011-12, but a combination of injuries and illness ruined the following season. With Pellegrini's arrival the Swedish striker has a chance, but with some big names ahead of him, Guidetti will have to do very well to make the match-day squad.
But with Pellegrini tasked with a renewed assault on the Premier League summit, and qualification for the knock-out stages of the Champions League jostling for position at the top of his "to-do" list, the City squad is set to be tested to the full.
It will also be fascinating to see if they can live up to Pellegrini's vow to play attractive football. City's charge to the Premier League title in 2012 took the breath away at times, but last season a very similar squad looked burdened by the title-winners tag.
The new man's attacking signings so far should catch the eye. Aside from Navas, Jovetic and Negredo, midfielder Fernandinho fits the deep-lying, pass-spraying role that Mancini struggled to fill, and although Javi Garcia and Jack Rodwell could fit the bill the Brazilian is in pole position.
Adding a touch more steel at the back looks to be next on the agenda but how it will all pan out once the phoney war of pre-season is over and the real thing begins is anyone's guess.