Suited to England?
With Liverpool reportedly making a move for Atletico Madrid forward Diego Costa, Adam Bate takes a look at what the 24-year-old Brazil international could bring to the Premier League.
Last Updated: 02/08/13 3:33pm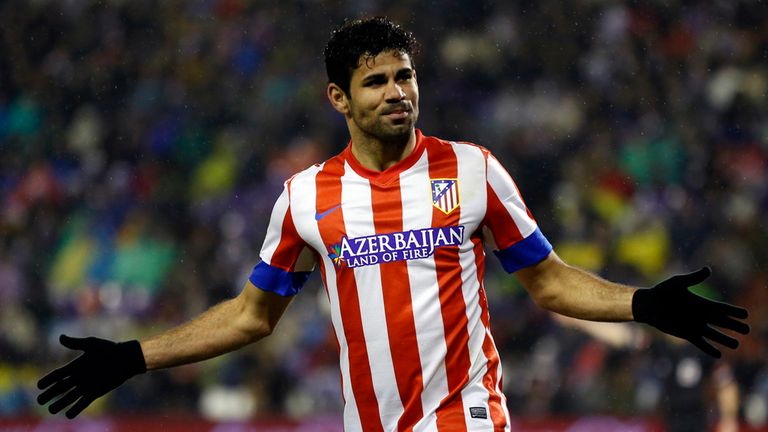 If anybody was under the illusion that the possible exit of Luis Suarez could signal quieter times at Anfield, the club's reported £20million-plus bid for Atletico Madrid forward Diego Costa should banish those thoughts. The Brazilian does a decent line in off-the-ball drama himself. But he also has the potential to be a good fit for Liverpool.
On the first weekend of December, while Suarez was busy incurring another suspension of his own, Costa was involved in a derby-day drama with Real Madrid defender Sergio Ramos - headbutting his opponent before being spat at by the Spain international.
In February, Costa was once again on the receiving end - quite literally - when Antonio Amanya spat in his direction in a game against Real Betis. Later that month, the 24-year-old was the alleged antagonist as he was accused of racially abusing Sevilla midfielder Geoffrey Kondogbia. Liverpool managing director Ian Ayre is evidently a man feeling chilly in that frying pan.
While Costa denies that accusation, he readily admits that he becomes a different person when the whistle blows. "I change when I go on the pitch because that is where I have to give my all," the forward told Sky Sports. "Adrenaline gets hold of you or something winds you up because you want to play and win everything. Sometimes I go a little bit far but I don't think it is anything unusual."
If there is anything Brendan Rodgers' support of Suarez shows, it is that what Costa can do on pitch with the ball that really matters. And it is here that the signing does make some sense. While Radamel Falcao's heroics rightly earned the plaudits, Costa also scored 10 La Liga goals in his breakthrough campaign after impressing on loan at Rayo Vallecano the previous season.
Costa is more than just a goalscorer though, his bustling style also helping to set up Falcao as Atletico stormed to a top-three finish. Of the goalscorers to reach double figures in La Liga last season, Costa was one of only nine to also provide seven assists for his team - another being Reds new boy Iago Aspas.
La Liga - Ten goals & seven assists in 2012/13
Player
Club
Goals
Assists
Lionel Messi
Barcelona
46
12
Cristiano Ronaldo
Real Madrid
34
10
Ruben Castro
Real Betis
18
7
Carlos Vela
Real Sociedad
14
9
Iago Aspas
Celta Vigo
12
7
Oscar
Real Valladolid
12
7
Cesc Fabregas
Barcelona
11
11
Karim Benzema
Real Madrid
11
11
Diego Costa
Atletico Madrid
10
7
Those goals and assists reflect Costa's all-action style; this is a player determined to be involved in the game and willing to go searching for the ball. As a result, despite being 6' 2" and a physical threat, Costa is not a mere target man. Like Suarez and Daniel Sturridge, he is capable of working across the frontline and therefore has the movement Rodgers demands from his forwards. He is also robust enough to make the transition to England a straightforward one.
"A lot of people have told me I would fit in very well in the Premier League because of the way I am and the way I play," he told Sky Sports. "I don't really like playing as an out-and-out centre forward. I like getting the ball in wide areas and being in possession all the time. If I'm not seeing enough of the ball I get quite agitated which is why I come looking for it and naturally drop out wide."
These words could be spoken by Suarez himself and while Costa is unable to match the Uruguayan for technical proficiency, there is a statistical similarity. Suarez was dispossessed more than any other player in the Premier League last season, while Costa relinquished the ball more times per game than any footballer in Spain.
It's not an asset to cherish in a player but coupled with the fact that Costa was among the most fouled men in La Liga it reflects the fact that this a street footballer ready to embrace the one-on-one battle. As Atletico Madrid coach Diego Simeone points out: "He is powerful and conveys fear to the opposition defences."
Costa's aggressive style could complement Suarez as it did that of Falcao and he clearly offers a different threat to the more subtle skills of Philippe Coutinho. But the concern for Liverpool supporters might be that, if Costa is ultimately to be given his share of responsibility for replacing Suarez, he is likely to do a better impression off-the-ball than on it.