Dwight Yorke
Football Expert
David Moyes: New Man United boss will win title in first season
David Moyes will lead Man United to the Premier League title in his first season in charge, says Dwight Yorke.
Last Updated: 09/08/13 12:59pm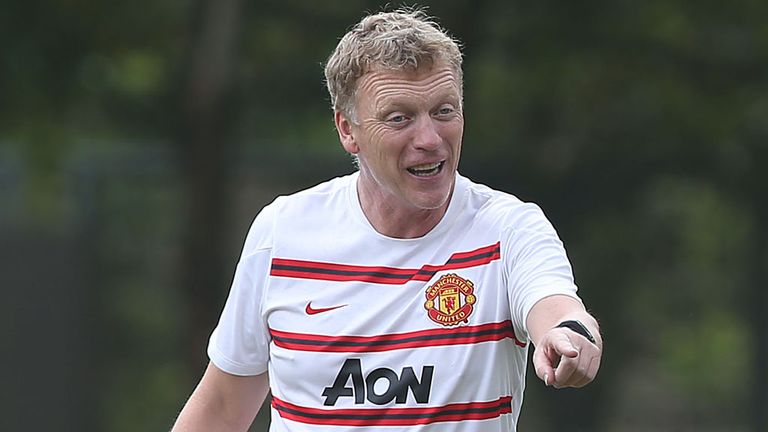 That's the view of former United striker Dwight Yorke, who ventured into the Sky Sports News studio on Friday morning to share his thoughts ahead of the new Premier League season, which kicks off next weekend.
Yorke feels Moyes - appointed as Red Devils chief following Sir Alex Ferguson's decision to step down as manager after 26 years - is heading into the unknown after just over 11 seasons as Everton boss and could find his new role tough.
But he is backing the Scot to stamp his imprint on United and ensure they will retain the trophy that they scooped from neighbours Manchester City by 11 points last term.
"The new era at Manchester United is going to be challenging for Moyes," said Yorke.
"He is highly regarded in the Premier League but untried at United where he will be scrutinised every minute.
"It can take a lifetime to get your head around being at United but I am sure he will deal with it and learn every day as the players are getting used to him and he is getting to know the players.
"I am expecting, in time, good results, good performances, the same high standards and Manchester United to win the league again, with Chelsea second, [Manchester] City third and Arsenal fourth."
Pre-season headlines have been dominated by a series of would-be transfers, with Chelsea targeting Man United striker Wayne Rooney and Arsenal attempting to capture Liverpool's want-away frontman Luis Suarez.
Read below for Yorke's take on both players' situations...
Wayne Rooney
"He has been Man United's best player for five years, when he plays well they usually win - and, at 27, he should be coming into his peak, so I don't think Man United can afford to lose him to any club. I have spent enough time alongside 'Wazza' to know what sort of individual he is; every player wants to be loved and the moment you don't feel that way your confidence drops and your performance levels are not the same, so if Rooney is in [United's plans] that can only be good news for the club."
Luis Suarez
"Suarez is at a massive club but hasn't been able to win anything so he might feel that he has done everything he can do at Liverpool and needs a new challenge - and Arsenal are presenting him with that. Suarez is a vital player for Liverpool but when a player comes out and says he wants to leave the football club you probably have to sell him. He is one of the best players in the world and if Arsenal are able to get him, I think that would be a massive coup for them. He has got so much quality and loves playing in the Premier League - and I'm sure he would show that at Arsenal."