Five questions
It may be an international friendly but games between England and Scotland always create a buzz. What's more, there are plenty of issues to address in his England team. Sarah Winterburn looks at five questions we will be looking to see answered at Wembley...
By Sarah Winterburn
Last Updated: 14/08/13 9:55am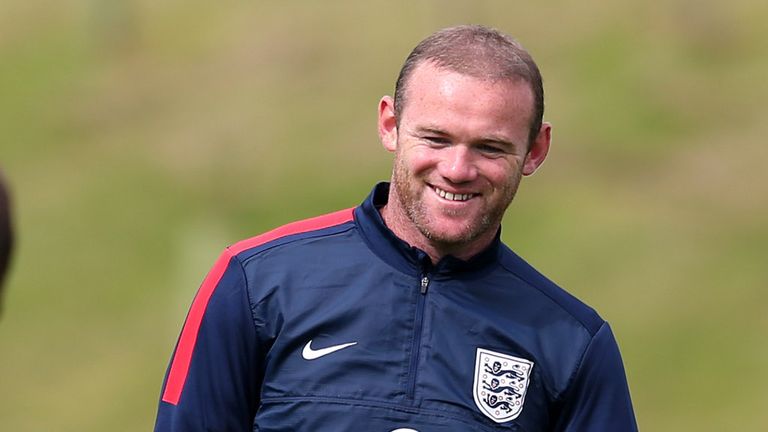 Roy Hodgson is expected to pick his strongest available line-up for Wednesday's friendly against Scotland at Wembley. With a World Cup coming up next summer, not to mention key qualifiers well before that, time is of the essence for this England squad. Sarah Winterburn looks at some of the questions to be answered...
1) Will Rooney make his point?
Whether you believe that Wayne Rooney's 'shoulder injury' is caused by the massive chip he has been carrying since Manchester United took his advice and brought in a world-class player ("a midfielder...I meant a midfielder") or is a figment of somebody's imagination designed to keep old foes Rooney and David Moyes apart in pre-season, Rooney's whole-hearted and whole-shouldered training session with England on Monday made a mockery of any notion that he is unfit to play. The message is clear: I am fit to play for anybody except Manchester United.
On Wednesday he will play as the focal point of England's attack - the position he wanted to occupy for United and now presumably wants to occupy for Chelsea. Perhaps an excellent goalscoring performance will see Moyes beg for forgiveness after his wilfully misconstrued comments appeared to suggest that Rooney was merely a back-up option for Robin van Persie or perhaps it will jolt Chelsea into making a ridiculous offer that simply cannot be refused. At the very least, it will crank up the media-led pressure for some kind of resolution.
Of course, the problem with making yourself the main man is that failure comes on a grander scale with a bigger audience. But Rooney scored seven goals in seven games for England last season as Roy Hodgson showed the faith he feels is missing at United, and he will surely fancy keeping pace with that ratio against a Scotland defence featuring players from Brighton, Coventry and Blackburn. He will rarely be more motivated; there will be goals or there will be cards.
2) Will Gerrard-Wilshere be as good as we remember?
Before they faced Brazil in February, they had played only 13 minutes together and yet we all suspected that this was the central midfield partnership that should lead England to the World Cup. Then they were truly excellent in that 2-1 win at Wembley and the suspicion turned to certainty. Hodgson has tried Scott Parker, Michael Carrick, Frank Lampard, Tom Cleverley, Leon Osman and even Phil Jones in central midfield since taking over from Fabio Capello but it is the Wilshere-Gerrard combination that promises the most both on paper and on the pitch.
In that partnership there is potential for discipline, energy, vision, commitment, incredible distribution, leadership and movement. Scotland will not provide their biggest test but it's vital that they log more minutes on the pitch together before the autumn qualifiers against Moldova, Ukraine, Montenegro and Poland. Rio Ferdinand has been talking this week about England lacking an 'identity'; this pair could form the basis of that 'identity' as England's most naturally talented and versatile central midfielders of the last decade. Another hour in the bank would make us all feel much better.
3) Will Hodgson shoehorn Cleverley in somewhere?
He's an "exceptional player", according to Hodgson, who selected Tom Cleverley to start every game for which he was available last season. We cannot pretend to understand the fascination which has led to Cleverley - a player not known for his shooting prowess - playing as a No. 10, a traditional central midfielder or even as a left winger for his country. Contrary to what you may read in a national media convinced that Hodgson plays only a 4-4-2, he has often changed formations but always found a place for Cleverley.
We assume the same will happen again on Tuesday, but where will he play? The answer can probably be found in that 2-1 win over Brazil in February, when he played behind Rooney and ahead of Gerrard/Wilshere despite a return of just two Premier League goals in 32 games for United suggesting that he lacks the dynamism for that role. That trio were flanked by Danny Welbeck and Theo Walcott and it would be no great surprise to see that front six reunited against Scotland. Against inferior opposition we would hope to see him introduce rather more invention to his safe neatness. Perhaps then we will begin to understand Hodgson's faith.
4) Who will play at centre-half?
When this latest England squad was announced we looked at the list of central defenders and thought that there was surely somebody missing. Could Chris Smalling, Phil Jones, Phil Jagielka and Gary Cahill really be the sum total of our options for a position that has traditionally been an area of England strength? The answer is yes - unless you count Joleon Lescott, and Hodgson clearly doesn't unless he's desperate. So who will play against Scotland and put themselves in the frame - should they keep Jordan Rhodes quiet - for the autumn qualifiers?
Jagielka and Cahill started England's last two friendlies against Ireland and Brazil but it was his excellent performance against the latter at Wembley in February that earned Smalling the No. 6 shirt for the following two qualifiers against San Marino and Montenegro. And then there is Jones, who has played a grand total of 26 minutes for England at centre-half. Let's hope the promising Steven Caulker has a blinding start to the season for Cardiff City and joins that short and slightly depressing list of options.
5) Will Lambert be more than Kevin Davies?
Nobody will ever be able to take away Kevin Davies' status as an England international but few memories survive anywhere outside his family about the 20 minutes he spent on the pitch in a 0-0 draw with Montenegro in October 2010. You will be unsurprised to learn that he was booked. Rickie Lambert is a far, far more talented footballer than Davies but he risks being consigned to the same list of English Premier League strikers who was given one cap when times were desperate (in this case, the absence of Andy Carroll and Daniel Sturridge), unless he does something eye-catching with his probable 20 minutes.
Statistics from last season would suggest that Lambert is far more creative and dangerous than Danny Welbeck but his lack of pace and youth will undoubtedly count against him when future squads are named. It would be lovely to be proved wrong.
A version of this article originally appeared on Football365