Football Expert & Columnist
Graeme Souness and Glenn Hoddle predict a new era of success for Chelsea
Chelsea could be set for a period that is even better than the last 10 years, says Graeme Souness.
Last Updated: 22/08/13 3:16pm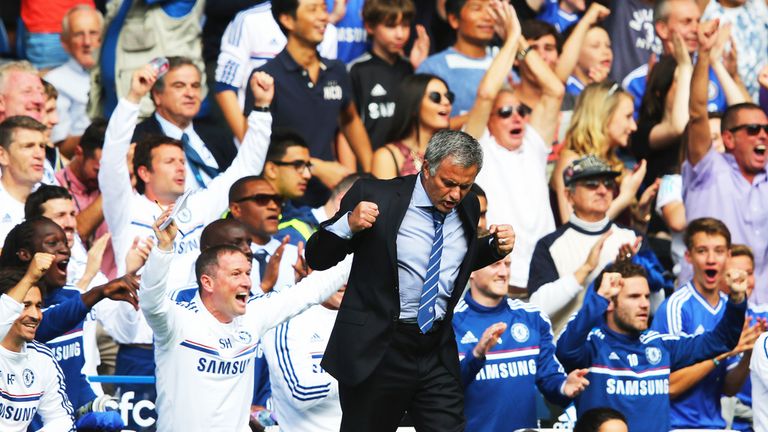 Mourinho marked his return as Chelsea manager with a 2-0 victory over Hull at Stamford Bridge on Sunday. Read the full match report here.
Oscar and Frank Lampard scored first-half goals for Chelsea as the hosts produced a scintillating opening 45 minutes against the Premier League newboys. The second half was more subdued but Chelsea had already shown enough to convince Souness that they are in for a period of sustained success.
"If you watched him on the bench today, I can't remember him at Real Madrid being so happy and smiley," Souness told Sky Sports.
"He feels loved here and rightly so. If they can play as they did in the first 45mintues, I they can get that for an hour or 70 minutes, they are going to be fabulous to watch.
"They will be really entertaining and that will win them trophies. I said before I think Chelsea are approaching a period in their history where it could be even better than the last 10 years."
Sustained success
Mourinho won two Premier League titles, two League Cups, the FA Cup and the Community Shield in his first stint with Chelsea, from 2004 to 2007.
While he went on to win the European Cup and two Serie A titles with Inter Milan and the La Liga title with Real Madrid after leaving Stamford Bridge, Chelsea won another three FA Cups, the 2009/10 Premier League title and the Champions League in 2012. It all amounted to the most successful period in the clubs history.
Fellow Sky Sports pundit and former Chelsea manager, Glenn Hoddle, agreed with Souness that Chelsea look in great shape for a sustained period of success.
Hoddle said that Mourinho was clearly happy to be back at the Bridge and expects his presence to bring the stability that has been missing in recent years at Chelsea, and he believes the former Real Madrid boss is cultivating a team with more attacking flair than his previous sides.
"I think the style they are playing now is better than when he was here before," Hoddle said. "There is no doubt about that. I think the punters here will enjoy watching them play.
"They will still want to win things and that is what they have done over the last 10 years, changing managers left, right and centre.
Stability
"I do believe that they are going to have a bit of stability now. I really feel he loves London and looks comfortable here. His family is here and they love London.
"If you are content as a person then you will work even better. So there could be even more trophies, bigger trophies, and more stability and consistency over the coming years.
"At the start of last season they had the intensity of defending, pressing and being a really hard team to break down and get through but now they have these players. Mata has yet to come in.
"They have got the depth there to go all the way in all the trophies. We can't get carried away too much; they are going to have bigger tests as I said. Away from home, when a team is going to come at you and concede even more space, these lads like Oscar, Mata and Hazard are going to have more space and time to open them up."
Brilliant De Bruyne
Souness singled out Belgium international Kevin De Bruyne, who spent last season on loan at Werder Bremen after joining Chelsea from Racing Genk in 2012, as the pick of Chelsea's impressive midfield .
"He was fabulous," Souness said. "In the first half Chelsea were fabulous and he was a big part of that.
"He is athletic, has got great feet, sees a pass, is willing to take shots on from outside the box, willing to get involved in the rough and tumble of midfield and he has great energy . The midfield five of Chelsea in that first half were fantastic."