The Gaffer: Jim Bentley
What are the secrets to a cup upset? Morecambe boss Jim Bentley is next in our 'The Gaffer' series and tells us how he hopes to mastermind the giant-killing of Newcastle
By Peter Fraser - Follow me on Twitter @SkySportsPeteF
Last Updated: 18/12/13 3:56pm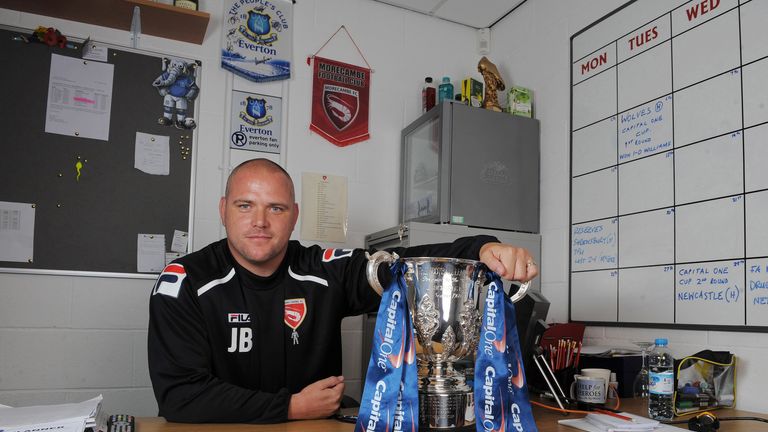 Having already stunned Wolverhampton Wanderers in the first round of this season's Capital One Cup, Morecambe are hoping to cause another major upset when they host Premier League Newcastle United on Wednesday night.
The League Two minnows are major underdogs but after picking up their first fourth-tier win of the current campaign with Saturday's success over Exeter City, there is a sense of optimism around the club.
Morecambe's Liverpool-born manager, Jim Bentley, also already knows a thing or two about cup shocks, with the win over Wolves following last season's victory at Blackpool and 2011/12's shock at Barnsley.
Bentley took charge of Morecambe in 2011 in his first management job after almost a decade with the club as a player, which included 2007's Conference play-off final win. And, here, he tells Sky Sports - in association with Capital One, the credit card company and sponsors of the League Cup - about the art of management and cup upsets.
Have you always wanted to be a manager?
Yes. Since I was kid, I always wanted to be a footballer. I also wanted to stay involved in the game. A lot of people go and do physiotherapy courses and things like that but I have massive love for the game and wanted to stay in it as either a coach or a manager. Fortunately for me, the opportunity came along at a club who are very close to my heart where I played for 10 years.
Who were your managerial role models?
Being an Evertonian - Howard Kendall. He was the manager of Everton when I was growing up. Over the last 10 years, I would also have to say David Moyes for what he achieved at Everton. I know he did not win anything but the club was in the lower regions of the Premier League when he took over. He did not have the financial clout but still managed to qualify for the Champions League and got to the cup final. He has proved what a good manager he is by being employed by Manchester United.
What so far has been your best day in management?
In the first season I took over, coming to about September, we had started the season really well despite being the second favourites to be relegated. I was new to the job and we had a top-of-the-table clash with Crawley Town at home. Whoever won that would go top of the league, and we beat them 6-0. It was at that stage when I stupidly thought football was quite easy! We have also had some good results in the cup over recent seasons - beating Barnsley and Blackpool.
What so far has been your toughest day in management?
Every day is tough! You are always battling against things. We are not blessed with having our own training facilities and things like that. It is more of a public park that we train on so we have to make sure that is clear. We have also had some tough defeats. We lost our first derby at home for many years 4-0 against Fleetwood Town at home last season. That was a big blow.
As a manager, how do you move on from a bad defeat and make sure your squad does not dwell on the result?
The manager reflects how the players react. I am one of those people who always look to the future and try to remain positive. I have told the players I expect them to be hurt when they get beat but Monday is then another week and there is no point in feeling sorry for yourself. If I come in and I am positive, ready and raring to go - I expect the players to follow me.
How do you go about masterminding a cup upset?
What you have got to do is believe winning is possible. It is pointless to turn up and think you will lose. It is 11 players against 11 players. We are not stupid and know we will have to have a very, very good day and Newcastle will have to have an off day. But we will get ourselves organised and disciplined after doing as much research as possible on the opposition. All those little aspects play a big part in cup upsets.
Is it difficult to come up with tactical plans for cup games when you learn your opponents at short notice and depending on the draw?
Not so much. Obviously in the league you know teams, managers and players, so it is different when it comes to the cup. But we have a relatively small squad and cannot look too far ahead. I could have had a team in my head for the Newcastle game going in to last weekend but we have got a couple of players coming back from injury and have three big home games in a week. Since the final whistle went last Saturday, myself and my coaching staff went into a room and started discussing stuff in the lead up to this game against Newcastle. We have been looking at how we can exploit any weakness. We have also been working on our defensive shape, because we are probably going to be under pressure for large periods of time.
What are the keys to man-management? How do you decide if players need an arm around the shoulder or the infamous hairdryer treatment?
It is a big part of management. You have to identify it quite soon, because if you give someone the hairdryer treatment who cannot take it - it might damage their confidence. Every individual is different. Sometimes you have to offer a shoulder to cry on, and sometimes you do need to give people a kick up the backside. It also depends on the age and fitness of players and their past injury records for how you use them. You have got to do your research of their careers to know how to treat players.
Finally, what one piece of advice would you give for someone starting in management?
Work hard and be honest. I am a big believer that the harder you work, the bigger the rewards. You only get out what you put in. If you are honest, no-one can knock you. Honesty and hard work are always a good foundation for being a good manager.
Jim Bentley was speaking on behalf of Capital One, the credit card company and sponsors of the League Cup - facebook.com/capitaloneuk