Confused priorities
History shows that not conceding goals is the way to survive in the Premier League and yet the big money is always spent on strikers. Why aren't clubs more pragmatic? Daniel Storey investigates
By Daniel Storey - Follow me @danielstorey85
Last Updated: 28/08/13 10:34am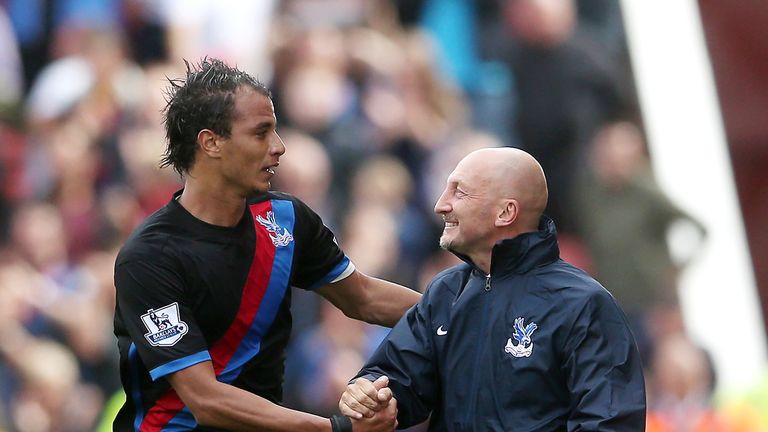 Even by typically high standards, this has been a transfer window in which attacking talent has been desperately coveted by the Premier League's richest clubs. The arrival of the French nouveau riche and their success in recruiting Radamel Falcao and Edinson Cavani created a heightened sense of urgency - such players would previously have been logical shoo-ins for Chelsea and Manchester City. Add Gonzalo Higuain and Mario Gomez's decisions to move to Italy over England and the end result is supply and demand in action - potential moves for Luis Suarez and Wayne Rooney have become sagas so quickly because they are two of the few viable options.
We are obsessed with strikers. We name them as Player of the Year more regularly than any other position, and they break our transfer record more often too - of the top 20 transfers in history, 18 have been attacking players. As children, we dream of scoring the goal rather than saving it; you could count on one hand the number of transfer sagas involving defenders (Joleon Lescott is potentially one) and, as fans, strikers capture our imagination more than any other player. We opine that "if we could just get a 20 goals a season man then we'd get promoted", or wonder whether "they'll have enough goals to stay up". Defenders never seem to merit such epithets.
Towards the top of the league, the need for goals is crucial - in six of the last seven seasons, the top scorers in the Premier League have also been crowned as league champions. But the frenzied demand for forwards is not restricted to the top four or six clubs. This summer alone, clubs in last season's bottom half (and the three promoted teams) alone have spent over £65m on strikers. Ricky Van Wolfswinkel, Andreas Cornelius, Jozy Altidore and Dwight Gayle have all been tasked with saving their sides from relegation, forced to settle instantly in the Premier League.
But are such clubs (the Premier League's strugglers, without being presumptive) placing far too much emphasis on the scoring of goals? In 2011/12, Blackburn and Bolton went down despite each scoring more goals than each of the five clubs above the drop zone, whilst in 2010/11 Blackpool scored the same as the Spurs side that finished in fifth, but were still relegated. A reputation for being the entertainers means little when Championship football is the end result. Stoke of last season are the perfect example of the trait, having scored just 34 goals and survived. In 21 Premier League seasons, the lowest scorers in the league have survived ten times.
Conceding goals, however, is the finest recipe for Premier League relegation. Despite their healthy 'goals for' totals last season, Wigan and Reading conceded 73 each, more than any other club in the division, and in 2011/12 the bottom three sides were also the identical bottom three in a list of goals conceded. Again looking at Stoke last season, their low goal total was offset by having the seventh-best defence.
In the last three years, the average number of goals scored by a relegated side from the top flight is 43, whereas the average goals conceded is 72. In the same time period, the average goals scored of the three sides directly above this (ie surviving relegation in 15th, 16th and 17th) is also 43, but the goals conceded average is just 62, a difference of ten. The evident conclusion is that scoring more goals doesn't keep you up, conceding fewer does. It is a statistic that is difficult to argue against - in every season since the Premier League began, the worst defence has been relegated.
And yet, again, teams have failed to heed the warning. Newcastle conceded 68 goals in the league last season, the fourth worst in the division, but Alan Pardew has made strikers the priority. Even after signing Loic Remy on loan, the manager's line is clear: "I don't see any late business for us but we do need another striker in. We need a sound backroom with our strikers, so in the short term we need another striker."
Norwich too have taken a similar approach. They conceded 58 goals and have allowed Leon Barnett to leave from last season's defence. Chris Hughton has spent £25m this summer, but not one recruit is a central defender. Instead, they have spent £14m on Van Wolfswinkel and Gary Hooper and brought Johan Elmander in on loan. Sunderland have spent £19.5m on forwards and wingers and just £2.1million in fees on any other type of player.
Crystal Palace are the main culprits. Perhaps it is a hallmark of Ian Holloway's managerial style given Blackpool's failings, but the Eagles conceded 62 in the Championship last season (more than 18th-placed Sheffield Wednesday. Their response to such issues has been to buy three strikers for a combined £6.5m. Florian Marange is the only defender bought - a left-back on a free transfer. In both of the club's last two Premier League campaigns they have scored more than teams above them, but been relegated due to their defensive shortcomings - past lessons seem not to have been learned.
The attraction of signing strikers is evident, because they sell season tickets and replica shirts and excite fans. But whilst within the upper echelons of the Premier League there is a strong case for throwing money at goal-getters, history shows us that investment in defence should be a more salient priority for the strugglers. Come May, those relegated to the Championship may only have themselves to blame.
This article first appeared on Football365