Draw conclusions
The draw for the Champions League group stage has produced mixed results for the five British teams. Daniel Storey draws five conclusions.
Last Updated: 30/08/13 6:25am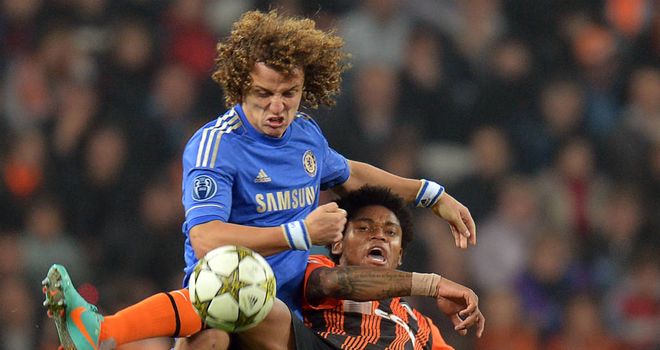 Mourinho should sleep easy until February
Whilst the 'no easy games at this level' cliché will very much be the party line from Stamford Bridge officials, Jose Mourinho will be more than satisfied with his lot. There is an argument to suggest that both Schalke and Basel were the weakest options from pots two and three, and there is little reason to suggest why Chelsea couldn't take at least 14 points from a possible 18 on offer.
Jens Keller's Schalke side have just one point from their three Bundesliga games this season, and required an injury time goal to ensure qualification against PAOK Salonika in the play-off round, only confirming their place in this season's competition on the final day of last season. Basel may have won the Swiss league last season but are currently fourth of ten teams after six games this time around, whilst Steaua were dispatched by Chelsea in the last 16 of the Europa League last season. Don't let the false sincerity fool you, Chelsea are sitting the prettiest of all 32 teams.
Chelsea's incredible fortune can be summed up by the simple fact that every other team in their group were forced to qualify via the play-offs. Jose will be laughing himself to sleep this evening whilst someone else does the maths on that particular good fortune.
Arsenal pushed to continue knockout run
Arsenal may be a club that have suffered a domestic decline, but there is no doubting their Champions League consistency - this season will be their 16th consecutive appearance in the group stage, and it is a decade since they failed to reach the knockout stages. In fact, in recent years making the most of their fortune has been the issue. In both 2010/11 (Shakhtar Donetsk, Sporting Braga and Partizan Belgrade) and last season (Schalke, Olympiakos, Montpellier) Arsenal were handed seemingly fortunate group stage draws, but in both stage dropped points unexpectedly to finish second. Knockout ties against Barcelona and Bayern Munich were the result.
This season, simply qualifying is the principal concern. There is no doubt that Arsenal were lucky to be first seeds in the draw, but the club's luck ended there with Dortmund and Napoli the worst possible combination of supposedly 'weaker' teams.
The irony of facing Napoli will not be lost on Arsenal's critics. This is a club that, like the Arsenal of recent seasons, lost its most valuable asset this summer, but unlike Wenger's side have used the transfer window to respond impressively. This was demonstrated most evidently with their capture of Gonzalo Higuain from Real Madrid from under the nose of Arsene Wenger.
When Higauin turned out for his new club during the Emirates Cup in early August, fans booed the Argentinean for his choice of destination. By the time the striker again returns to North London, Arsenal fans will hope that their lack of financial ambition is not spelt out rather evidently in front of their eyes, with the Europa League beckoning. Rather than booing Higuain, this time they will surely look closer to home.
Pellegrini pays price for poor performance
The wilfully blind element of Manchester City's support will be cursing their luck. This may not be the clichéd 'Group of Death', but facing the Champions League holders alongside two difficult Eastern European prospects will test a squad also looking to improve domestically. However, the majority will appreciate the reality - in Champions League terms, City are nothing more than also-rans, and have proved themselves to be little else in recent times.
In truth, Manchester City deserved a tough draw. After the disappointment of missing out to Bayern Munich and Napoli in 2011/12, their debut season, the aim was to kick on. Their group last year may have contained two of the semi-finalists (an unlikely occurrence), Montpellier, Dinamo Zagreb and Nordsjaelland were the only other winless sides in last season's group stage. One only has to look at the achievements of Paris St Germain, for whom a quarter-final elimination by Barcelona (and only after two draws) saw them elevated into pot two from three last season.
City's Champions League debacle last season under Roberto Mancini, and three points from six games was exactly that, has caused reverberations far beyond the Italian's tenure, as they swapped places with PSG in pot three. Manuel Pellegrini has the advantage of not much to follow, but will be thankful to his predecessor for little else.
Balancing act key for Moyes
One suspects that David Moyes will be breathing a steady sigh of relief at the draw handed to his side. Whilst Shakhtar Donetsk are clearly an upcoming and exciting force in European football, they have been dented by the departure of Fernandinho and Henrikh Mkhitaryan, whilst Bayer Leverkusen have lost Andre Schurrle and Daniel Caravajal to more high-profile pastures. Real Sociedad dumped Lyon out of the play-offs in eye-catching fashion, but their squad is of an obviously inferior level to that of United. The Red Devils should top the group, of that there is no doubt.
With the pressures of domestic matters increased this season given the departure of Sir Alex Ferguson (alongside the evident ambition demonstrated by their nearest neighbours), confirming group stage qualification as early as possible becomes even more crucial. The opportunity for resting players on matchdays five and six will be golden, particularly given the rather featherweight nature of the club's delves into the transfer market.
However, Moyes must learn from one of his predecessors few failings. Alex Ferguson may have acted deaf to the noise from across the city, but the arrival of Manchester City as a domestic force caused Fergie to take his eye of the Champions League, to devastating effect. Two years ago United failed to qualify from a group containing Benfica, Basel and Otelul Galati. Sir Alex combined both domestic and European form last season, but that was owed in large part to City's decline. Effecting an efficient balancing act may be the key to success.
Rank injustice?
There is an argument for there to be no seedings at all once the Champions League 32 competitors have been decided, but the case for an alteration is pressing. The sticking point is that seedings are calculated according to a club's results in the last five years in European competition rather than focussing more on recent achievements. Such an approach results in some illogical occurrences. Arsenal may not have felt the benefits from being in Pot One, but Benfica certainly have, despite not progressing beyond the Champions League group stage once since 1996.
Dortmund meanwhile, should feel rightly aggrieved. Sitting in Pot Three they would have expected a difficult group, but have received very little benefit for their exploits of last season. After winning a group containing Real Madrid and Manchester City despite being a Pot Four team, they came within 15 minutes of winning the tournament - their instant reward is dates with Arsenal and Napoli. Surely football fortunes now change rapidly enough that doing well in the competition in one season should matter more than four years previously?
Celtic too have a reason to feel hard done to, because the seeding system takes into account performance in the Europa League alongside Champions League. Last season they beat Barcelona and qualified for the knockout stage, also winning the Scottish Premier League at a canter. Benfica, for their part, failed to win the Primeira Liga and were knocked out of the Champions League group stage by Celtic, eventually reaching the Europa League final. Benfica were placed in Pot One, whilst Celtic were in Pot Four and have a phenomenally tough task against Barcelona, Milan and Ajax. Does the current system not punish Celtic somewhat for finishing second, rather than third, in the group?