Weekend review
With high-profile wins for Arsenal and Liverpool wrapping up the weekend action as well as the drama of the transfer window, our writers look back at what has passed and come up with some conclusions.
By Matt Stanger & Adam Bate
Last Updated: 02/09/13 12:32pm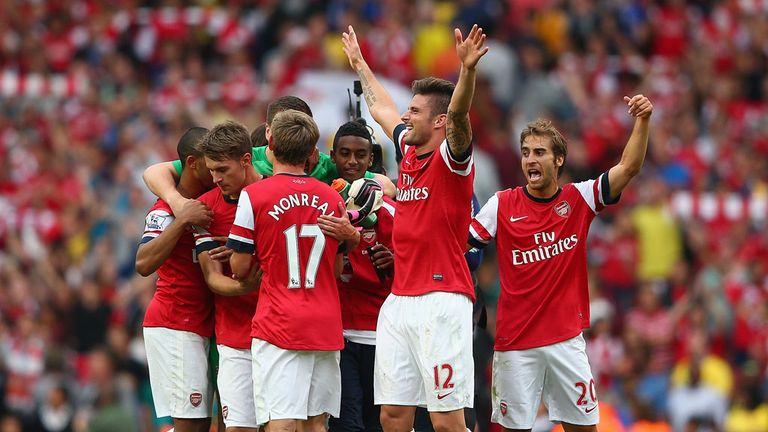 Wenger's narrative busters
Another weekend, another narrative-busting victory for Arsenal. Sage European football experts were anxious to tell us not to underestimate Fenerbahce, while the early kick-off against Fulham also appeared designed for disaster. With those bullets dodged, surely Tottenham - yes, Tottenham, with their fancy new signings - were the team to highlight the contrast between Daniel Levy's savvy spending and the window-gazing inertia of Islington.
"They are too samey," said Graeme Souness of the Arsenal midfield before kick-off. "None of them sense danger. None of them are good at closing the ball down." And yet, there they were - Aaron Ramsey and *wipes eyes and checks the date* Mathieu Flamini racing around putting their foot in and generally making Spurs look one-paced. Throw in the sublime skills of Santi Cazorla and this was a timely reminder that for all the justified frustration about the money-hoarding habits of Arsene Wenger, Arsenal aren't a bad football team.
For an in-depth analysis of Arsenal's win over Tottenham, click here. AB
Numbers rather than options for Spurs
"We haven't had enough time at this moment to put the team together. The players did extremely well, just not enough to come away with something," said Andre Villas-Boas after Spurs' disappointing defeat to Arsenal. The manager's concerns were clear and it is unlikely he will be given the patience he both requires and deserves to get Spurs up and running.
On paper, two wins and a narrow defeat away to one of last season's top four is not the worst start in the world, but there are worries over Spurs' failure to score from open play thus far. Aside from Michael Dawson's brain fade in the first half, they appeared pretty solid against Arsenal but devoid of ideas in the attacking third.
At the moment Spurs have numbers rather than options. Paulinho, Mousa Dembele, Etienne Capoue and Sandro are much of a muchness in midfield and a lot is required of Christian Eriksen and Erik Lamela to get the best out of Roberto Soldado. MS
Moyes and Manchester United
It is important not to overreact to David Moyes' first defeat as Manchester United manager or the fact that his record of failing to win away at one of the old 'big four' continues. The optimists will focus on a second-half performance in which the team improved markedly; the pessimists will wonder why the champions started so slowly and created only two real chances of note - Robin van Persie's sliced effort after the break and Danny Welbeck's blocked shot inside the box in the first half. In truth, there wasn't much to be pleased about, but a 1-0 defeat to Liverpool at Anfield is hardly the most unpredictable or disastrous result and United's points tally from the first three matches is exactly the same as their total last season in those three fixtures.
Although United improved to dominate the game after half time, Moyes' assertion that it was "the best we've played this season" was unashamedly Fergie-like in its obstinacy. Ferguson would probably have also started Giggs, it must be said, and failed to find a role for Shinji Kagawa (who didn't even make the squad) in a typically fast and furious fixture. But Ferguson would also have got more out of a team that was repeatedly described as ordinary last year despite a record-breaking run to the title. He will no doubt be increasingly lauded for taking this team to a last hurrah should Moyes' boys fail to rise to the challenge, but the master is also guilty of leaving a difficult task for the apprentice. There are players who featured on Sunday who are simply not United class. MS
Credit to Liverpool
Another hard-fought 1-0 victory that leaves the Reds top of the pile and the only team with a 100% record. After Liverpool won just three of their first 14 matches last season (against Norwich, Reading and Wigan), Brendan Rodgers will be delighted to see his players mark the new campaign with three wins from three and their best start since 1994/95. They finished fourth that year, too.
Rodgers must have been relieved to see his team earn a victory against one of the division's heavyweights after leading Liverpool to only three wins in 18 attempts against the other sides in the top half last season. Although they fought back to grab a 3-2 victory over Spurs in March (incidentally, the last time they averaged less than 50% possession before Sunday), clashes against stronger opponents were generally characterised by the Reds throwing away the advantage. Leads were lost against United, Manchester City, Arsenal and Chelsea as an error-prone side buckled under the pressure.
It was therefore fascinating (and encouraging to Rodgers) to see Liverpool remain resilient for the second week running as they stood up to United's increased domination in the second half. The champions were some way below their best but an industrious Liverpool team suffocated their opponents and worked hard to close the space. It was a performance of compromise as creative talents Philippe Coutinho and the disappointing Iago Aspas struggled to get involved in the game while the energetic Jordan Henderson bounded around the pitch like the Duracell bunny after seven Red Bulls and a pack of Pro Plus.
For an in-depth analysis of Liverpool's win over Manchester United, click here. MS
Bale to Madrid (honestly)
So it finally happened. Like a stopped clock, those media sources had to be right in the end and Gareth Bale's €100million transfer to Real Madrid finally went through on Sunday evening. Whether it is 50,000 nurses or 250 million Mars Bars everyone seems to have their own reason to be incredulous about the transfer fee. That's understandable given Spain's financial crisis of the past five years. But this is football and it's not like Real are publicly funded or anything... What's that? Madrid council did what? Ah...
Anyway, thoughts will soon turn to the football itself and Sky Sports has features on where he will fit in at Real Madrid as well as a reminder, amid the rush to condemn the fee, that Carlo Ancelotti has acquired a decent player as we look through Bale's greatest goals for club and country. And if nothing else, the suspicion that Cristiano Ronaldo might just be annoyed by the hoopla is surely reason to celebrate. AB
Palace party
After opening with two defeats and watching fellow new boys Hull and Cardiff pick up victories in unlikely circumstances last weekend, Crystal Palace had their moment with a 3-1 win over Sunderland on Super Sunday. The atmosphere at Selhurst Park was superb and could prove key to their survival hopes this season. What's certain is that their weekend win was deserved...
For an in-depth analysis of Crystal Palace's win over Sunderland, click here. AB
Speaking of Sunderland
Fire, Belief, Desire. Three words that Paolo Di Canio said over and over in his post-match interviews following Sunderland's defeat to Crystal Palace. You have to wonder what talented players such as Emanuele Giaccherini and Steven Fletcher make of the manager's tunnel vision.
Having the right mental approach will only get you so far in the Premier League, the rest is down to the manager's ability to set his team up to win and even before John O'Shea's red card on Saturday, Sunderland didn't deserve three points. It's often claimed that ex-pros should work their way up through the leagues when they move into management but Di Canio, and Paul Ince before him, prove that this 'guts and glory' approach doesn't translate to the top flight. These are some of the best players in the game and it's unlikely they'll respond to a waving fist. MS
West Brom worries
While the cosy sofa shows of the television world will continue to bring out the old "They'll be fine" line, there are plenty at the Hawthorns getting worried. West Brom are not only waiting for a win but also their first goal of the season. That's particularly telling given the exit of Romelu Lukaku and absence of Peter Odemwingie. For while Nicolas Anelka and Matej Vydra have come in, Markus - 31 games, no goals - Rosenberg's involvement in all three games suggests there are reasons for concern.
Home games against Southampton and Swansea were eminently winnable and for all the excitement about those two clubs last season, they both finished below the Baggies. It's difficult to predict a repeat, although Sky Sports Paper Talk regular Mick Dennis may disagree. Mick tipped Albion for a top-four finish in the Daily Express last month. After a summer of minimal investment, some West Brom fans might already settle for finishing top of the bottom-four. AB