Mixed performance
England's goalless draw in Ukraine on Tuesday evening was enough to keep them top of Group H but left as many questions as answers. Adam Bate looks at some of the key issues to emerge from Kiev
Last Updated: 11/09/13 10:04am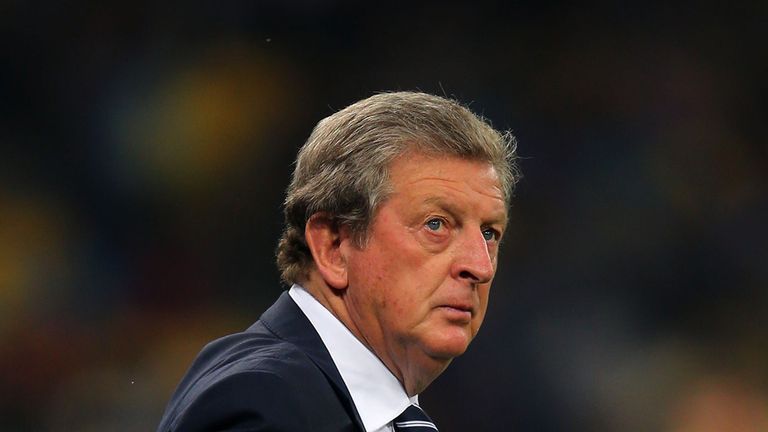 Unbeaten England
Uninspiring it may have been and free-flowing football was nowhere to be seen in the Olympic Stadium in Kiev but England do retain their unbeaten record in World Cup qualifying. France, Russia, Portugal, Croatia and Sweden are among the countries that cannot boast such a feat - worth noting given the criticism that is likely to come their way after a cautious effort.
The flip side for England is that their four victories so far have come against Moldova and San Marino. Four games against fellow contenders have yielded four draws. Clearly the remaining two home games - against Montenegro and Poland next month - will dictate whether the Three Lions have done an efficient job or a woeful one.
2 - England have only beaten two teams in World Cup 2014 qualifying so far; Moldova and San Marino. Timid.

- OptaJoe (@OptaJoe) September 10, 2013
Playing to strengths?
Much of the debate will now focus on what Roy Hodgson could or should have done differently. Some will accuse the England manager of being too negative and showing no signs of progressing in terms of style of play. However, a cultural malaise surely takes a generation to change. It is a job to be judged in 16 years not 16 months.
Hodgson's job is to get England to the 2014 World Cup in Brazil next summer and if that is the remit then he is obliged to play to the team's strengths. That meant set-pieces aplenty and the usual long shots from Steven Gerrard and Frank Lampard. With Rickie Lambert proving a reasonably effective lone target man and England organised in defence, Hodgson will be content enough.
Defensive duo
That defensive solidity owed much to the centre-back pairing. England have had some great defenders in recent times with Rio Ferdinand, John Terry, Sol Campbell and Jamie Carragher all able to stake legitimate claims for being world-class performers at the peak of their powers. Few would put Gary Cahill and Phil Jagielka in that category but these were impressive displays.
Cahill in particular seemed to win headers with ease and showed excellent positional awareness to make a number of vital clearances. Jagielka for his part was sure of foot and touch, using the ball efficiently alongside the Chelsea man. Both are experienced at club level and are in their element in such backs-to-the-wall scenarios. Hodgson will feel vindicated in backing the duo.
Walker weakness
If Cahill and Jagielka are entitled to be pleased with their efforts in Kiev let's hope Kyle Walker is similarly buoyed by the final result rather than chastened by the experience of attempting to mark Yevhen Konoplyanka. The Ukraine winger was the star of the show for the home side and appeared to be able to beat the England right-back at will in the early stages.
It was a difficult night for Walker - and a difficult week off the field - but the way he switched off to allow his man to sneak in for a chance in the first half was alarming, while he was later fortunate not to concede a penalty after the break. Support from Theo Walcott was seldom on offer but there was little here to suggest Glen Johnson will struggle to walk back into the team.
Walcott and Wilshere
And what of that man Walcott? With Wayne Rooney and Daniel Sturridge injured he was always going to be crucial to this one-paced England team, but more must be demanded of the winger. Dangerous situations were created as he found pockets of space in that right channel and beyond, but decision-making continues to hamper his effectiveness. One goal in six England starts in 2013 (and two in his last 32 caps) represents a poor return.
More too must be expected of Jack Wilshere. The great hope for English football seemed to be crowded out whenever he tried to receive the ball and his dribbling was ineffective. If it seems harsh to highlight the men most likely to make things happen, it merely reflects the lack of options at Hodgson's disposal - if these players fail to come off, where else is there to turn?
Missing men?
The suspended Danny Welbeck may not be everyone's idea of the answer but the leggy forward certainly provides attacking impetus from the left and his athleticism was missed in Kiev. Safe option James Milner put in the customary shift but the lack of a threat down that flank added to the sense that England were easily shut out. The arrival of Ashley Young, who endured a pretty miserable cameo, only hammered home the point.
ukraine 0 #eng 0. Hideously ugly performance but good point. Cahill, Cole outstanding. Why didn't Carrick come on? Midfield lacked composure

- Henry Winter (@henrywinter) September 10, 2013
Michael Carrick is another absentee who will be the focus of discussion given his ability to pass the ball in the centre of midfield. Indeed, the 32-year-old Manchester United man has become something of a champion for dissatisfied fans over recent years - a symbol of the unwillingness to prioritise possession.
The difficulty with including Carrick is that it would require dropping the chief goal threat from midfield in Lampard, the captain in Gerrard or the only player under 32 among them in Wilshere. And besides, anyone who saw Carrick's efforts in the similarly disappointing draw in Montenegro would struggle to be convinced his introduction would have transformed Tuesday's team.
Credit to the captain
The prospect of Gerrard and Lampard playing alongside each other has long since become a source of amusement given their apparent inability to flourish as a pair but the theory ignores the fact that they now occupy a three-man midfield and the England captain is a very different player these days.
This was one of those occasions when we saw that Gerrard is doing the defensive side of the game better with age. He showed real responsibility as he covered back to produce a couple of crucial clearances in the second half and his tracking was a feature of the night. "The manager asked us to stick together and we did that," he told Sky Sports. "As a unit we were solid. Defensively we were faultless tonight, from front to back."
Gerrard has spoken of a desire to lead by example and show his younger team-mates just how much he wants to be in Brazil next summer in the hope they will be inspired. "I'm confident of getting the job done," he added afterwards. Few did their job better than the skipper on the night.