Jose's adventure
Whether winning trophies or whining about conspiracy theories, Jose Mourinho's link to the Champions League has never been dull. Ahead of the Portuguese's return to the European Cup with Chelsea, Peter Fraser looks at the Special One's bond with the continent's greatest competition
By Peter Fraser - Follow me on Twitter @SkySportsPeteF
Last Updated: 18/09/13 9:02am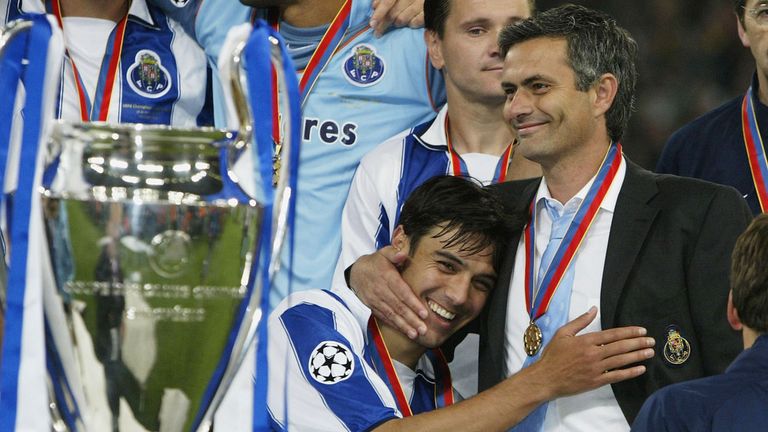 Jose Mourinho's relationship with the UEFA Champions League is an intriguing mix of success, drama, outrage and rivalry.
It has to date been a brilliant script of events and, on Wednesday, a most recent chapter will be installed when, live on Sky Sports, Chelsea host Basel in the opening game of their new campaign.
In 2007, six years to the day to the meeting with Basel, Mourinho's last match in his first spell as manager of the Stamford Bridge club came in the Champions League following a 1-1 draw with Rosenborg. His most recent comments about eggs are another echo of the past.
But that is just one of the many scenes in a European journey which has seen the charismatic, cool, confident and controversial Portuguese cast as both the Special One and stage villain.
To The Victor Go The Spoils
Mourinho, who first sampled the Champions League in 2002, when - just a month after he took over - Porto finished bottom in the second group stage, is famously among the elite group of managers who have won the European Cup on two occasions. Liverpool's Bob Paisley is the only manager in history who can surpass that wonderful record after conquering the continent three times. But no man, no boss has ever completed the hat-trick with three different clubs - which Mourinho could yet achieve.
It was unforgettably in 2004 when Mourinho first won the Champions League as his Porto side defeated Monaco 3-0 in Gelsenkirchen. In one of the most dominant final performances in living memory, goals from Carlos Alberto, Deco and Dmitri Alenichev secured the win.
The victory, on the back of Porto lifting the UEFA Cup in 2003, served to boost an already burgeoning self-esteem and, that summer of 2004, Mourinho would show what was to come when announcing himself upon swaggering into Chelsea. He legendarily said: "Please do not call me arrogant, because what I say is true. I am European champion. I am not one out of the bottle. I think I am a special one."
Much to his frustration, Mourinho could not top Europe with Chelsea. But he would again win the Champions League in 2010 when his Inter Milan earned a relatively straightforward 2-0 success over Bayern Munich at the Bernabeu thanks to a Diego Milito double in Madrid.
It would prove to be the final game of Mourinho's turbulent two-season tenure at Inter, where his relationship with club officials, fans and the media was always tense. But he went out in serious style after Inter became the first Italian club to win the league, cup and European Cup Treble. Mourinho said after defeating Bayern: "I want another challenge in my career", and he would head for Real Madrid.
England Heritage
Mourinho seems to have an intoxicating, almost magnetic, association with England as a country. His self-confidence proves most popular in the nation he currently calls home and, likewise, that brings out the best in him. He wants to be loved and, whether it is in motivating his teams or in the theatrics of building rivalries, Mourinho appears to relish taking on English opponents.
It all started in 2004 when Manchester United were knocked out of the Champions League last 16 on aggregate by Porto after a 1-1 second-leg draw at Old Trafford, where a trademark trench coat-clad Mourinho memorably celebrated Francisco Costinha's injury-time equaliser by sprinting down the touchline, jumping and punching the air.
Then there was Chelsea's rivalry with Liverpool, which ran throughout the Noughties and was fuelled by the underlying tension between Mourinho and his opposite number, Rafa Benitez. Spaniard Benitez, who would ironically go on to manage Chelsea on an interim basis last season, would once say: "If Chelsea are naive and pure, then I am Little Red Riding Hood."
The standout encounters came in the nerve-shredding Champions League semi-finals of 2005 and 2007, when Chelsea lost both ties in second legs at Anfield. Firstly came Luis Garcia's 'ghost goal' winner, which Mourinho described as a, "goal from the moon". Secondly, Liverpool won an agonising penalty shoot-out. During Mourinho's time at Chelsea, they would also meet Liverpool in the 2005/06 Champions League group stages, with both games ending in 0-0 draws.
In 2009, Mourinho would again face English opponents when Inter Milan were knocked out of the Champions League last 16 by Manchester United. There was no repeat of his touchline celebration at Old Trafford as a 2-0 second-leg defeat saw him eliminated by his former Premier League contender and friend, Sir Alex Ferguson.
But Mourinho would have his revenge last season when Real Madrid knocked United out in the last 16, with Cristiano Ronaldo among the goals against his old club at Old Trafford. It was a heart-breaking moment for another two-time European champion, Ferguson, who knew he would be retiring at the end of the season and so had sampled his last continental football. But Ferguson had joked before the game: "It is a great opportunity for our fans to see Cristiano again and also for me to meet up with Jose again - I will need to order some good wine!"
Mourinho enjoyed another emotional trip back to England in 2010 when he and Inter Milan were unforgettably drawn against Carlo Ancelotti's Chelsea, his spiritual home, in the last 16. Mourinho produced a poker face in playing down the reunion, saying it would be "nothing special", as he was used to facing his former clubs. Eventual champions Inter won 2-1 in Italy before also beating Chelsea at Stamford Bridge in the second leg courtesy of a goal from Samuel Eto'o, who has now joined the London club, from Wesley Sneijder's superb pass.
In 2011, Mourinho was again the architect of an English club's downfall as Real Madrid ended Tottenham Hotspur's Champions League fairytale with a thumping 5-0 quarter-final aggregate victory, which included former Arsenal striker Emmanuel Adebayor scoring twice in the first leg.
Old Habits Die Hard
In Mourinho's mind, the name of one club appears to spark an internal burning desire to win - Barcelona. Whether it is that he wishes to prove a point to a club in which he worked as a translator/coach in the eras of Sir Bobby Robson and Louis van Gaal, or whether it is a simple football rivalry, facing Barcelona seems to bring out the worst in the Portuguese.
In 2005, Chelsea met the Spanish giants in the last 16 of the Champions League. The English club would win a thrilling tie 5-4 on aggregate, with John Terry's second-leg header at Stamford Bridge proving the difference and rendering a stunning Ronaldinho strike a mere souvenir.
But the two encounters were overshadowed by events from the first leg. Didier Drogba was sent off in the second half at Camp Nou and Mourinho would later inaccurately accuse referee Anders Frisk of having invited Barcelona boss Frank Rijkaard into the officials' room at half-time. Rijkaard would later say of Mourinho's accusations: "There was a lot of talking [from Mourinho] before the game and, now, surprisingly there is a lot of talking after the game." Frisk would go on to be forced to retire after receiving death threats while Mourinho received a touchline ban, which he reportedly dodged in the quarter-final with Bayern Munich by sneaking into Chelsea's dressing room in a laundry basket.
The bad blood from the previous season remained in 2005/2006 and 2006/2007 when Chelsea again met Barcelona, firstly, in another last 16 tie and, secondly, in the group stages. In 2005/06, Barcelona would win 3-2 on aggregate but Asier del Horno's 37th-minute red card in the first leg for clattering a young Lionel Messi overshadowed the game. In 2006/07, the match in Spain was marred by 11 bookings before Drogba's injury-time equaliser in a 2-2 draw which helped Chelsea keep top spot in the group. Mourinho jigged down the touchline in celebration before dropping to his knees.
Among Mourinho's other memorable Champions League clashes with Barcelona was Inter Milan's 3-2 win on aggregate in the 2010 semi-finals. It cast Mourinho against former Camp Nou colleague Pep Guardiola, who would go on to become a major rival.
A defensive masterclass in the second leg in Spain saw Inter suffer only a narrow 1-0 defeat, which was enough to progress, and they even overcame the first half sending off of Thiago Motta - to which Mourinho had reacted by whispering in Guardiola's ear on the touchline: "Don't think you have won yet". Mourinho was not subtle in his celebration either. Following the final whistle, he ran onto the pitch with arms aloft and pointing to the sky, ensuring he could not be missed.
Then, having moved to Real - where his rivalry with Guardiola and Barcelona would be domestically stoked by bad-tempered El Clasico tussles - Mourinho again faced his old foes in the 2011 semi-finals. This time, Barcelona would come out on top after being helped mainly by a horribly feisty first-leg win at the Bernabeu, where Messi scored two brilliant goals. The game included a mass scramble as the players left the pitch at half-time, which saw Barcelona substitute goalkeeper Jose Pinto sent off, while Real's Pepe was later dismissed in the second half. Mourinho, who was denied another trip to England for the final where Barcelona hammered Manchester United at Wembley, was sent to the stands for his reaction to Pepe's red card and, in his post-match press conference, he would begin a rant which would last for many years of a UEFA conspiracy in favour of Barcelona. He said: "Why don't they let other teams play against them? If Barcelona are honest, they know this is happening."
Close, But Not Close Enough
Mourinho has made it to a highly impressive seven Champions League semi-finals. But, less impressive, is the fact he has lost five of those ties. It will no doubt rankle with his insatiable ego when he thinks of the possibilities which have already passed him by to add to his two European Cups.
His semi-final defeats include the two by Liverpool, and the one by Barcelona while Mourinho's other losses have come against German clubs Bayern Munich and Borussia Dortmund in the past two successive seasons.
In 2012, Real lost on penalties to Bayern Munich at the Bernabeu when Xabi Alonso was the only man to convert in the unsuccessful shoot-out as the Spanish club lost 3-1. The defeat denied Mourinho what would have been an enthralling final date with former club Chelsea, who went on to beat Bayern at the Allianz Arena on spot-kicks.
One season later, Real again found themselves in the last four of the Champions League and, again, Mourinho was beaten by German opposition. Dortmund were the winners this time and Robert Lewandowski's historic four goals in a 4-1 first-leg win ultimately proved too much for Real to overcome. Mourinho was not happy with the officials in Germany and he could be seen making spectacle gestures on the touchline. But he admitted of Dortmund: "I think they were the best team by far."
It was a rare glimpse of humility and perhaps the Special One could actually be morphing into the Happy One. But, one thing is for sure, Mourinho is not to be missed in the Champions League.