The Gaffer: Anthony Hudson
Sky Sports catches up with Bahrain national team boss Anthony Hudson to discuss his career so far, those World Cup ambitions and a love for the coaching style of Marcelo Bielsa
Last Updated: 18/12/13 3:56pm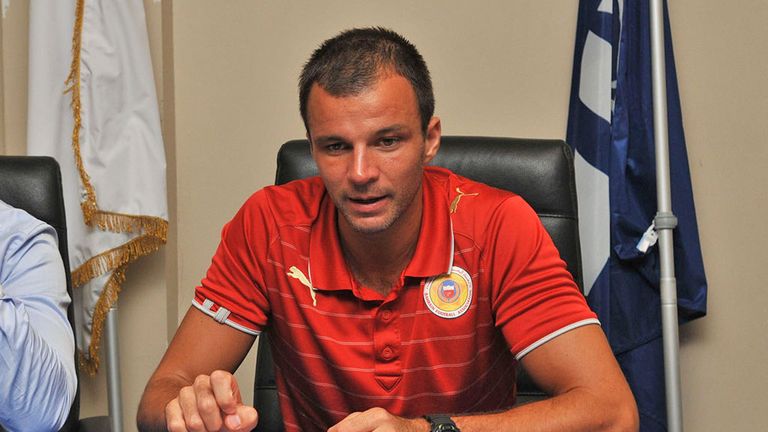 English coach Anthony Hudson has taken a fascinating route into international management. After obtaining the UEFA Pro License, he was appointed head coach of Real Maryland Monarchs in the United States aged just 27 before getting his managerial break in British football with Newport County in the Conference. Hudson is now making a name for himself in Bahrain having guided the Under-23 side to victory in the Gulf Cup of Nations for the first time ever and now taking charge of the senior side. As part of our series The Gaffer, Adam Bate caught up with Hudson, now 32, to discover what inspires him and find out more about his ambitions for the future...
Your managerial career started in America. Was that a good place to learn?
It was great. I'd already worked with younger players but that gave me the chance to work with senior players when I was at a younger age than them. That was my first manager's job and it was an incredible experience. We were one of the smaller clubs and didn't have a lot of money. For me as a younger manager to get the chance to work with budgets and experience all that was really important. They were challenging times but some real lessons for me.
You also did some coaching in England under Harry Redknapp at Spurs before getting the Newport job. How were those experiences?
For the last six or seven years I've always gone back to England and wherever Harry's been I'd go and watch the training. But my main objective when I came back to England was to get a manager's job and I even said that to Harry when I was in America. So as soon as the opportunity came up with Newport that was what I wanted to do. I learnt some big lessons from that experience and I also know I did a lot of good things. I'll draw from those experiences and it's all part of what I had to go through to get here today.
You're now in charge at Bahrain. What is the standard of football like out there?
I think overall the Gulf is definitely improving. There are a lot of good young players in Bahrain. I've been here long enough now to have a real effect and the players are responding. It's been good. The spirit and the ethic of the players makes them really good to work with.
Having been here for nearly two years now, I obviously know all of the first team. There is nobody who knows the young players better so that gives me an added advantage. We are in a transition period now with a lot of the younger players coming through.
You just guided the Under-23 side to Gulf Cup of Nations success. What are your ambitions for the senior team?
It's been a good few months. We have got a qualifier next month in Malaysia so the immediate target for us is to qualify for the Asian Cup. So it's just a case of preparing the team with a big emphasis on this transition, deciding what type of team we want to have in that tournament in Australia in 2015. We want to start shaping the team as early as possible.
The aim is to improve on where we've been in our recent history. We've just missed out on the next round of qualifiers for the World Cup. If we can stick to what we've been doing for a long period and stick by the group that we've got with the players coming through then our goals can be even bigger than that. Everybody wants to go to the World Cup and qualify for the Olympics. Winning the Gulf Cup is an achievable goal in the short-term future.
You became one of the youngest coaches to gain a Pro License. How big a help has the qualification been for you?
I think it is important to have it on your CV because without it you lose a little bit of something on paper. I love the courses. The best thing about it is that you're interacting with other coaches. You end up building relationships that last well beyond the course.
So while the Pro License is very important to have on your CV, what's far more important is going out and figuring out what you like and what you don't like, how they coach it and how they get it across. There are reasons why some of these teams are winning all the time. So that's the important thing - to go out and find out what the best are doing.
For me there are certain styles of football that I love and that's what I want to go and learn from, so the study trips to Holland and Spain are far more beneficial. Once you have had a taste of that you just want more information and more ways of how to coach those philosophies of how to play football.
Who do you look up to in management?
I've always been a big fan of Marcelo Bielsa. Watching him when he was coaching at Chile and Newell's in Argentina, the style of his teams is like something I've never seen before. To go and watch him get his philosophy across and get his teams playing the way he wants changed my outlook on coaching.
He's got a different outlook. He's very detailed and everything he does on the coaching field is related to how he wants his team to play. There are probably coaches in England who have that same approach but the style is different. For me, the best thing about Bielsa is the way his teams play football. It's high energy, always wanting to attack and win the ball back as quickly as possible. It's just a really positive approach.
I've fallen in love with how he works. All I can say is that everything they do on the pitch, including the smallest of press or little bit of wide play or a cross from deep, they worked on it in minute detail. There's a lot of repetition and a lot of variety but everything is specific to how they want to play.
What does the future hold for you? Do you envisage returning to Britain at some point?
What's important to me is that I learn different cultures of football. I certainly don't want to come back and go to a lower league football club and my education to be blinkered. I need to be going to Spain, South America and Holland to become a better and more rounded coach. I want to learn how to do things a little bit differently on the pitch. So I'm learning languages and I'm in no hurry to come back. I need to make sure that every move is a progression and something that can widen my coaching knowledge.
Do you think other British coaches should look beyond these shores to further their education?
I'm not really in a position to tell anyone what to do. I'm just out there finding my own way. All I can say is what's right for me. This is what I'm passionate about. I'm always planning my next trip. When I get my next break I want to go and catch a couple of German teams and wherever Bielsa ends up I want to go and see him again. Time will tell if it pays big dividends but I have a huge belief that it will.