Five to watch
The Champions League is back this week and there are some fascinating matches to look forward to in the first round of group games. Nick Miller picks out five fixtures from around Europe well worth keeping tabs on
By Nick Miller
Last Updated: 17/09/13 9:45am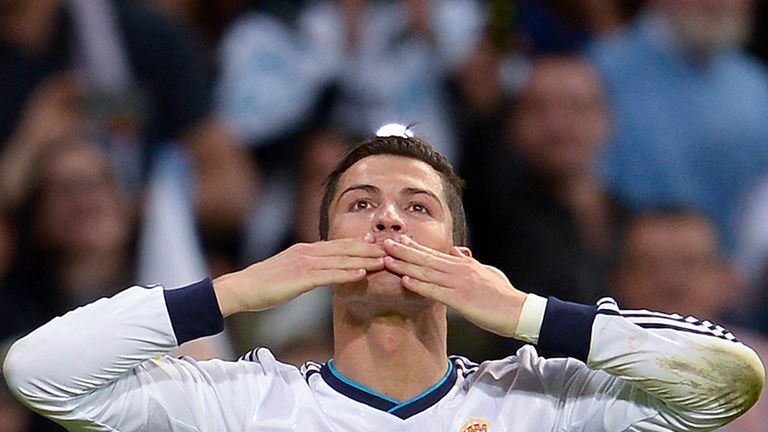 Galatasaray v Real Madrid
The season hasn't started brilliantly for Galatasaray, with just one win and three draws from their opening four games. Still, coach Fatih Terim remains confident - he has apparently introduced a new mantra to Gala training, repeating over and over again: "We are going to defeat Real Madrid; no-one doubts it." A positive mental attitude will get you many places, but it probably also helps when you have Didier Drogba, Wesley Sneijder and Burak Yilmaz too. Their home record in Europe is pretty impressive, having lost only two of their last 14, a run that includes giving Real a hell of a scare in the second leg of last season's quarter-final, despite the Spaniards eventually winning.
Everything seems a little more relaxed in Madrid these days, with Carlo Ancelotti's eyebrow the only thing as active and frantic as Jose Mourinho. Of course, there was the small matter of Gareth Bale's arrival, but the only significant disruption that was likely to make was to Cristiano Ronaldo's ego, and a new contract worth approaching £300,000 a week will take the edge off that one. Of course, La Decima is an obsession in Madrid, and Bale was careful to mention it in his presentation. Indeed, while Real are bookies' favourites to qualify, Juventus aren't far behind them, and with Antonio Conte's side facing group whipping boys Copenhagen, they will need to get off to a winning start in Istanbul.
Napoli v Dortmund
Don't let those nasty hipster-haters put you off, this is likely to be a belter. Dortmund have started the season like a train - a big, bright yellow train driven by a scruffy, smiley chap in a baseball cap. They spanked Hamburg 6-2 at the weekend, continuing a perfect start to the season in which they have scored 14 in their five Bundesliga games thus far. Ilkay Gundogan is a doubt after a recurrence of a back injury, while Jakub Blaszczykowski will be missing after tearing knee ligaments, but other than that Dortmund will be at full, terrifying strength.
As for Rafa Benitez's Napoli, they have also started in fine style, winning their opening three games with relatively minimal fuss. Had they not signed Mesut Ozil, Arsenal fans might have been weeping with woe at the start Gonzalo Higuain has made in Italy, bagging twice already after recovering from a nasty cut to his head, suffered when slipping off a boat before the season started. They even cut themselves in glamorous fashion over in Serie A.
Marseille v Arsenal
And so, the quest continues. Only slightly behind the Fourth Place Trophy that sits proudly in the Arsenal silverware cabinet is the Qualified For The Second Round Of The Champions League For 13 Straight Years Shield. A fine achievement for sure, but they have got no further than that in the last three seasons, admittedly running into some pretty juggernauty opponents in Barcelona, Milan and Bayern Munich.
As ever with Arsenal, injuries are a concern. Santi Cazorla will miss the trip to Marseille with an ankle injury, and chills will presumably have gone through Gooner spines when it was revealed that Cazorla will miss the troublingly non-specific time period of 'a few weeks'. At least when Arsene Wenger says 'one month' they know to double it. They got past Sunderland at the weekend with the help of a sniffly Mesut Ozil and a rampant Aaron Ramsey (which ranks pretty high in the 'three words you never thought you'd put next to each other' list), but weren't exactly convincing.
However, even with their perennial knack worries, Wenger will presumably fancy his side to beat a Marseille team who started the season well, with three wins from three, but have stuttered slightly since then, knocked over by the Monaco battering ram then scraping a draw with Toulouse this weekend. Threats will come from Mathieu Valbuena, oft-rumoured to be an Arsenal target, and the latest great hope of French football Florian Thauvin, who managed to annoy an impressive number of people by forcing through a move from Lille in the summer, despite having never played for them. Lille signed him in January from Bastia, before loaning him back to them, taking Thauvin from the pedestal of hope to a fresh symbol of all that is rotten in today's game by assorted French hand-wringers in a matter of months. Like I said, impressive.
Milan v Celtic
"Our home record isn't going to last forever," said Neil Lennon before his side travelled to Milan. "Eventually if we keep playing in the group stages of this tournament, we will lose at home so it's important that we learn to play better away from Celtic Park and pick up more points."
The man has a point. It's easy to forget that, despite their heroic performance in the Nou Camp last season, Celtic actually lost that game to Barcelona. Indeed, they even lost at Shakhtar Karagandy in the qualifiers this season, relying on one of those last-ditch Parkhead wins to even qualify for this mountainous group. Celtic's best chance in this one might be to attack Milan's flanks, since the Rossoneri generally play a pretty narrow formation anyway, and their first-choice full-backs Mattia De Sciglio and Ignazio Abate look extremely doubtful for this game. In addition, their creative options look a little thin, with Kaka out (and refusing to accept his wages, bless him) and Riccardo Montolivo both out injured. A point would be a terrific result for Lennon, and despite most logic pointing away from such a score, Celtic always leave a little bit of hope.
Barcelona v Ajax
In truth, it will be something of a surprise if this game isn't a routine win for the Catalans, but the stories! Oh, the stories. Two of the most mythical sides in Europe, on whom you can just smell the history. Or that might be the bocadillos everyone seems to eat at Spanish football games. Not sure. In any case, the connections are there, from Ajax head coach Frank de Boer and sporting director Marc Overmars, to Bojan Krkic (on loan at Ajax from Barca), to Johan Cruyff, club elder for both sides.
"We think we can get some points against Milan and Celtic," said De Boer when the draw was made, admitting by omission that his side don't have much hope against Barca. And this was before Christian Eriksen and Toby Alderweireld were sold. All the best to Frank and his boys.