Is Walcott learning?
Theo Walcott's brilliant volley helped Arsenal begin their Champions League campaign with a win, but Matt Stanger says the winger still needs to show more consistency...
By Matt Stanger
Last Updated: 18/09/13 11:11pm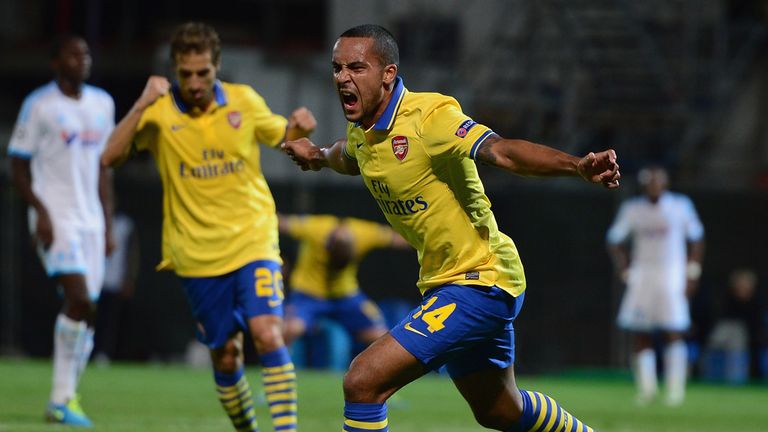 Olivier Giroud's appraisal of Theo Walcott's performance against Sunderland was perhaps more critical than the striker intended. As he hailed Mesut Ozil's debut display in Arsenal's 3-1 victory, the Frenchman hinted that he expected more of Walcott, who missed three excellent chances in the first half to put the Gunners out of sight. It was almost as though he was embarrassed that Ozil had to witness such profligacy.
"I think he (Ozil) has already shown what he can bring us, a great vision of the game and very little wastefulness in his passing," said Giroud. "He could have finished up with three or four assists if Theo had been more clinical. I think us forwards will score more and more goals with Mesut around."
At this stage last season, Walcott was setting off on the best goalscoring run of his career as he sulked over a centre-forward role and played poker with Arsene Wenger over a new contract. The England international scored 14 goals in 20 appearances in the four months leading up to the New Year and was subsequently rewarded with the £100,000-a-week deal he desired.
But since his significant pay rise Walcott's form has regressed. Before Wednesday's trip to Marseille, the 24-year-old had scored only four times and notched five assists in 22 matches. Although he played an important role in Arsenal's brilliant end to last season that secured Champions League football for a 16th consecutive year, Walcott's displays frequently lacked the spark he had shown before Christmas.
The effect of Ozil's arrival should hopefully serve to reverse the dip in Walcott's contribution, with the winger scoring a fine volley against Marseille to help Arsenal begin their European campaign with a crucial victory. It is clear that there is a new top dog at the Emirates, and Walcott's spell outside the spotlight should allow him to reflect on how he can continue to improve.
"He has scored the most difficult of his chances and that should give him a boost and I am sure he will continue to score," said Wenger of Walcott's performance against Marseille.
Some speculated in the first half of last season whether Walcott had finally reached the standard required of an Arsenal player, or if the Gunners had finally sunk to his often infuriating level. The forward's overall contribution in the previous campaign - and Wenger's decision to sanction his bumper contract - leans in favour of the former, but there are still concerns over his lack of consistency.
It goes without saying that Arsenal would benefit from Walcott returning to the devastating form that earned such high praise 12 months ago if they are to maintain their fine start to the season. With Lukas Podolski ruled out for three months and Santi Cazorla also struggling, the Gunners are relying on the 24-year-old to ease the burden on Giroud and provide the firepower to keep hopes of a title challenge alive. Indeed, it could be argued that he is now more important than ever as Arsenal's ambitions at last seem achievable.
If the Gunners wish to keep their targets in sight, Walcott needs to have more nights like Wednesday and fewer afternoons like last Saturday. And if he could somehow help put a stop to the individual errors that have already seen Arsenal concede four penalties this year, that would also be a big help. The Gunners committed the second-highest number of errors leading to goals (14) in the Premier League last season and it seems they are yet to learn their lesson. At least there is hope that Walcott is learning his.
A version of this article originally appeared on Football365