Indian adventure
After brief experiences coaching at Portsmouth, Blackpool and Blackburn, Ashley Westwood set off for India and the task of preparing Bengaluru FC for their debut season in the I-League. Adam Bate caught up with the former Crewe Alexandra and Sheffield Wednesday defender to find out more
Last Updated: 20/09/13 12:40pm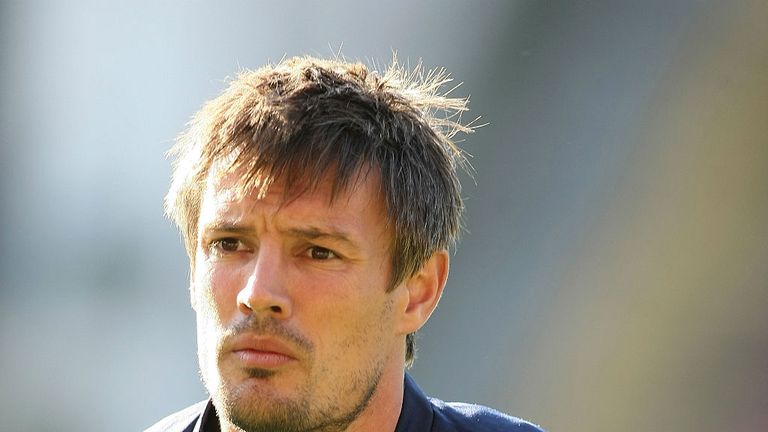 Ashley Westwood has had a hectic 18 months. In the spring of 2012 he was in temporary charge of Kettering, battling to keep the club in the Conference. After signing a playing contract with Lincoln for the following season, Westwood then embarked on a series of coaching adventures as Michael Appleton's assistant at Portsmouth, Blackpool and Blackburn. You could forgive him a rest. Instead he's now managing Bengaluru FC in Bangalore, India.
It's quite the task. Owned by JSW Group, the club has been awarded a franchise in the Indian I-League and is undergoing a frantic transformation in order to meet the infrastructure demands of the competition. Talking to Westwood, it is clear he is a man absorbed by the challenge ahead. When asked the seemingly innocuous question of how he is finding life in Bangalore, such is his commitment to the cause, the 37-year-old is momentarily thrown by the thought of a world away from the football club.
"To be honest, the scale of the job has been so big and so time consuming - I basically get in at 6am and I don't leave until 9pm every single day - that I've only been to a handful of places," says Westwood. "I've been to the mall and different restaurants with the CEO but in terms of popping out for a bite to eat I've not really had time to look around. I'm out here on my own at the minute. My family are coming out shortly but this has been a hectic 10 to 12 week period where we what to do everything we could to be ready for the start of the season. I wanted to be solely concentrating on my job and doing the best I can to make this a success."
The reason for these long days is that this is far more than just a coaching role. The former Crewe defender is helping to construct a football club in a matter of weeks. "They purchased the franchise to go straight in at I-League level," he explains. "With it being a brand new football club with no infrastructure whatsoever it's been a big project and a big challenge getting everything up and running."
"First and foremost we've been allocated a ground which is jointly-owned at the minute with the KSFA (Karnataka State Football Association) and the BDFA (Bangalore District Football Association) so we've come in to share that stadium. The second thing was to organise the facility - our offices, rooms, gyms, dining rooms, kitchens etc. Once we have been able to get that into place we've had to put a normal football structure into place regarding training times, breakfast, nutrition, recovery drinks, gym sessions, training sessions."
"We have put into place the certain stipulations that were made by the All India Football Federation. To be able to have entry to the I-League there are criteria that you have to agree to meet over the next three years. That's the academy from Under-7s right through to Under-19s and your first team. We also have to supply a team to play in the state league." While Westwood has experienced most things in a club career that started at Manchester United, tasted Premier League football at Bradford and saw the other side of the game down the divisions, he freely admits that life as de facto project manager is a world away from his English experiences.
Huge job
"It's huge," he says. "If you're in England then you might get an assistant manager or first-team coach role. Here I have a CEO above me who takes care of operations and an assistant for off-the-field issues but the next step is me and I've been driving things in terms of certain European standards that we want to put in place. It's certainly a 24 hour hands-on operation. It's been good to get involved with not only the coaching and team-building side but also make sure all the standards are set that are required to run a successful football side."
With so many challenges, events on the field might feel like an afterthought. But Westwood has devoted considerable energy to getting this area right in time for the I-League kick-off on September 22nd. Former Middlesbrough defender John Johnson, a team-mate from his Northampton days, has signed for the club. Ex-Reading and Wimbledon player Curtis Osano has made the move as well. With experienced Liberia international midfielder Johnny Menyongar also in the squad, the plan is that these players can be a positive influence on the young Indian footballers.
"Obviously, we've also got the first team issues in terms of getting our squad together and getting into some kind of shape to get a team assembled to start the league," says Westwood. "I wanted to bring in a couple of good professionals from England who I thought could be adaptable to Indian conditions. I wanted people who'd come through English academies - one has come from Middlesbrough and one has come through the Reading academy so they know the sort of pedigree that's expected. I want them to act in the correct manner and for the Indian guys to follow suit really.
"I've also got an assistant coach here called Pradyum Reddy who has done 10 years in England, 10 years in America and seven years in India so he's got the background and has helped put the Indian boys together. We have made sure that we've got the right characters who all want to buy into our project on and off the field." They include captain Sunil Chhetri, star striker with the national team and one of the few Indians with experience of the game overseas. Chhetri is already on record praising Westwood's impact and the man himself believes professionalism is the key to the club's success.
He says: "We had to get over to them really that this isn't Indian football as it was in the past where they are used to bringing in their bag, dropping it by the side of the field, doing your two hours, then picking your bag up to go home and that's it - you're a footballer for two hours a day. We've had to get them to understand they are a footballer 24 hours a day. We supply the top heart-rate monitors, we've got recovery monitors and sleep monitors. We give them protein shakes and electrolyte drinks. We have breakfast together an hour before training. We have lunch together and supply four chefs at the lads' apartment where they all live together.
"They live in apartments 15 minutes away from the training ground. They get picked up in a coach and dropped off together at the training ground. Then they are dropped off back at their apartments after training with their evening meals supplied and monitored. It's a seven day week with the day off as a recovery session. We've really got hold of them and improved their general fitness from the day they came in. We are now nine-and-a-half weeks into our training and they've completely transformed into what you would expect from athletes in England as far as professionalism is concerned.
"Obviously there is a vast scope for improvement but that's quite rewarding as a coach. You can come in and put things we take for granted into place. Straight away you discover the huge margins for improvement. You might go into a Championship club and try to improve a player by five per cent. You come over to India and you can vastly improve a player. Even if you just concentrate on fitness to start with, you're going to see a massive improvement. That's before you get into your technical and tactical side of things. It's rewarding, the improvement that you can see."
Listening to him talk with passion about making players better is a reminder that Westwood is a coach at heart. After all, this is a man who had Sir Alex Ferguson and Dario Gradi as his first two managers. He knows what it takes to do things right but having worked at Kettering and Portsmouth while the clubs were in administration, he also understands the need to muck in when the situation demands it.
"I did four months at Kettering when they'd just gone into administration and there weren't many members of staff," says Westwood. "It was all hands to the pump so I learnt a lot there. I was basically manager, assistant manager, first-team coach and player at the same time. Portsmouth were also in administration where your hands were tied really. So I've certainly had a lot of experience and a lot of different situations thrown at me in a short space of time."
Courage
That short space of time has also taken in a lot of clubs. Stability is the aim now and Westwood wants to stay in Bangalore to build something. But understandably, he also hopes that his experiences in India will not go unnoticed. "It shows that if future jobs come up in England I'm adaptable and I've had the courage to try something different," he says. "If you always coach at one level then you could arguably become one dimensional. If you seek different experiences then hopefully it will add another dimension to my coaching experience. You only have to look at the current England manager Roy Hodgson to see that coaching in different countries and learning different languages can work for you."
Before that he has high hopes for his time in India. "There are big plans," he adds. "We are having a $50million to $70million refurbishment of the stadium. We want to make ourselves competitive and stable in the I-League. We have met the criteria and the club have put up a bond for the relegation clause in the contract but hopefully that won't even come into play. Given the way that we have prepared the squad, I'm hoping that we will maybe surprise a few people." If hard work and thorough planning have anything to do with it, Ashley Westwood might just do that.