Weekend review
The weekend's action in the Premier League justified the hype as Manchester City stole bragging rights to such an extent an open top bus ride wouldn't have seemed over the top this morning, whilst elsewhere Paolo Di Canio paid the price for Sunderland's miserable start with his job
By Matt Stanger, Alex Dunn, Nick Miller, Philip Cornwall & Peter Fraser
Last Updated: 23/09/13 4:00pm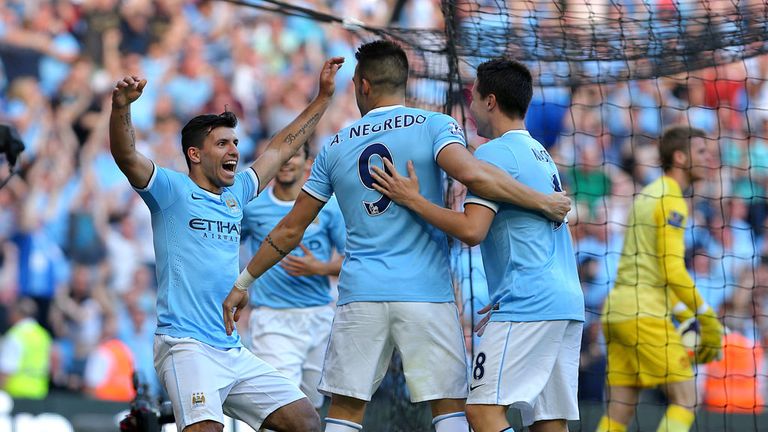 Steepest of learning curves for Moyes...
This, arguably, was worse for Manchester United than the 6-1 at Old Trafford a couple of years ago. For a start, United had 11 men for the whole of this one - in 2011, they played 43 minutes of the second half with ten after Jonny Evans was sent off. This time all their players stayed on the pitch, even if some of them might as well not have bothered. Also, that game was actually 3-1 until the 89th minute, with three more goals coming when United were already exhausted and demoralised - in this one they were 4-0 down and thoroughly embarrassed by the 50th minute. The scoreline may have been slightly less emphatic, but the nature of the defeat was not.
United have been heavily beaten before. They have lost heavily and recovered to win the title. Sir Alex Ferguson's United were humiliated in this fashion in the past. The difference this time is that when Ferguson made a mess of things, it was okay because Ferguson was there to clean it up again. Ferguson isn't there anymore, just a man who is a perfectly good manager but at present looks out of his depth. At some point David Moyes might get a handle on how to be Manchester United manager, on what a huge responsibility and job this is. The problem there is how long does he have? How long does he have to learn on the job? Even if this season really goes south (by United standards), it's difficult to see Moyes being sacked at any stage this year, so he'll be given time, but in order not to be labelled a failure in following Ferguson, the most difficult job in football, he needs to get a grip on all this pretty quickly.NM
Same old, same old? United midfield bullied and lacking in invention
Man of the match Yaya Toure and the rejuvenated Samir Nasri, who was also superb in the midweek win over Plzen, were significant factors in Manchester City's excellent first half that set them up for the most emphatic of derby wins. Toure touched the ball 43 times, won all of his two duels and played 38 passes, the most of any player on the pitch, at a pass success rate of 86.8%. He also scored City's second goal on the stroke of half-time after a defensive lapse from Marouane Fellaini, who lost his man. Likewise, Nasri touched the ball 46 times, which was the most of any man on either side in the first half.
For United, although they saw an increase in possession in the 10 minutes before half-time - with the possession stats at the break reading only a 54.7% majority for City - there were familiar signs from their season. They had the ball in central areas but Michael Carrick and Fellaini were failing to dictate play. Carrick won possession (10) and had more touches (95) than any other player over the course of the game. But as Sky Sports' Gary Neville identified in co-commentary, there were "too many straight passes". Fellaini was supposed to improve this area after taking Tom Cleverley's place in the team but there was little impact against City.
Carrick and Fellaini were failing to play the ball at any angles which would test City's line of defence and this in turn allowed the home side to keep their shape and mean Wayne Rooney, who looked a frustrated figure, had to drop deep in search of the ball. Young was also guilty of a dire performance, with only eight successful passes before half-time. It got no better in the second half either. Read our full match analysis here PF
Di Canio exit inevitable...even after just five games
Paolo Di Canio talked a decent game in the summer, as long as you didn't pay too much attention to what he was saying. "We knew before that we were going to make a revolution," he said as the changes to the squad mounted up. "Obviously, the numbers were as important as the quality." Really?
In many ways, being a football manager is one long job interview: not for the post you have now, but the one you will be trying to land when the current gig ends. What have you done at one club that will impress the chairman of another?
All of this brings us to the question: what if anything has Di Canio done at Sunderland that would encourage someone else to appoint him? And it is hard to conclude that there is anything positive for the Italian to draw from this experience. Thirteen matches is not long enough to judge a manager, really. Sacking someone so soon is more a judgement on the appointment in the first place. Sunderland are admitting they made a mistake; and after what has happened, why would anyone else want to follow in their footsteps? PC Read our full appreciation of what's gone on at Sunderland here
Saints' perfect plan
Southampton's binary sequence continued in their favour against Liverpool as Mauricio Pochettino helped his team execute a perfect game plan. The Saints' last eight matches in the Premier League (dating back to the start of May) now read 1-0, 0-0, 0-1, 1-1, 1-0, 1-1, 1-1, 1-0, with Pochettino's side scoring just six times and winning two of their last 11 league fixtures.
Those concerns were allayed at Anfield on Saturday, however, as the manager set his team up to take advantage of Brendan Rodgers' curious fancy for centre-backs. Saints pressed Liverpool's defence high up the pitch - with a striker always on Simon Mignolet when the keeper had possession - and this prevented the Reds from building from the back as they are wont to do.
The plan worked incredibly well, with Adam Lallana particularly impressive in his dedication to the task and Morgan Schneiderlin and Victor Wanyama providing a solid foundation in the middle. The only downside to an excellent result was the lacklustre performance of Dani Osvaldo, who repeatedly conceded possession and failed to offer any support to the midfield in the final stages of the match as Liverpool desperately sought an equaliser.
The club's record signing currently seems incapable of forming an effective partnership with Rickie Lambert and, unfortunately for the England man, it seems he'll eventually be the one to lose out. Considering the sudden reality of his World Cup dream, a January move for Lambert, who has scored only once from open play in his last 12 appearances for the Saints, would not be a surprise. MS

Chelsea too easy frustrate?
"Fulham's primary intention will be to quiet the crowd and not concede in the first quarter," said Davie Provan on co-commentary duty for Chelsea's west London derby with Fulham. To a man, Martin Jol's players did exactly that and it was all too easy. In the first half the away side were content to sit, soak and counter-attack and play with a backline so deep one supporter behind David Stockdale's goal needed a steward to remove a Fulham centre-half from his seat. It wasn't overly imaginative but it was effective. Chelsea, lacking penetration down either flank, looked devoid of ideas.
The graphic below demonstrates how Brede Hangeland and Fernando Amorebieta gave Samuel Eto'o scant room to get in behind, whilst the pugnacious Scott Parker (28) and snappy Steve Sidwell (7) sat just in front to provide a shield. Time after time they nipped in front of Chelsea's celebrated but ineffective attacking triumvirate, turning the ball over 15 times in the first period alone. Sidwell made seven interceptions, to put into context no Chelsea player made more than one.
Just as Basel and Everton had done in Chelsea's last two matches, Fulham were happy to flood the middle third of the field with bodies, as Chelsea's lack of width was again an Achilles heel that flared throughout. It's a tactic that seems to work. In the end, Chelsea did what they do best under Mourinho in grinding out the right result, but the Portuguese is wily enough to acknowledge, at least in private, that this is still very much a work in progress at Stamford Bridge. A better team than Fulham on Saturday would likely have taken all three points off a flat Chelsea. Read our full match analysis here. AD
Credit where it's due
Hull City are so unfashionable Gok Wan recently turned down Steve Bruce's request for a makeover with 'put it away baby, ain't nobody that wants to see that naked'. Demoralised and not a little embarrassed, our brave Bruce dusted himself down, slipped on his comfiest tracksuit and masterminded his side's 3-2 victory over Newcastle at the weekend. And yet, if you picked up Sunday's newspapers the focus was invariably on where it went wrong for Newcastle. Screw you Gok, Hull deserve a bit of credit. It's a second win of the season that takes the Tigers up to 11th place, with a respectable seven-point haul from five matches. Considering it looked as though Hull might 'do a Derby' when pummelled to the point of embarrassment in the first 20 minutes of their return to the big time at Chelsea on the opening day, it's fair to say they've regrouped well and are making a real fist of it. Indeed, were if not for profligacy, they may even have started the season better. Bruce has called for more ruthlessness and when that's coming on the back of scoring three away from home, it's cause for real optimism. Sone Aluko looks a real prospect and after his stunning winner at St James', will be quietly optimistic of providing the cutting edge his side have lacked to date. AD
Spurs lack killer instinct
A relentless display that eventually carved a 29th and final opportunity for Paulinho to grab the winner and celebrate with a playground pile-on. This was unlike Spurs' lacklustre 1-0 victories last season as they created chance after chance only to be denied by some resolute Cardiff defending and fine goalkeeping from David Marshall.
Paulinho demonstrated his box-to-box talents that he showed so readily for Brazil in the Confederations Cup, and the 25-year-old's selection alongside Mousa Dembele - with Sandro left on the bench - outlined Andre Villas-Boas' intention to win the match. This was a game for creating, not destroying, although Sandro's form of destruction is as perfect as the wings on a butterfly.
You won't be at all surprised to learn that Andros Townsend had the most shots for Spurs (along with Paulinho) with only two of the winger's efforts hitting the target. He must be careful to avoid promise becoming predictability, and Erik Lamela's late contribution should see a change to the starting line-up for Chelsea's visit on Saturday. MS
Does it really Mata?
The real scandal is that Kofi Annan is yet to intervene. How long can this barbaric treatment of a universally popular Spanish schemer continue before action is taken? Twitter has made up its mind. Jose Mourinho is hiding a potential weapon of mass destruction (to opposition defences - doesn't quite work, but you get the idea) on the bench and on Saturday, Lord no, in the stands. That Juan Mata is a majestic player is not in doubt. That Chelsea have at times missed his wit and invention in the final third is pretty indisputable too.
And yet, are we not as a collective guilty of being a touch hysterical about all this? Banners, really? Mourinho, whether you love or loath him, is pretty good at this management lark. Hey, he might even know more than some of us about whether Mata fits into his long-term plans for Chelsea. It's just something worth putting out there. His job isn't to entertain us, as neutrals or even Chelsea fans, but to get results. If whispers that this lack of game time is due to a personal issue then that's disappointing, but as it stands, with neither party having even intimated this is the case, then it's only fair to take Mourinho on his word.
At present, he believes Mata's natural game doesn't quite work in terms of how he wants his 'wide players' to operate. He's asked his player to adapt to his way of thinking or risk a backside of splinters. It's a hard line to take, but he's not tied him to a radiator and forced him to watch Oscar videos whilst a Punch and Judy act hollow 'that's the way to do it' on a loop in the background. It's a shame Mata isn't playing, it really is, but he's not the only great player to find his face doesn't fit with a new manager and he won't be a last. Talk of a 'crisis' at Stamford Bridge with Chelsea two points off top spot is premature to the point of absurdity. That this theory is largely based on one really good player being picked over a slightly better one makes it even more so.AD
Leighton Baines
Wow. Just wow. Gareth Barry isn't a regular contributor to this column but we reckon his summing up of his team-mate's performance at West Ham was on the money: "You can put him in the world class bracket when he's doing things like that. Two free-kicks in exactly the same spot in different sides of the goal - there's not too many players in the world who can do that. He's not just got that ability to go forward and score penalties and free-kicks though. He's so solid at the other end as well and if you speak to Sylvain Disitn I'm sure he loves playing alongside him for his defensive duties too. He's been very consistent for a number of years." GB
Courtesy of our friends at Opta...
6% - Second-place Tottenham have the lowest conversion rate of shots into goals in the Premier League this season. Squeak.

- OptaJoe (@OptaJoe) September 23, 2013
20% - League leaders Arsenal have the best rate of converting shots into goals in the Premier League this season. Clinical.

- OptaJoe (@OptaJoe) September 23, 2013
17% - Di Canio's PL win rate of 17% is the worst of any Sunderland manager to oversee more than 10 games since Howard Wilkinson. Parted.

- OptaJoe (@OptaJoe) September 22, 2013
11 - Wayne Rooney has now scored 11 goals in Manchester derbies, more than any other player in the fixture's history. Consolation.

- OptaJoe (@OptaJoe) September 22, 2013