A famous night?
Swindon's Miles Storey and Alex Pritchard plot a cup giant-killing against Chelsea and tell Sky Sports about their targets for the season along with feeling sorry for Paolo Di Canio
By Peter Fraser - Follow me on Twitter @SkySportsPeteF
Last Updated: 24/09/13 6:49pm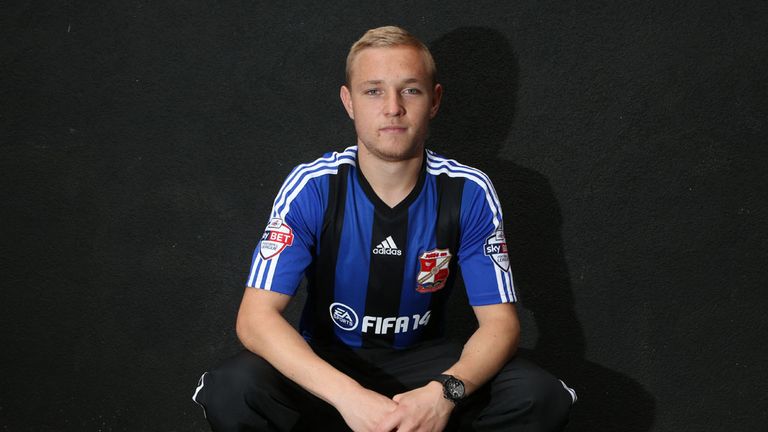 Swindon Town are ready for one of the biggest games in their history as they prepare to host the footballing royalty of Chelsea on Tuesday evening.
The Capital One Cup third-round tie will be a famous night for Mark Cooper's League One side and they are dreaming of what would be a huge upset.
But in their way stand the 2012 European champions and 2013 Europa League winners along with the not insignificant hurdles of manager Jose Mourinho and a star-studded squad.
However, Swindon youngsters Miles Storey, 19, and Tottenham Hotspur loanee Alex Pritchard, 20, who appear in EA SPORTS FIFA 14, are not intimidated and are plotting what would be a huge upset. Here, they tell Sky Sports about giant-killings, targets and former boss Paolo Di Canio.
How does facing Chelsea rank as a game in your career?
Miles Storey: "It is at the top, really. We played Aston Villa last season, which was pretty big. But this is one step more against a club who won the Champions League a couple of seasons ago and won the Europa League last season. Add to that Jose Mourinho and top-class players and it is going to be a great experience."
Alex Pritchard: "It is probably the biggest game so far. It is a big game on Tuesday and we are all looking forward to it. Hopefully we can get a good result."
How can Swindon take advantage of the tag of underdogs?
MS: "A lot of the time you see the underdogs do really well. We have got nothing to lose whereas Chelsea have got it all to lose. We can just go out there, play our football and try to win the game."
AP: "We have done it before with this group of players. We went to Queens Park Rangers in the last round of the cup, played well and beat them 2-0. That gives us a chance against Chelsea. The fans will be behind us and the ground will be packed out. It will be a good night and a good atmosphere."
MS: "I am still a massive Fernando Torres fan. Being a striker myself, I have always liked him. He has hit a bit of a rough patch but, growing up, he was one of my favourite players. I might be trying to swap shirts with him if he plays. I have already swapped one shirt this season and our kit man was not very happy! But I think it would be worth it."
AP: "It does not matter who you face, they are all going to be world-class players. Mata and Luiz are meant to be playing and so it will be good to play against them. I like Eden Hazard but I do not know if he will be playing."
What is it going to be like to play against a team managed by Jose Mourinho?
MS: "It is an opportunity for everyone. If you do well against one of his teams, you never know what is going to happen in the future. With his pedigree and a man like that watching you play, if he thinks you look good, it is obviously going to be positive."
AP: "He is a character in football. Everyone looks at him and he is a top-quality manager. He has just come from Real Madrid and they are the best club in the world. It will be difficult to play against one of his teams."
Do you like Mourinho's management style and his self-confidence?
MS: "I do. He is a tactician but he really seems to get the best out of his players. When he was at Real Madrid, Cristiano Ronaldo scored a lot of goals. Mourinho will also do that back at Chelsea. He is obviously very charismatic on the touchline."
AP: "He is confident and is himself. He has also proved he is not all mouth. He has proved he is a great manager."
Swindon won the League Cup as a club in the old Third Division when they beat Arsenal in the 1969 final. Are you aware of that history?
MS: "Roughly. We have a lot of posters and things like that down the corridors about the history. It will be a hard task to do it again this season but we had a good run last year so let us see what we can do."
MS: "We had a massive win in the derby. A couple of people wrote us off at the start of the season. We have got a lot of young players but we play football the right way - pass and move and we have modernised our formation from last year. Once we perfect the way we play, anything is possible."
AP: "The way we are playing at the moment, we have just got to string a few results together and get some luck. Hopefully we can push on and maybe make the play-offs. After beating Bristol City in the derby, I do not know why we cannot get a good result on Tuesday. Everyone has got a good feeling."
Are you pleased with your own performances so far this season?
MS: "I am enjoying it at Swindon. I have been here four years now - two years as a scholar and two years as a professional. I am enjoying my involvement and I am just looking to build my involvement."
AP: "This loan move is basically the start of my professional career. I am happy to have scored a couple of goals and I am starting to get some momentum in League football. We will see how it goes. I want to be at the top but you have got to take it step-by-step. Hopefully I can make it."
What is your reaction to your former Swindon boss, Paolo Di Canio, being sacked by Sunderland?
MS:
"When he was here, it was very tough. But, at the same time, I really enjoyed it, because he gets the best out of players, you work hard and improve. It is not nice to see what has happened to him at Sunderland but he will get another job and do well like he did at Swindon."
Alex Pritchard and Miles Storey were attending an EA SPORTS FIFA 14 tournament as Swindon Town FC players went head-to-head with The FIFA Playa in a four-way knockout. EA SPORTS FIFA 14 is out this Friday, 27th September on Xbox 360, PS3 and PC, available from Game.co.uk. Watch the tournament http://bit.ly/1gRCE5k