Forster Hart-ache?
Fraser Forster and Joe Hart have had contrasting fortunes this week, but Ian Watson believes the Celtic goalkeeper will struggle to impress Roy Hodgson or challenge the England number one on Champions League form alone.
By Ian Watson - Follow @IanWatson1
Last Updated: 03/10/13 3:06pm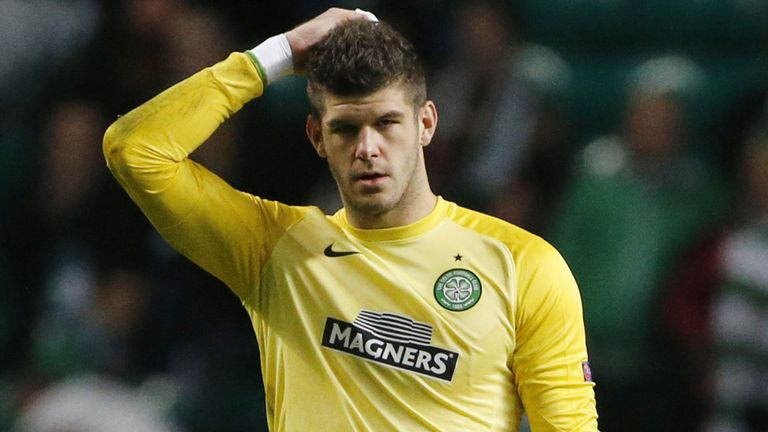 In the immediate aftermath of Fraser Forster's stunning double save in the closing stages of Celtic's defeat to Barcelona, Twitter was abuzz with journalists and fans asking the same question: why is Forster not getting a look-in for England? The topic came up again, 24 hours later, while what remained of Joe Hart's confidence was being eroded by the European champions.
Forster produced another stunning display - in the second half at least - to frustrate Barcelona again, with the 25-year-old's agility, speed, strength and determination never more evident than when he got down to Neymar's low drive before getting up and down again to shovel away Alexis Sanchez's effort on the rebound. Unlike last season, however, the Catalans finally got the better of Celtic, thanks in almost equal measure to Cesc Fabregas' header and Scott Brown's idiocy.
The Spanish press last season dubbed Forster 'The Great Wall' after two breathtaking performances against Barca in Celtic's successful Champions League group campaign and he was almost as impermeable again on Tuesday. Europe has once more given Forster the platform to further his England ambitions, but heroics on the biggest club stage of all have not yet been enough to impress the Roy Hodgson. Six games, or eight in Celtic's case last season, against the cream of the continent fail to compensate for the supposedly sub-standard quality Forster faces in the other 35-40 games of his club season.
Catching up on last nights football, Fraser Forsters double save #WOW

- Dean Kiely (@deankiely40) October 2, 2013
Hodgson is not the only one who seems to think that the Scottish Premiership is no place to prepare for a World Cup. Newcastle manager Alan Pardew was aghast at the decision of his predecessor to allow Academy graduate Forster to spend the 2010-11 season at Celtic. Upon the keeper's return to his parent club, Pardew said: "We have watched that division and watched him all year. We've been very disappointed with the quality of the games, other than the occasional Rangers versus Celtic game. And even some of those have been poor, if I'm honest. He is coming to a completely different level of football."
That disappointment did not stop Pardew from dispatching Forster north again for another season before he sanctioned a £2million permanent transfer. But the fact remains: Alan Thompson (one cap) is still the only Celtic player to have played for England while plying his trade in Glasgow's east end, while Gary Hooper felt it necessary to move south this summer to further his international ambitions. Forster, despite a scarcity of quality English goalkeepers, will surely have to follow Hooper back to England if he is to fully convince Hodgson of his credentials.
Forster seemingly accepted he would have to leave Celtic if he is to go to Brazil next summer, especially after he missed this year's trip to Rio with England. The keeper's form dropped off through the second half of last season and he was left out of Hodgson's squads for the friendlies with the World Cup hosts and Republic of Ireland.
Prior to his omission, he had already gone on the record with his desire to play in the Premier League, saying: "For me, it is key to stay in and around the England squad. I have got the taste of it. But it is important that I am playing and being tested week-in, week-out." After his summer snub, he simply accepted: "I'll just have to do whatever is necessary to make that squad."
Right up to the transfer deadline, it seemed that Forster would be one of the many goalkeepers on the move. But the anticipated summer stopper swap never got going. Only three clubs brought in new number ones, with Liverpool's purchase of Simon Mignolet being the most high-profile. Sunderland opted to promote from within, while Hull and Fulham both chose cheaper keepers with more experience in Maarten Stekelenburg and Allan McGregor. Jack Butland presumably thought his move to Stoke would put him in the frame for the World Cup but, with Asmir Begovic staying at the Britannia Stadium, the Under-21 international finds himself back int he Championship, attempting to catch Hodgson's eye from afar - much like Forster.
Forster's strengths are obvious: his size makes him an imposing presence and his shotstopping abilities have rarely been questioned. Forster has come to terms with how best to shift that 6'7" frame around the goalmouth, and he has had to work hard with Stevie Woods, the Celtic goalkeeping coach, to improve his decisiveness and timing in dominating his area. Forster often plays cautious with balls aimed towards his box, which is no bad thing. Some managers want their keeper to come for everything they can; others are happy for their number one to leave their line only when absolutely necessary.
Despite Forster's development, Hodgson has yet to be impressed enough to reward the keeper with even a single minute of international football. The boss has allowed Ruddy, Butland, Foster and Rob Green all to audition for the role of understudy to Hart. But Forster, despite his Champions League experience, remains untried.
While Hodgson and others may view the long periods of inactivity Forster supposedly endures in the Scottish Premiership as a bad thing for his development, it should, in theory, at least sharpen his concentration. But his stats this season suggest Forster thrives when he is kept busy. In seven league matches this season, he has conceded an average of a goal a game; made 1.4 saves per game; and has a shots to saves ratio of 59%. In the two Champions League games, at AC Milan and against Barca when he is obviously likely to be kept more occupied, Forster has made five saves per game and has saved 77% of the shots he has faced - a figure 18% up on the domestic statistic.
Concentration concerns also surround Hodgson's number one. Hart has come under heavy fire over recent months, with some sloppy errors being blamed on poor concentration or dodgy decision making. Andreas Weimann's winner for Aston Villa against City last weekend gave the critics more ammunition, especially following on from a poor showing at Cardiff, which came days after James Morrison's shot at Wembley bamboozled Hart.
Roy Keane was one of Hart's highest-profile critics last season, accusing the England keeper of being "too cocky", saying: "He just relaxes a little bit and takes his eye off the ball. He needs a bit more competition around him."
Keane may be right - Andrea Pirlo certainly thought so. The Italy maestro put the first pin in the England keeper's over-inflated ego by chipping him from the penalty spot in the shoot-out at Euro 2012. Prior to that, Hart was spoken of as one of the best in the world and flying. The battering by Bayern on Wednesday night completed Hart's descent, and it has been anything but a smooth landing.
If Hart's confidence had crossed the line in cockiness, then the opposite is now true. But the only thing the England and City keeper can do is play and train his way through his slump and Hodgson will likely give his number one the chance to do that.
Keeping faith
The manager has been a staunch defender of the 26-year-old, saying in August: "I do believe in Joe Hart, I will be vociferous in my support for him because I feel he deserves it. We care for him, and we believe in him."
Hodgson has a point. Even when Forster's stock was on the rise last season and Hart's was crashing, he was still performing well in the Champions League. Forster was incredible against Barca but Hart achieved similar levels of brilliance for City against Borussia Dortmund at the Etihad.
2012/13 & 2013/14 Champions Lge
 
 
Player
Fraser Forster
Joe Hart
Team
Celtic
Manchester City
Appearances
10
8
Minutes On Pitch
900
720
Goals Conceded
16
14
Minutes per Goal Conceded
56.2
51.4
Clean Sheets
1
1
Saves
 
 
Saves
39
39
Saves per game
3.9
4.9
Saves from Inside Box
20
24
Saves % from Inside Box
55.6%
70.1%
Saves from Outside Box
19
15
Saves % from Outside Box
100.0%
79.0%
Saves to Shots ratio
70.9%
73.6%
Catches
 
 
Punches
2
7
Catches
3
9
Dropped Catches
0
0
Catch Success Rate %
100%
100%
Kicks
 
 
Long Kicking Distribution
104
80
 
 
 
Many believe Forster is deserving of a chance in the number one spot, but the Celtic keeper has Foster and Ruddy to displace before he takes on Hart. Staying in Scotland has made his task considerably more difficult but, unless a Premier League club urgently requires a number one in a hurry in January, it seems Forster will remain in Glasgow for the season - and probably the World Cup too.