Five alternatives
Don't fancy England's nervy 2-1 win over Montenegro? Nick Miller picks five other games and, with excitement a little thin on the ground in Europe, he casts his eye further afield...
Last Updated: 10/10/13 11:38am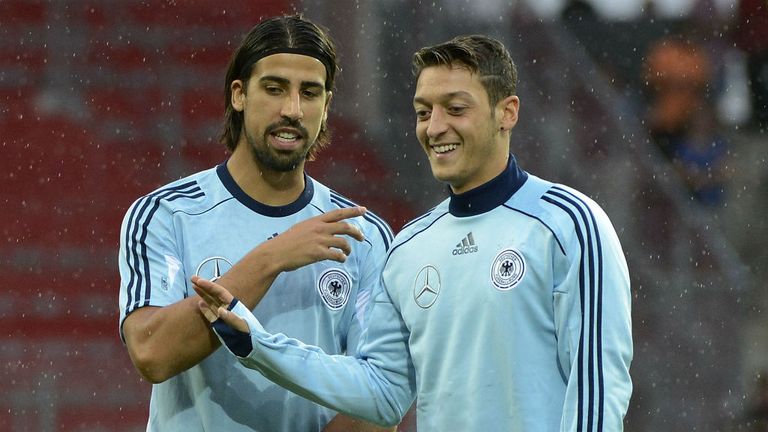 Germany v Republic of Ireland
Not exactly one for the competitive spirit, given Germany have all-but qualified and Ireland are out, but this one will be interesting for no other reason than as an audition for caretaker coach Noel King. Following the dismissal of Giovanni Trapattoni, King was handed the reins for Ireland's final qualifying games, with the assumption that he will give way to whichever more high-profile candidate the FAI selects. However, if King and his players acquit themselves well in this one, then who knows?
King doesn't seem to be treating the game as an experiment, despite selecting players that Trapattoni staunchly ignored during his tenure, like Andy Reid. "We are not the strongest football nation in the world, so sometimes we can't play the way we want to play," King said this week. "But there's a game to be fought for, there are points to be won and we will do whatever possible that we think is the right thing to try to get the win."
The good news for Ireland is that Sven Bender and Marco Reus are both out with injuries. The bad news is that Jogi Low still has Mario Gotze, Thomas Muller, Toni Kroos, Julian Draxler and Mesut Ozil to choose from. "I have just played the Under-21s last month and even that German team would give us a game, so there is strength in depth," said King. Quite so, Noel.
Ukraine v Poland
England's group is actually the most interesting in terms of uncertainty of qualification, even if the quality of football doesn't exactly have the crowds gasping in awe. Three points separate four teams, and while England's fate is in their own hands, should Roy's boys slip up then there are plenty waiting to take their place. This game was due to be played behind closed doors after what we'll lightly describe as a 'kerfuffle' in the stands during Ukraine's game against San Marino, but an appeal suspended that suspension, so people will be in attendance at what could be an important game, in deciding who makes the playoffs at least, assuming England win.
Poland have 13 points, two behind Ukraine and Montenegro, so if England prevail at Wembley, the winner of this clash will be in prime position for second place, and thus a spot in the playoffs. The previous game between these two ended in an impressive 3-1 win for Ukraine, and they also come into this one on the back of heroically holding England to a brave draw, plus shellacking San Marino 9-0. If the Poles lose, their hopes of qualifying for Brazil will be over, but anything else will just about keep them alive.
Belgium v Croatia
One of the few games between two teams that could still top their group, this one could see the first step in this outrageously-talented generation of Belgian players delivering on their potential. Belgium require only a point in Zagreb to confirm their place in the finals, but the Croatian side could make things interesting with a win. Of course, there is a five-point gap between the sides, so even then Belgium could and probably will stroll through with a win against Wales in the final game.
Ecuador v Uruguay
A huge game in South America, this. Two games of the qualifiers remain, and these two sit level on 22 points, with the home side in fourth and the visitors fifth. With only the top four going through automatically, you can appreciate the importance of the occasion. Should Uruguay win they will take a huge step towards qualifying, which would represent a hell of a turnaround considering how their campaign began. A terrible run of results, including beatings by Argentina, Bolivia and Colombia, put the reigning Copa America champions in serious danger of missing out on Brazil. However, solid showings in their last three games have put Oscar Tabarez's men in with a sporting chance again.
"Playing in Quito is difficult and we are aware that they have a lot at stake," said Luis Suárez this week, when he wasn't revealing yet another new leaf of his. "We cannot be complacent, we are realistic. We have been winning and doing things right but we cannot rely on anything. A couple of months ago we were resigned to the play-offs, now all we want, based on the good results, is qualifying outright. We know we have the team to push through qualifying to reach the World Cup."
While a win would be a great comeback story for Uruguay, it will be regarded as an opportunity missed for Ecuador, who looked nailed-on to qualify after a fine start. However, two points from their last four games have put their place in danger, even if one of those points was perhaps the most hard-earned in international football, coming in the oxygen-light La Paz, where greater players than the Ecuadorians have wilted before.
Ivory Coast v Senegal
They're at the playoff stage in Africa now, and despite the fuzzy feelgood story being cruelly taken away from us after the Cape Verde Islands were kicked out for fielding a suspended player, we still have this clash between two of the giants of African football to keep us entertained. This game has officially been designated as 'high risk' by Fifa, and 1,700 'security operatives' have been drafted in to ensure the game passes off relatively peacefully. That comes after an Africa Cup of Nations qualifier between the two sides in Dakar last year was abandoned after riots, which included several fires being lit and missiles thrown onto the pitch from the stands, leading many supporters seeking refuge. Hopefully nothing quite as spicy as that will happen this time.