Sky Sports highlights the best of the week's sporting action
There was no Premier League this week but still plenty of top quality sporting action to look through.
Last Updated: 14/10/13 2:03pm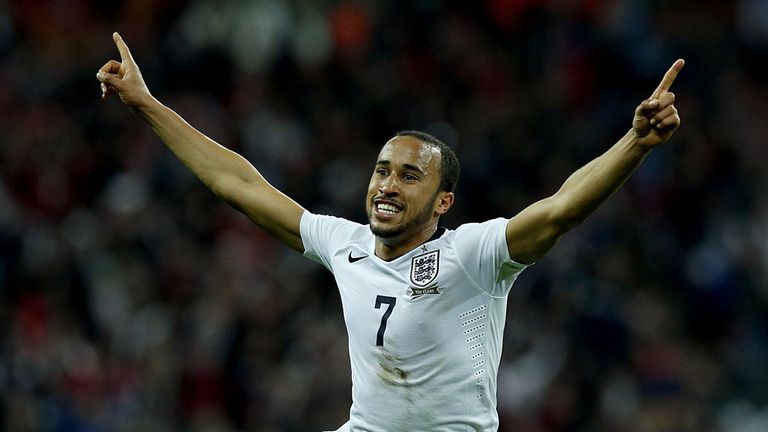 Phil Taylor was being, well, Phil Taylor, again as he dominated all before him at the darts in Dublin, but it was anything but easy work for Novak Djokovic out in Shanghai.
With plenty of stars performing wonders let's have a look at our pick of the last week.
Good Week
David Lynn
Englishman David Lynn ended his nine-year wait for a second European Tour success by shooting a superb final round 63 to win the Portugal Masters, where we almost got the first round of 59 in Europe.
Despite finishing runner-up in last year's US PGA Championship and enjoying an excellent 2013 season on the PGA Tour, the Englishman hadn't won in Europe since capturing the 2004 KLM Open 224 starts ago.
That changed with his success at the Oceanico Victoria Golf Course, where Scott Jamieson almost made history on Saturday as his chip from the edge of the green just missed the hole for what would have been the first 59 on the European Tour.
Andros Townsend
England debutant Andros Townsend justified Roy Hodgson's faith in him with a stand-out performance helping England to move a step closer to the World Cup next year with a 4-1 win over Montenegro.
The win guaranteed a top-two finish in Group H. There is still work to be done if the Three Lions are to book a place at Brazil 2014, but they can now rest a little easier heading into Tuesday's clash with Poland at Wembley.
Townsend always looked lively getting the ball down and running at players, and he got his just rewards with a goal on 78 minutes that sealed the victory when putting England 3-1 in front after Montenegro had just got back into the game.
Phil Taylor
The records and the titles keep coming for Phil Taylor after he destroyed Dave Chisnall 6-0 to win the World Grand Prix title in Dublin for the 11th time.
World No 1 Taylor won 18 of the 20 legs in a ruthless display which left Chisnall shaking his head in disbelief - after The Power won the first three sets without Chisnall even having a shot at a closing double and he simply refused to back off.
At one point it seemed as if the 16-time world champion would win the match without dropping a single leg but Chisnall finally ended the onslaught in the first leg of the sixth set - where Taylor failed to even get under way by hitting a starting double!
Tom Brady
Tom Brady's long run of throwing touchdowns was ended in a bad defeat last week, and it looked like being two in a row as the New England Patriots trailed the unbeaten New Orleans Saints with just a couple of minutes left in our live Sky Sports game.
Brady has struggled all season with a new young batch of wide receivers but they all stepped up to the mark as he led them on a remarkable drive looking like the 'Tom Terrific' of old.
Just one minute and 13 seconds was left on the clock, with no timeouts, but Brady managed five completions to take his team 70 yards and all the way to the end zone - finishing with a pinpoint throw to Kenbrell Thompkins who grabbed the dramatic game winner.
Bad Week
Roger Federer
Roger Federer split with tennis coach Paul Annacone after more than three years working together after another disappointing defeat - this time out in China at the Shanghai Masters.
Federer made the announcement just two days after crashing out in the third round of the Shanghai Masters to Frenchman Gael Monfils.
The former world number, now seventh in the rankings, revealed on his website that he was calling time on his relationship with Annacone, who also coached Pete Sampras during his glory years.
Brad Haddin
Brad Haddin remains a doubt for Wednesday's second one-day international in Jaipur after suffering an eye injury in farcical circumstances going for a high-five.
The experienced wicketkeeper suffered a bizarre eye injury during Australia's victory over India on Sunday in Pune, in the opening ODI of the six-match series.
Haddin was hurt during a wicket celebration with James Faulkner - as the big bowler missed his target of Haddin's hand while going for a high-five and instead poked his wicketkeeper right in the eye.
Juan Manuel Marquez
Timothy Bradley retained his WBO world welterweight title with a split decision victory over Juan Manuel Marquez in Las Vegas, leaving the veteran Mexican fuming at losing yet another close fight.
The battle of the last two men to beat Manny Pacquiao came down to the judges' scorecards, and two of them gave it to the American 116-112 and 115-113, while the third gave it to the veteran Mexican 115-113.
Marquez was unhappy at the decision, which he likened to some of the controversial ones he has suffered against Pacquiao - who he lost to twice and also drew with before knocking out in their last contest.
"I've been robbed six times in my career," Marquez said. "I clearly won the fight."
Harlequins
Scarlets ran in three tries on their way to a thrilling 33-26 win at well-fancied Harlequins to get their Heineken Cup campaign off to a flying start.
With two top French sides also in Pool 4, this home defeat could prove to be a mortal blow to Harlequins' hopes of a quarter-final berth even at this early stage.
It will be of no consolation at all to the Londoners that they played a full part in a gripping and high-quality contest, as they now face an uphill battle - even after just one game - to progress from a tough group.