Why the negativity?
The papers are still full of doom and gloom over England ahead of tonight's clash with Poland, but Daniel Storey is excited by the next generation starting to emerge. It may not be in the national psyche to be positive but whisper it quietly, the future may not be as bleak as many suspect
By Daniel Storey - @danielstorey85
Last Updated: 16/10/13 3:58pm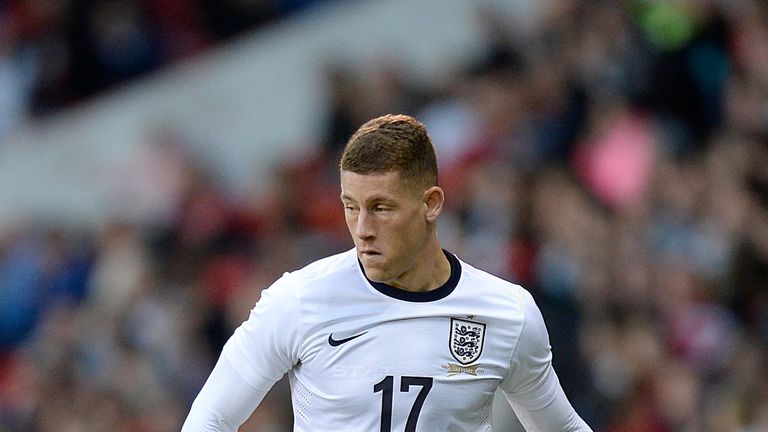 According to the Kubler-Ross model of grief, England supporters are very much in the final stage of mourning over the national team. Having moved through periods of denial, anger, bargaining and depression (with many still revisiting these emotions during the course of each game) we have finally progressed - this is the age of acceptance.
The evident conclusion is that this is an intended means of self-preservation and protection, football's eternal warning that if you don't expect anything, you won't be disappointed. "It's not the disappointment that kills you, it's the hope," fathers and grandfathers wisely tell their youngers.
Such a mindset became almost surreally evident during Euro 2012, when England fans were so desperate to persuade themselves that we would be an embarrassment that it almost came a bizarre full circle in which we began to dream once more. "We've not a chance." "We couldn't could we?" "No of course we couldn't." "Or could we?" An absurdist internal monologue, reminiscent of Waiting for Godot, entrenched in the Three Lions tragi-comedy, Jules Rimet still gleaming.
So, at least now we know where we stand - consistently negative is the only way forward. If the Football Association creates a commission to increase the number of England players in the Premier League, former players must describe its members as "utterly pointless". If our manager picks a young player who scored on debut then he should have picked him earlier, and if we fail to beat every opponent, we should laugh dryly and claim that it's to do with the coaches. Or the parents. Or the foreigners.
England undoubtedly have considerable issues in attaining any future success. The paucity of options in central defence in the current England Under-21 squad is undeniable, and there is also a serious question to be asked of our goalkeepers when Alex McCarthy remains the sole Premier League starter since the start of last season to be aged 25 or under. It is right, too, that an increased number of foreign players within Premier League teams may well hamper the opportunities of domestic youth products, and that the number of qualified coaches in England is pitifully low.
However, is there not a danger that our acceptance has become ingrained, thus dissuading us from considering genuine reasons for optimism in England's future?
The squad that Roy Hodgson will pick from against Poland on Tuesday contains ten players aged 24 or under, close to half of the squad and a balanced group comprised of four defenders, four midfielders and two forwards. In comparison, the totals of Germany (eight), France (six), Spain (four), Italy (five), Brazil (five) and Argentina (three) were all considerably lower than England.
The obvious and immediate retort is that as soon as a player shows any form we simply thrust him into the national squad but we know, on the whole, this isn't true. Furthermore, of the 23 players in Gareth Southgate's Under-21 squad, ten have appeared in the top flight in the last month (and seven for sides currently in the top six), whilst five others (Tom Ince, Danny Ings, Nathaniel Chalobah, Tom Carroll and Jesse Lingard) are gaining vital experience and wowing crowds in the Championship.
The picture for young English players in the Premier League is not as bleak as many would have you believe. In fact, the Premier League's current top six clubs have used 21 different English players aged 24 or under in the league alone this season (28 if you include the Capital One Cup). Add in Manchester United and that number rises to 35. Is that not a hugely impressive figure, especially when you consider that over a third of these are under 21?
Finally, such statistics fail to include two of the most exciting players of the season so far in Ross Barkley and Ravel Morrison, with others such as Steven Caulker, Fabian Delph and Saido Berahino also excluded.
"He's starting to build up a reputation now and teams are beginning to show him that bit more respect," said Leighton Baines of his Everton teammate Barkley. "The great thing for him is that he's now getting his education on the pitch which is the best place to learn."
Whisper it, but Barkley isn't the only one. There are plenty of reasons to be negative about England's future but, so far this season, opportunities for real hope are also presenting themselves. We owe to it to our rising stars to at least bear that in mind amid the repeated wailing for a long-term plan.
English Premier League XI (all aged 21 or under): Jack Butland, Carl Jenkinson, Andre Wisdom, Phil Jones, Luke Shaw, Jack Wilshere, James Ward-Prowse, Ross Barkley, Ravel Morrison, Nathan Redmond, Saido Berahino.