Weekend review
Wonder strikes are the hot topic of conversation after Arsenal hosted their own goal of the month competition and Pajtim Kasami scored a volley that became an instant classic from the moment it left his boot...
By Matt Stanger & Pete Fraser
Last Updated: 22/10/13 11:10am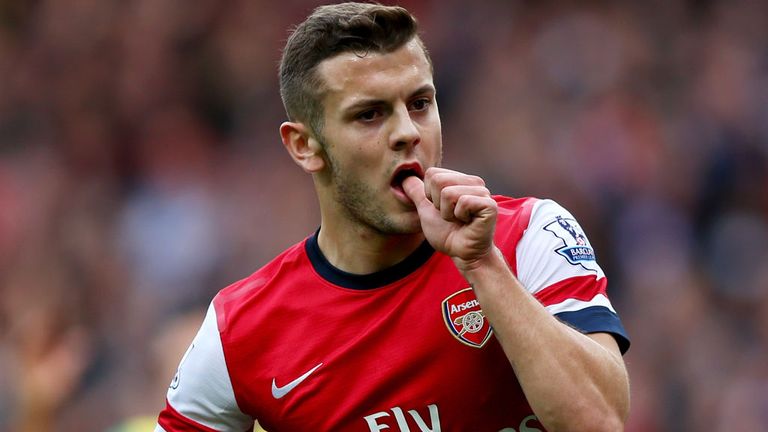 Globetrotting Gunners
From the sublime to the ridiculous as the top flight's Harlem Globetrotters prepared for Tuesday's tantalising clash against Borussia Dortmund by scoring the team goal of the season in a 4-1 thrashing of Norwich.
Premier League goals are like buses for Jack Wilshere, with the midfielder failing to score in 54 appearances and then bagging two in two to help the Gunners maintain their blistering start to the campaign. Playing nominally on the right on Saturday, the England international looked close to his best form, displaying the old drive we feared had been stolen by injury and bursting through the middle to fire his fantastic opening strike.
It was a goal for the purists, Arsene Wenger especially, as Wilshere and Olivier Giroud's understanding embodied the notion that things have finally clicked for Arsenal. The Gunners were quick, slick and, most importantly, incisive, moving the ball like ice hockey players shifting the puck to score four goals of real quality and variety.
Clicking into gear
While Chelsea were always tipped for a routine victory against Cardiff, the contributions of Eden Hazard and Samuel Eto'o added extra significance to the performance. That the Belgian has taken eight games to provide his first assist of the season (he claimed four in his first three matches last year) has perhaps been a slight concern for Jose Mourinho, who will also have been relieved to see Eto'o notch his first goal and take advantage of David Marshall's unfortunate error to set up Hazard.
With three wins and a draw at Tottenham in their last four matches, Chelsea look to have found their rhythm, sitting six points above United in the table and already possessing a far better goal difference. What a mockery Mourinho is making of the need for a transition period.
Take a bow
The sensational, spectacular goals from Pajtim Kasami and Steve Sidwell were impossible to ignore as the standout events of the Monday Night Football clash between Crystal Palace and Fulham. Kasami took Sascha Riether's long pass on his chest before unleashing a venomous shot inside the far post with his weaker right foot before the ball had bounced. That drew the teams level at 1-1 in the 19th minute and, on the stroke of half-time, Sidwell put the visitors in front with another fantastic volley after Bryan Ruiz's free-kick had been blocked. Read our full match analysis here and the video of Kasami's wonder goal above.
Well there's my 'goal of the month' prize gone!!!! Take a bow! #Player #MNF

- Jack Wilshere (@JackWilshere) October 21, 2013
Quite the week
Predictably, England's new wing wizard, Adam Townsend, was the man to open the scoring as Tottenham won at Aston Villa to provide a fitting end to his dream fortnight. His 31st minute cross was not an intentional effort at goal but he delivered the ball into an excellent area and finally got his reward having already had a division-high 26 shots in the Premier League this season without scoring. It was his first Premier League goal for Tottenham.
It was also one of the first times in the game when Townsend had found some room to operate, having been singled out as a threat and Villa doubling up in their marking to ensure he did not have a chance to run at left-back Antonio Luna. Sky Sports expert Gary Neville explained during the game: "You can see how quickly Fabian Delph and Gabriel Agbonlahor get over to that side to prevent the space for Townsend."
Great 2-0 win today! Perfect way to bounce back after the last game! Also nice to finally get on the scoresheet (well kind of) #coys

- andros townsend (@andros_townsend) October 20, 2013
As a result, Townsend had finished the first half with the second-lowest pass completion rate of 72.7 per cent of any Tottenham outfield player behind only Roberto Soldado. We'll give him a pass this time though. Read our full match analysis here
Blossoming partnership
Saturday heralded a first away win of the season for Manchester City and only their fifth in the top flight this calendar year as Sergio Aguero showed no signs of jetlag to see off West Ham. The striker is in dazzling form at the moment and again linked up well with Alvaro Negredo in Manuel Pellegrini's 4-4-2 formation that brought the best out of Fernandinho. That a centre-back pairing of Matija Nastasic and - gulp - Javi Garcia was rarely threatened owed as much to City's midfield dominance as it did to Sam Allardyce's 'false nine' system. The brains and the brawn were very much in City's favour, with Pellegrini now leading his team into two tough fixtures away to CSKA Moscow and Chelsea.
Talking tactics
"I go on about performance because I don't just like to get three points; I worry about playing well and playing in a certain way," said Brendan Rodgers before Saturday's draw with Newcastle. "But I can't take anything away from how we've been so far. In terms of results, we've been absolutely brilliant and this is the most competitive league in the world."
The manager has tried to aid his 'certain way to play' by switching to a 3-5-2 formation in recent weeks - which also allows him to squeeze two of his new centre-backs into the team - but questions remain over whether this is the right approach for Liverpool in the long term.
The return of Philippe Coutinho - clearly a much better option than Victor Moses in a No 10 role - should encourage improved displays but until then Rodgers may want to consider following Manuel Pellegrini's lead and play 4-4-2. While the formation is seen as archaic and unsophisticated in this era of 4-2-3-1, or variations thereof, Liverpool have the personnel to make it work, with Moses playing on the right and Jose Enrique escaping defensive responsibilities ahead of Aly Cissokho - or vice versa - on the left.
The change would enable Rodgers to play his three best attackers - Sturridge, Suarez and Moses - in their best positions. The only worry is that Steven Gerrard no longer has the engine to be selected in a central-midfield pairing, with Jordan Henderson possibly a better foil for the captain when part of a duo than Lucas.
Moyes lacking courage?
It would appear that Manchester United's 0-0 draw with Chelsea earlier in the season laid a marker for life under David Moyes. Chelsea went to Old Trafford without a striker and left with a point and more shots on target. Roy Hodgson may have been delighted by the occasion, but the rest of us were left distinctly unimpressed by two teams who were supposed to offer an awful lot more.
The Blues have kicked on since that night in August, improving steadily under Mourinho to climb into second and just two points behind Arsenal, whereas United continue to dawdle. The players have accepted a portion of the blame for a host of uninspiring displays so far, but the buck always stops with the manager, and thus far Moyes does not seem up to the task.
Managing United is not merely about results (and those have been bad enough) - it is also about mentality. It was a feeble mind that let Moyes down against Southampton as substitution after substitution caused the champions to retreat and eventually crumble. The manager's negativity stifled the team's intent and that, more so than two dropped points, is unforgivable.
"One of the things we will be looking to try and do is finish matches off," said Moyes after a draw that felt like defeat. But his actions on Saturday did not speak of a man looking for killer instinct, as Ryan Giggs was preferred to Nani in the second half, as well as Shinji Kagawa and Wilfried Zaha. Read our full dissection of United's performance here.
Off to a flyer...
"Since the start of the season I've dedicated myself to watching the games of teams that might call me if things weren't going too well," said Gus Poyet back in September. It didn't look like he had watched much of Sunderland on Saturday as the Uruguayan marked his bow as Black Cats boss with a miserable 4-0 reverse at Swansea.