Pressure on Anelka
Nicolas Anelka was a surprise arrival at West Brom in the summer but the veteran forward has failed to live up to the hype and is still waiting for his first goal. Adam Bate looks at why the 34-year-old is under pressure for his first-team place at the Hawthorns...
By Adam Bate - Follow @GhostGoal
Last Updated: 31/10/13 1:29pm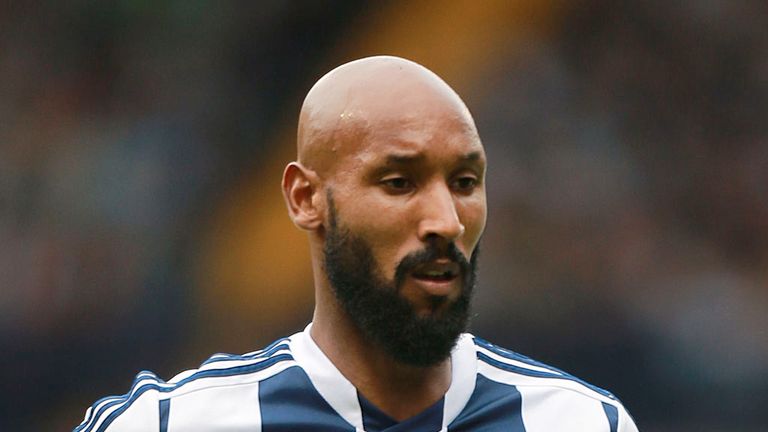 There was plenty of excitement in the Black Country when West Bromwich Albion announced the signing of Nicolas Anelka in the summer. A little scepticism, but plenty of excitement. "There is no downside with Nicolas," said Baggies boss Steve Clarke, who had worked with the striker at Chelsea. "I find him to be a very engaging character, a very good person and he has been great in the group here. He has come in and settled well. He is already a favourite among the players."
There is no doubting Anelka's status within the game. There have been Premier League titles and FA Cup triumphs with both Arsenal and Chelsea, as well as Champions League success with Real Madrid. He was also the Premier League top scorer ahead of Cristiano Ronaldo in the 2008/09 season and has developed an increasingly unselfish side to his game over the years. His new team-mates at the Hawthorns were undoubtedly excited to be working with him.
"You can see what a class act Nico is," said right-back Billy Jones during pre-season. "How clever he is on the ball and how well balanced he is." Fellow defender Gareth McAuley agreed. "It gives everyone a lift, especially all the young players, to see someone of his level, who is still as sharp and hungry," added the Northern Ireland international. "It's a great signing."
There were difficulties early on with erroneous reports he had quit the club. It emerged that Anelka was in fact traumatised by the death of a close friend and returned to the team for the Swansea game the following week, putting in a commendable performance. However, Clarke now faces a conundrum that may linger rather longer. What if his highly-paid star name is no longer worthy of a place in the team?
PL strikers - Big chances
Player
Club
Goals
Big chances missed
Nicolas Anelka
West Brom
0
5
Christian Benteke
Aston Villa
4
5
Fraizer Campbell
Cardiff
2
5
Jonathan Walters
Stoke
0
5
Sergio Aguero
Man City
7
4
Wilfried Bony
Swansea
2
4
Papiss Cisse
Newcastle
0
4
Daniel Sturridge
Liverpool
8
4
Seven matches into his Albion career, Anelka has no goals and no assists. It's not been due to a lack of service either. The Frenchman has wasted no fewer than five of what Opta classifies as 'big chances' so far this season. Only one other top-fight player, Stoke City's Jonathan Walters, has spurned so many clear-cut opportunities without finding the net.
Some were costly too. While his failure to beat Martin Skrtel on the goal-line against Liverpool last weekend is unlikely to have changed the outcome of that game, two poor misses against another of his former clubs, Arsenal, did prove significant. After getting a Saido Berahino cross caught under his feet when clean through, Anelka fired wide when one-on-one with Wojciech Szczesny early in the second half. A goal would've put his side 2-0 up. Instead, they had to settle for a draw.
Unfortunately for Anelka, it is difficult to argue that he is creating opportunities for others either. His 498 minutes of action have produced just four chances, a record that compares unfavourably to his rival forwards at the Hawthorns. Victor Anichebe and Shane Long have each received less game time than Anelka but both have created more chances - taking under an hour to fashion openings, while the veteran has required over two hours on the pitch for each of his.
And still Clarke struggles to accommodate his star name. For the team's most recent fixture at Anfield, he opted to shift Anichebe to the left wing in order to play Anelka as the lone forward. Although it is a role the former Everton target man has fulfilled before, Clarke was forced to admit after the game that the ploy may need to be reassessed.
That could mean further attempts to play Anelka in the slightly more withdrawn role he has occupied at times this season. However, this only raises further questions regarding fellow new signing Stephane Sessegnon and the man who so impressed in the No.10 role last season, James Morrison. Despite receiving more minutes than any of these team-mates, it seems Anelka could be the least attractive option.
West Brom - Forwards
Player
Chances created
Minutes per chance
Morgan Amalfitano
17
26
Markus Rosenberg
2
45
Victor Anichebe
7
50
Shane Long
6
52
Stephane Sessegnon
6
73
Saido Berahino
3
86
Nicolas Anelka
4
125
Results appear to bear this out. The team seems to function better without him. The two Premier League matches that Anelka has missed this season have coincided with arguably the side's most impressive performances - a creditable draw at Everton and that astonishing victory against Manchester United at Old Trafford. Even the 3-0 win over Sunderland saw two of the goals scored following Anelka's substitution.
Have any remaining embers of the talent that burned so brightly finally been extinguished? Team-mates still talk of the ferocious pace shown on the training ground. But it has been too long since matchday audiences saw any evidence. The 34-year-old played just 45 minutes of football during a four-month stint at Juventus and prior to that there was his lucrative year in China with Shanghai Shenhua. Even his final season with Chelsea yielded just a solitary goal from 15 appearances.
And yet, Clarke's faith remains. "Good strikers will keep getting in good positions and if they keep getting in good positions, the goals will come," he told reports in October. "That's got to be the mantra for any striker. They have got to keep getting into good positions. Victor's back, Saido's playing well, there's Nicolas, Matej Vydra is available, Markus Rosenberg is there, I've got loads of options up front. It's a good problem to have."
It's a good problem for Steve Clarke. But for Nicolas Anelka, it is likely to mean that unless he produces more purposeful performances soon, the biggest name at West Bromwich Albion will find those first-team opportunities becoming rather limited.