Fernandinho says...
Back in June, Fernandinho arrived at Manchester City in a mega-money deal and faced the pressure of living up to that reputation. Here, he sits down with Peter Fraser to discuss his burning desire to win, life in England and his World Cup dream
By Peter Fraser - Follow me on Twitter @SkySportsPeteF
Last Updated: 08/11/13 12:54pm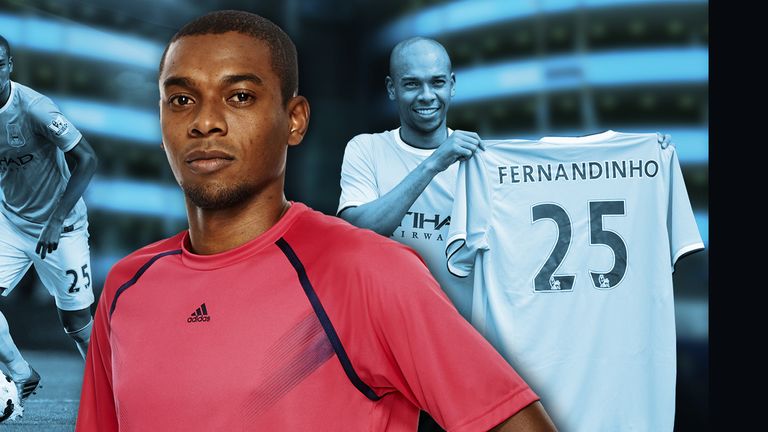 'Why?' It was a question posed several times over the course of 20 minutes speaking to Fernandinho last week in the conference room of an upmarket hotel close to Manchester airport. The query is one of the most valuable in any conversation for encouraging details and establishing reason but it was not just a one-way dialogue.
'Por que?' Manchester City's £30million midfielder had his own question. It was in response to being asked whether, having already played in a Manchester derby this season, he would have liked to have had the chance to play against a Manchester United team managed by Sir Alex Ferguson. The Brazilian was not being dismissive of Ferguson, he simply wanted to know why he was being asked the question. When it was suggested any footballer might relish the derby challenge of facing a team organised by one of the greatest and most iconic managers of all time, Fernandinho replied: "It is hard to say, because I guess everything happens in the right time and in the right reasons. I played against David Moyes' United. I do not know what it is like to play against Sir Alex Ferguson's United."
Fernandinho was speaking through a translator, which never makes for the easiest or most free-flowing interview, while his English remains a work in progress. At times, if a one word answer would suffice, he was also more than content. Hence us both using 'why?'. But that is not to say City's summer signing from Shakhtar Donetsk was not motivated. Later, when the subject would turn to 2014's forthcoming Brazilian World Cup, it was clear to see what drives the 28-year-old's football ambition - winning. Fernandinho, whose move to City saw him waive £4m in bonuses owed to him by Shakhtar, said: "There is no point in not winning."
He began his career at Atletico Paranaense in his home state of Parana in the south of Brazil before moving to Shakhtar in 2005. He then swapped Ukraine for England in June. As a result, he knows all about winning. With Shakhtar, he claimed six Ukrainian Premier League titles, four Ukrainian Cups, three Ukrainian Super Cups and the 2009 UEFA Cup. Having started the game as a substitute, he also scored the 87th minute winning goal in the final of the 2003 World Youth Championship, when Brazil beat a Spain side including Andres Iniesta. It was an incredibly eventful final for Fernandinho, who was also sent off before the final whistle.
The aim, and expectation given such an expensive transfer fee, is for Fernandinho to now bring that success to his career as a part of Manuel Pellegrini's Manchester City. The determination to be successful in England is certainly there, even if the midfielder likes to be light-hearted about the topic. "Win the most games and lose the fewest games," he said sarcastically in response to a question about what City can achieve this season. After a pause, he added: "I am joking, of course! I know it is hard and difficult but I hope we can win the league. We know we have to beat our opponents. We are really trying."
It is the prospect of winning the league and finishing above all of City's domestic opponents which had led us in the direction of United, and that question about Ferguson. City, the 'noisy neighbours', will need to top their derby rivals, who are of course in a period of transition under Ferguson's successor - Moyes, as well as the likes of Arsenal, Chelsea, Tottenham Hotspur and Liverpool.
Fernandinho, as he said, has already sampled the derby against United in City's thumping 4-1 win over their arch enemies at the Etihad Stadium in September. The victory was to date City's best performance of the season, including last weekend's 7-0 thrashing of Norwich City. It was also the game in which Fernandinho announced himself in England, creating three chances - level with Samir Nasri as City's most creative player on the day, touching the ball 38 times, boasting a highly impressive 88.2 per cent pass success rate in United's half, and also making five interceptions - a higher number than any other player on the pitch.
He will need to maintain that form over the course of this season if he wants to emulate his City predecessors and win the Premier League, as they did under Roberto Mancini in 2012. And while he embraces the local battle with United, he knows they are not the solitary contest in England's widely-competitive top flight. Tapping his hand on the table as he spoke at an event to launch adidas' new Samba Predator football boots, he said: "It was my first derby but it was a great experience. We won, we played really well and I now know what the sensation is like and what it means to be going into a Manchester derby. But obviously Manchester United are not the only opposition. There are a lot of opponents and we have to treat each one as seriously."
Fernandinho, who was previously a transfer target for Tottenham and Chelsea, is enjoying life in England, and Manchester specifically. He likes the city's restaurants and thinks there is also "a good quality of life" for his wife and son, who are likewise learning English. The week before we met, he had taken his son to see a Disney show. He is also relishing the rock-and-roll atmosphere and rough-and tumble style of play of the Premier League, which always has such pulling power for foreigners. He explained: "Everything I imagined is happening. There are lots of games, the games are hard and the stadia are full. It is exactly how I pictured it would be."
Part of Fernandinho's happiness in England can also be attributed to the way he has settled straight into City as a club. He and Yaya Toure appear to have a burgeoning relationship in the central midfield of Pellegrini's formations, which vary between 4-2-3-1 and an orthodox 4-4-2. That pairing with Toure also sees the duo provide the service and defensive cover for City's star attackers and play-makers, such as the in-form Sergio Aguero, David Silva and Alvaro Negredo.
"It is fantastic, marvellous," praised Fernandinho of playing with Toure, Silva and Aguero - whose two goals against CSKA Moscow in the UEFA Champions League in midweek means the Argentine has now scored eight times in his last six matches in all competitions. Fernandinho then added with an answer which was perhaps slightly lost in translation: "They are great players. Who wants to play with wooden-legged players?"
The English element of City's squad, who reached the knockout stages of the Champions League for the first time in their history after that 5-2 beating of CSKA, have also been more than welcoming. They include the under-fire Joe Hart and the goalkeeper's fellow title-winners from 2012 - Micah Richards, Joleon Lescott and James Milner - along with August 2012 signing Jack Rodwell. All five of those players are not currently first-team starters under Pellegrini while Gareth Barry was loaned to Everton after Fernandinho was signed. But that has not damaged any squad spirit.
"When anyone arrives in a new place, I think the best idea is to gather as much information as possible," said Fernandinho. "Off the pitch, I needed to rent a house, buy a car, know where this is, know where that is. I am constantly asking the English guys and they are able to guide me. At the club, it is the same. For example, I will get to the club and the schedule is up and some things might have changed. If you have never experienced it before, you can be a bit confused. I ask my team-mates and they can explain. They help a lot."
Fernandinho will now want to return those favours by helping City, who visit Sunderland live on Sky Sports 1HD on Sunday, to the Premier League title along with further progress in the Champions League. But, beyond the end of this season, his sights are set on the World Cup and earning a call-up to Luiz Felipe Scolari's Brazil squad. Fernandinho was overlooked by his national team when in Ukraine and that was one of the decisive factors in his move to England.
And when our chat nears its end with the subject of next summer's World Cup, where hosts Brazil will be under huge pressure to succeed in what would be a party atmosphere, it is clear Fernandinho, who would have his first - and probably last - chance of going to a finals, does not want to miss out. He explained with that earlier reference to his desire for success: "The World Cup is contagious for fans. I do not know what it is like in England but, in Brazil, everything stops. People stop. It is about watching the game. It would be the best experience in my life to play in the World Cup but to also win because there is no point in not winning."
With that, and with a noisy Sunday national newspaper corps waiting outside the conference room for a round-the-table gathering with a different City player, our time comes to an end. Fernandinho makes his exit. That winning mentality is the lasting memory of the Brazilian. He is keen to achieve in his career and, if that sense of accomplishment does not continue, he does not want to be left wondering 'why?'.
Fernandinho is wearing the new Predator football boots, part of the adidas Samba Collection inspired by Brazil. Visit www.adidas.com or join the conversation @adidasUK #Predatorlz #allin or nothing.