Chelsea penalty was a sucker punch for West Brom, says Jermaine Jenas
Jermaine Jenas says Chelsea's late penalty decision was wrong and tough to take for West Brom.
Last Updated: 10/11/13 10:03am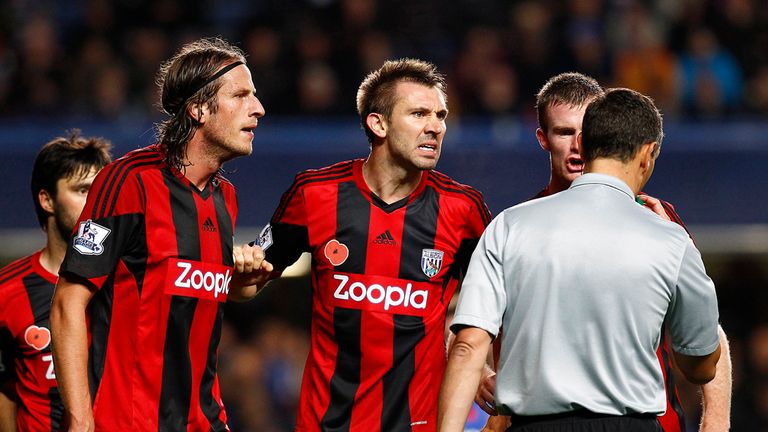 Chelsea looked set to suffer their first home defeat under Jose Mourinho before Eden Hazard converted a controversial late penalty to secure a 2-2 draw at Stamford Bridge.
Referee Andre Marriner pointed to the spot into the final minute of stoppage-time after Ramires went down easily in the area under a challenge from Steven Reid.
QPR midfielder Jermaine Jenas joined Sarah-Jane Mee on Saturday Night Match Choice and explained that he sympathised for Steve Clarke's side, who he felt deserved to win and admired the manager's attitude after the game.
He said: "West Brom were brilliant, it's not easy to go to Stamford Bridge and put in a performance like that. They passed the ball well and hassled Chelsea.
"On Chelsea's part it's tough coming back from a Champions League game as you often have a few leggy players but credit West Brom, that sucker punch at the end was a tough one to take.
"The players will be devastated and fair play to Steve Clarke for keeping a lid on it in his post-match. I can only imagine the emotions he's going through.
"He's commended his players and rightly so, they probably deserved the win today even though people associated with Chelsea will think differently, but they put in a good enough performance to win."
Wrong decision
Despite West Brom's good performance they were left crestfallen in the fourth minute of stoppage-time when the penalty was awarded to Chelsea, but Jenas believes you have to praise the home side for applying the pressure so late on in the game.
"With the equaliser you have to give Chelsea some credit," said Jenas.
"They're desperate to get a goal and desperate to keep hold of Mourinho's home record.
"For me that's not a penalty, fair play to Ramires for making something happen and a great penalty from Hazard given the circumstances, but I don't see why Popov had made that initial sprint to try and score a spectacular goal, he left them caught out.
"It was a bad decision that went against them; I can't see an angle where it is a penalty.
"Ramires makes a great run and is committing defenders and is trying to draw the tackle but Steven Reid does nothing wrong, he keeps on the line that he's running in, there will obviously be contact because there are a lot of bodies in the box and Ramires goes over - My initial thought was that the referee was going to book him he took that long.
"But it's a really bitter pill to swallow."
Big clubs, big decisions
Unsurprisingly the Baggies boss was angry after the game and questioned why 'little West Brom' don't get the decisions over the 'big clubs', Jermaine Jenas sympathised with his thoughts.
"I'd like to think there is isn't any truth in Steve Clarke's comments that 'bigger clubs get more decisions' but it does tend to happen and you can sympathise with the so called minnows in the league," said Jenas.
"I also sympathise with referees because the game is so quick these days and they can feel the pressure that's on the pitch.
"In that game it was immense because it would have been the first game Mourinho would have lost at Stamford Bridge and the atmosphere was building, but at that particular point for me it was the wrong decision."