Parlour on England
With Jack Wilshere's position in the Arsenal first-team under threat and Theo Walcott facing stiff competition from Andros Townsend at international level, former Gunners hero Ray Parlour assesses the status of the duo with regard to England as we approach the World Cup in Brazil...
By Adam Bate
Last Updated: 14/11/13 9:08am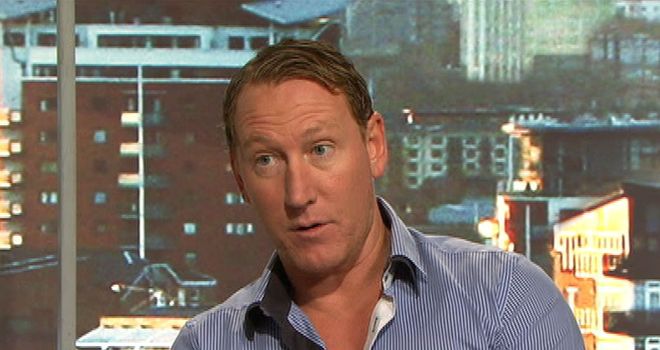 Could Jack Wilshere's England place be affected if he is out of the Arsenal team?
It's going to be interesting to see what Arsene Wenger does regarding Jack Wilshere. He always shuffles the pack with suspensions and injuries but at the moment Aaron Ramsey has got to play because he's been absolutely outstanding this year. Then you always need a couple of holding midfielders which he's got in Mikel Arteta and Mathieu Flamini. You especially need those guys away from home and I think he'll play them together away from home more often than not.
So it's going to be interesting to see. But Jack is a top quality player. Obviously, he's had his injuries in the past few years which have really stopped him in his progress but I'm sure he will get back to full fitness. And once we see him at his best, as we saw a few years ago, then he's a top-class talent there's no doubt about it. Not just for Arsenal but for England too, he can be absolutely vital.
I'm sure there's a big future for Jack but that's the big question - Where exactly will he fit in? Where will he be most dangerous? That's what Arsene Wenger will be looking at, not just in games but in training too. He needs to work out where he can fit Jack Wilshere in.
He can give England something different can't he?
He's totally different. Steven Gerrard is the England skipper but Roy Hodgson will be following the situation closely. Sometimes it can be a bit of a worry for an England manager if a player is not starting games on a regular basis. If you look at Chelsea, there's Gary Cahill there who you might worry is not playing enough football and Ashley Cole is out of the team just now.
So it will be interesting to see what Roy does when he gets the squad together. These games are a great chance for players such as Jay Rodriguez and Adam Lallana for them to do something in the game that sparks Roy Hodgson into thinking these guys could do something in the World Cup. It's a massive opportunity. Everybody out there is waiting to see what sort of form England players are in going into a World Cup and who is going to be doing it on a regular basis.
Theo Walcott is under pressure for his England place from Andros Townsend too. Is Walcott still the main man for you?
It's very healthy to have competition for places as sometimes you can get a bit complacent as players if you know you are going to play. But suddenly after a couple of really good performances Andros Townsend is right up there. If anything I'd put Theo just slightly ahead of him at the moment, but Andros has down himself a real favour by playing in those two games and playing really well.
It's going to be interesting to see what Roy does but it's also going to be interesting to see what happens regarding Theo getting back into the Arsenal team as well. One thing when you look at the Arsenal team is that they do sometimes need a bit of that width on the right side. A lot of the players look to cut inside and prefer that middle area. Sometimes you do need that pace that Theo Walcott can bring to a team.
These are two difficult games against Chile and Germany. What can players get out of England friendlies?
They are two top quality opponents and I'm sure both Chile and Germany will come to Wembley and really look forward to playing there. They are going to be tricky games but it's an opportunity for guys who probably wouldn't start if it was a qualifier to impress the manager. That's what it's all about and that's what Andros Townsend did. He got his chance through injury to Theo and he took that chance.
So that's what the players who don't get to play regularly will look to do. It'll be interesting to see what line-ups Roy Hodgson goes for in both the games too. I'm sure he'll change things around because he'll factor in the interests of the various clubs.
What are your hopes for next summer in Brazil?
It's always going to be tough in Brazil. The most important thing for England was to get there. They've done that. They've got over that hurdle. And I'm sure everyone will understand we are outsiders with the likes of Spain, Germany and Holland in Europe alone. It's going to be tight. But I think England can go there and get to the quarter finals. That would be progress. Anything past the quarter finals would be an amazing achievement.