The Gaffer: Gary Stevens
Gary Stevens made his name with Brighton and Tottenham and played for England at the 1986 World Cup. But the adventures didn't stop there as his coaching career has taken him from Azerbaijan to Ireland. Adam Bate caught up with the Sligo Rovers assistant manager to find out more...
By Adam Bate - Follow @GhostGoal
Last Updated: 18/12/13 4:00pm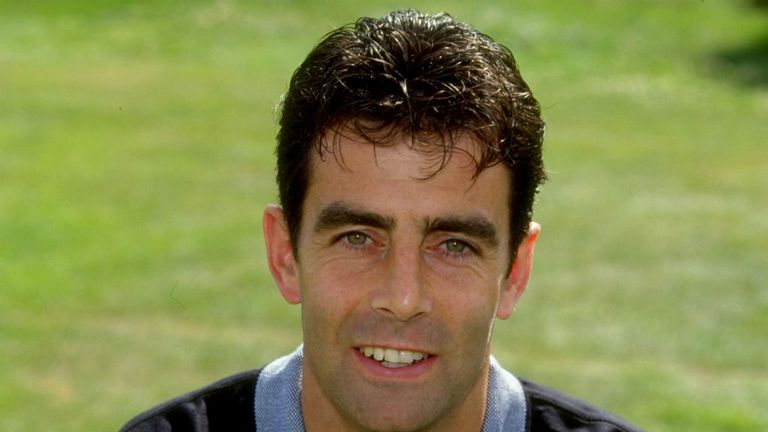 Former Tottenham and England player Gary Stevens has experienced more than most in his coaching career. After working with talented youngsters in the Charlton Athletic academy, Stevens embarked on an adventure abroad as he helped build the infrastructure at Gabala in Azerbaijan as assistant manager to Tony Adams.
Now working as an assistant at Sligo Rovers, Stevens helped guide the club to a 3-2 triumph over Drogheda United in the 2013 FAI Cup Final in Dublin in November. Adam Bate caught up with the man himself to find out more about the success in Ireland and a remarkably varied coaching career...
Congratulations on the FAI Cup triumph. That must have been a special day...
It was terrific. I think to win any domestic cup competition is an achievement. It was the FAI Cup which is the equivalent to the English FA Cup final so it is their biggest and most prestigious event. It was quite dramatic at the Aviva Stadium and a tremendous day.
Are you enjoying life in Ireland?
It's interesting because the season runs from March to November so it's a summer sport in Ireland. Obviously, football isn't the most popular sport out there so they decided to shift it a few years ago. I went out in January to start pre-season training and we ended up finishing third which qualifies us for the Europa League next year. All in all, if you manage to qualify for Europe and win a trophy then you have to class that as a successful season.
What is the standard of football like?
It is a decent standard. We are a full-time professional club so we train most mornings and some afternoons. There are a couple of clubs out there that are semi-professional but none of our squad work to supplement their income. I'd suggest we are the equivalent to a mid-table League Two side.
We have a couple of English lads out there at the moment. In fact, they are the two who scored in the cup final. Anthony Elding scored the winning goal. He'd been at Stevenage, Grimsby and Leeds United for a brief time. Danny North, who scored the first two goals, had been at Grimsby before coming to Ireland.
We've also got a group of lads in the team who'd done scholarships and apprenticeships in England like Seamus Conneely at Sheffield Utd, David Cawley at Ipswich and Lee Lynch at West Brom and all of them are hoping to get back across the water. If you look back there are a number of players who've played in the League of Ireland and gone across to become big hits in England.
What does your role as assistant manager entail?
Ian Barraclough is obviously the boss so the buck stops with him. We both did our UEFA Pro Licence together on the same course between 2011 and 2012. He is the boss and as the title says I'm there to assist him. So in any given game or training session he might ask me to take care of certain aspects of it.
To some extent, the way our relationship works, I have to be very much on my toes to the level that a manager would be. I might track down to Dublin for a game because they're our next opponents. I might oversee a defensive practice in training. He might want me to just oversee the warm-up and then do a small-sided game at the end. But then off the back of it he might want me to write up the session for the next day.
He can ask my opinion on players. He utilises my contacts as well. For example, when we played in the Champions League qualifying last year, we used my contacts to get some video footage of Molde, who we were playing in the third qualifying round. Every assistant manager has a different role depending on what the manager wants him to do and what he wants him to steer clear of. And Ian is very trusting of me in that he knows he can throw any aspect at me and I'll cover it for him.
Sligo Rovers are an experienced side but you've also coached at the Charlton academy. Is it particularly rewarding to work with young players?
I found it very rewarding. During my period at the Charlton academy I took the reserve team and there were some good up-and-coming players such as Scott Parker, Kevin Lisbie and Paul Konchesky. Scott played regularly in the reserve team and I'd like to think some of the information imparted has helped him.
People used to write in to the club asking for a chance, so on a Friday afternoon I'd invite players in. Within a few minutes you'd be saying, 'No, I'm afraid you're not quite good enough' but off the back of that we did actually pick up a player. I kept working with him and took him to the academy director telling him 'I want you to sign for this club'. That turned out to be a 17-year-old Danny Shittu.
That was a kid going nowhere but we signed him and he went on to become a first-team player. We sold him to QPR, he played in the Premier League and he became a full international. So I take a lot of pleasure in the fact that I've worked with players in their formative years and they've gone on to become good players.
We're trying to do that at Sligo Rovers too. We've got some younger players and we've got a structure now with an under-19 team and players below that because it was only a few years ago that Sligo Rovers sold Seamus Coleman to Everton so these players do exist.
Speaking of infrastructure improvements, in Azerbaijan it was a case of building a football club from scratch wasn't it?
In many ways, it was. Gabala's chief executive decided they needed to bring in some British expertise and I went out there as Tony Adams' assistant. Over the 25 months that I was contracted out there, we went from no training ground and a synthetic pitch to six training pitches, an indoor dome, a grass pitch and a youth structure we'd put in place. So I think I've got a good knowledge all-round in terms of how things should be done and how a team can develop a structure that can be very successful.
I'm not saying it was easy to spend 25 months in Azerbaijan, although I've met some very nice people and I have some good contacts out there. There's the culture and the language. It's a Muslim country so when you get to Ramadan you've got players who don't eat from sun up to sun down so you have to think about how to cope with that.
Also, the temperatures in summer are over 100 degrees, while in the winter you might be under two feet of snow and it is minus 13. But you can overcome all these problems, you just need a bit of an idea of how you're going to do it and make good decisions at the right time.
Did you learn a lot from that experience abroad?
Yeah I did. I think it is one of the problems we've had with coaches in the United Kingdom because we are an island and we are a little divorced from other countries. If you're a coach in Germany I think you can flip over the border and work in several different countries. But we've become too insular.
We're a successful nation and we've got the Premier League, but that's people coming to us. I'd recommend it to any coach or manager. We tell players to get their head up and see what's around them on the pitch. Well, coaches should get their head up and see what options are out there.
If it means going to Azerbaijan where East meets West or it means going to the southern hemisphere to Australia or New Zealand, or going across the pond to America, it's well worth doing. You experience different cultures, different ways and different methods. It opens you up to the possibility that the way you thought it was done or should be done because that's the way you've been brought up, maybe isn't the only way in the world of football.
So what does the future hold for you? Are you keen to return to England at some point?
I think the answer to that is definitely yes. Ian Barraclough and myself would like to get as high up the management and coaching ladder as we can get. We're in the Premier League in Ireland which is the top league there but if you drop those teams into the English pyramid then you're talking League Two. So we would love to get back at some stage.
If you look back at what's happened at Sligo over the years, Lawrie Sanchez was there at the start of his managerial career, Steve Cotterill was out there and more recently Paul Cook was in charge there and he's since gone to Accrington and Chesterfield.
So I think by the time Ian and myself leave Sligo Rovers we'll have given them great service, moved the club forward in an upward direction, we'll be better coaches for that and we'll go and do a very good job for someone somewhere.