Benzema conundrum
Karim Benzema has had an awful spell for France and Real Madrid over the past 12 months or so, but the striker can make himself a hero again if he leads a recovery against Ukraine...
By Tim Stannard
Last Updated: 18/11/13 10:46am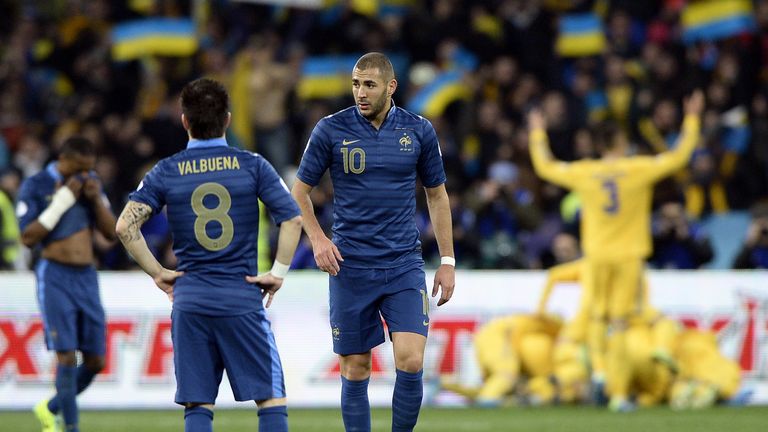 If ever there was a footballer who was wearily familiar with the sensation of feeling under fire from all and sundry after Friday's World Cup catastrophe in Ukraine, it was Karim Benzema. For the past two years, the Real Madrid man and general scapegoat has not had much respite at all from critics following his performances for club and country.
An unkind Jose Mourinho scoffed during his spell in charge at the Santiago Bernabeu that fielding Benzema as a striker was a little like hunting with a cat. Of late, the French faithful have routinely taken to booing the player for his barren spell in front of goal for Les Bleus that lasted 1,224 minutes. It was only broken with a strike in a friendly against Australia in October.
Indeed, although Benzema is temporarily in the good books with the Real Madrid home crowd after a couple of sprightlier performances, it wasn't too long ago in a clash against Getafe that Alvaro Arbeloa had to plead with fans not to barrack his teammate after a series of glaring chances were missed in spectacular style. "This has been the hardest phase of my career," admitted Benzema last week to the French press. "People are talking about me every day."
What those people have been saying for some time now is that Benzema is a moody, work-shy fop who doesn't seem to care a jot about his football. This is quite unfair; just because the Frenchman doesn't run around like a headless chicken on the pitch and badge kiss after every successful strike, it does not signify that he is not wholly committed. Just French. Benzema's other problem is that once he built a reputation for being "cold-blooded", as Mourinho once commented, it has been impossible to shake. At Real Madrid, especially, image often triumphs over substance.
Part of the reason for Benzema being easy pickings for critics is that he possesses enormous talent but simply hasn't developed it sufficiently to join the ranks of the top five strikers in the world, a move that the technically gifted player is quite capable of achieving. Even the sale of Gonzalo Higuaín to Napoli, which left Benzema as the sole striker in the team, has not made that much of an impact to the Madrid man's scoring record of six league goals from 12 appearances.
The one very small bright side to yet more troublesome few days in the life of Benzema with the second leg of the World Cup qualifier against Ukraine looming, is that he has a group of crest-fallen colleagues with whom to share a barrage of criticism for also being a bunch of moody, work-shy fops that don't seem to care. And with good reason, as a group who have a tendency for self-destructive incompetency did it all over again in Ukraine.
It is no real wonder that polls in the French sporting press report that the locals have little faith in the players to overturn a two goal deficit. "It is not going to be easy, there is going to be a lot of stress," admitted Olivier Giroud, looking ahead, but certainly not looking forward to Tuesday's clash or the atmosphere in the stadium.
The Arsenal forward is currently the first choice to lead the line for his country - a dubious pleasure - with Benzema's lean spell in a blue shirt seeing him drop to the subs' bench. The former Lyon player only saw 20 minutes of action in Kiev and comments from France manager, Didier Deschamps, suggest that Benzema may not see much more in Paris due to his reputation as a bit of a dilettante. "We have to play with a high tempo from start to the end of the match," announced the former midfielder when previewing the crunch clash.
However, if Benzema does get the chance to start Tuesday's game, then the opportunity to rehabilitate his image is enormous. A hat-trick against Ukraine to see France booking a berth in Brazil would help to end Benzema's troubles, which are currently following the player wherever he goes.
A version of this article first appeared on Football365