Alan Smith on main selection issues for England boss Roy Hodgson
Roy Hodgson has two more games before naming his World Cup squad. Alan Smith analyses the issues.
Last Updated: 19/11/13 8:24am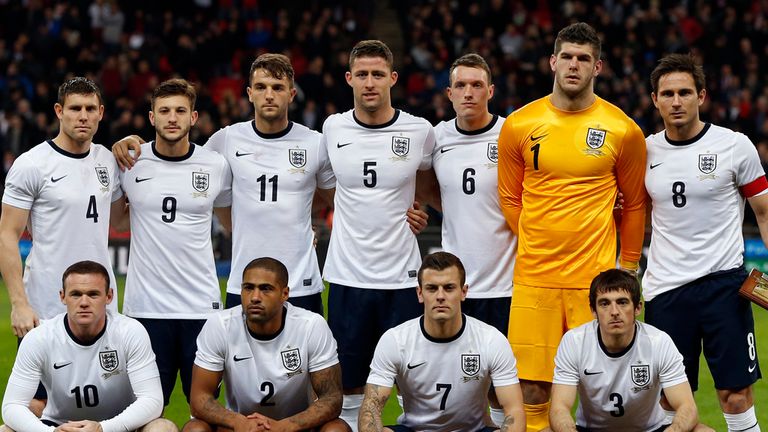 Goalkeeper - Should Roy Hodgson stand by Joe Hart?
We had that awful situation in South Africa where nobody was quite sure who was the number one under Fabio Capello. Joe Hart wouldn't have enjoyed sitting out at Manchester City over the last couple of games, but I think it can do you good to be sat on the bench and look at things from a distance. Sometimes you can come back rejuvenated with more of a spring in your step and you've learned one or two things. Hopefully that will be the case for Joe.
All eyes will be on him and the Germany team that is likely to be put out there will likely test him on more than one point. He will have to be on his toes. I don't know what Manuel Pellegrini thinks about his long-term number one and whether or not he sees Joe as being that person, but a good game here would see him return to his club in a better mood and it'd be something for his club manager to think about.
Left-back - How do you split Ashley Cole and Leighton Baines?
At the moment I think it's 50-50. Leighton Baines has been playing really well and certainly did in the two final qualifiers against Montenegro and Poland and then had what you'd call an iffy game against Chile - but, to be fair, the whole back four did. All of a sudden there are one or two doubts, but Roy Hodgson is keeping his cards close to his chest and I don't know whether he'd play Baines or Cole according to the opposition and how much defending or attacking they've got to do.
I think Baines gives the team the edge going forward with his crossing ability and his ability on free-kicks - but defensively I think Ashley Cole, with the experience he's got, is the best option if you're playing against Cristiano Ronaldo or whatever. There's very little to choose and we're lucky to have two top-class full-backs and of course we've got Kieran Gibbs as well and Luke Shaw who is not in the squad. We are well served in that area.
Right-back - Should Glen Johnson or Kyle Walker get the nod?
Kyle Walker is a very dynamic player going forward and is incredibly strong and fast so he gives you a threat on the right-hand side whoever he is partnering up the flank. Glen Johnson, of course, is good going forward as well but in a more elegant and measured way. He's very confident on the ball.
I don't think you would describe it as England's strongest area of the XI - we haven't really got somebody you would term a world-class full-back in the way that Ashley Cole has been on the left for England down the years, so that's something maybe Hodgson hasn't made his mind up about yet. He will do over the next couple of friendlies.
Central defence - Are Gary Cahill and Phil Jagielka the best pairing?
I thought Gary Cahill was excellent against Poland and Montenegro, but he was a little shaky by his standards against Chile - although he was playing next to Phil Jones who didn't have a great game as well, particularly in the first half. I think he is one of the first choices and it looks like being him and Jagielka [as the first-choice partnership] with the way Roy Hodgson has been selecting his sides. They have a good understanding now.
They are quite similar and that's why you sometimes wonder if they are the best partnership, but it probably is in terms of experience. They both normally play for their clubs, although Cahill has been a little in and out at Chelsea with David Luiz coming in. Jagielka has a great understanding with Distin at Everton and is a proper defender and I think they would do a job for us over in Brazil.
Central midfield - Is Jack Wilshere first choice?
Jack has had ankle trouble and that's something he needs to clear up. If he's not playing and training all the time then you lose that last five per cent which is vital at this level. A fit Jack Wilshere would be a huge asset to the starting XI of Arsenal and England - we've seen what he can do in both shirts - and he is only going to get better as long as he can keep fit. That's the big question for Jack Wilshere and if he has a good season for Arsenal he can go to Brazil and probably get in the first XI. I think he would be in Roy Hodgson's team.
Last season he was dragging Arsenal forward and was their talisman. If he wasn't doing it then quite often Arsenal would struggle and it was almost too much on his shoulders at times for a young lad. Now he has had to adjust to the fact that the team doesn't need him as much and that can be quite hard psychologically for somebody who has come through the ranks being the main man. All of a sudden Arsene Wenger can leave him out and the team isn't noticeably weakened so that's something he's had to adjust too. Almost for England, if he is fit, he's in a stronger position.
Right wing - Is Andros Townsend ahead of Theo Walcott?
It's a great choice for Roy Hodgson to have. Theo Walcott is a different sort of player to Andros Townsend; Andros loves to run with the ball and to commit defenders and take them on. He can make things happen and even when he came on against Chile there was a little bit extra down that side when he grabbed hold of the ball. He has got a lot of confidence and belief at the moment and that's borne out of his performances for Tottenham and England.
He hit the ground running and fireworks were flying straight away, which isn't easy when you come into the side. It's even harder to sustain it and that's the challenge facing him now and he's got an awful lot of learning to do. His game needs to develop and add a bit of variety, but I think he can do that. He certainly has the talent and has been a big plus point for England.
Up front - Is Daniel Sturridge the best partner for Wayne Rooney?
Sturridge seems to have a good natural understanding with Wayne Rooney. From what Daniel's been saying, they haven't had to work too hard on the training ground and they instantly and instinctively know where each other is on the pitch, which is a great bonus. He is a talented boy and will only get better. This is the first season where he feels his manager has belief and faith in him and is playing him every week and that does wonders for your confidence. We've seen that in his performances for Liverpool and we've seen snatches of it for his country as well. If he can stay fit then that strike partnership would be a big bonus for us; in the Euros in Poland and Ukraine we didn't have that partnership really. Those two - Sturridge and Rooney - would give us a great attack.
To a large extent England's hopes depend on Wayne Rooney. I don't think that's overstating the case. He's been unfortunate in going into tournaments previously not being fully fit and you have to go back to Portugal in 2004 when he first came onto the scene to pinpoint the last time he had a real impact in terms of scoring goals. We're desperate for him to go through this season and go into the tournament not tired and injury-free. He is important and vital to the team as that link between midfield and attack; if he's not on-song and not in the team then we are restricted.