England World Cup squad: Ray Parlour predicts who'll be on plane to Brazil
Ray Parlour has named the 23 players he thinks will be in England's World Cup squad. Do you agree?
Last Updated: 20/11/13 2:59pm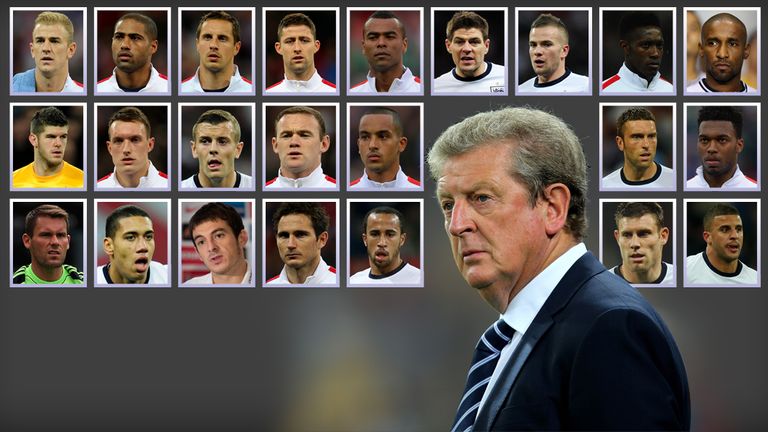 Read on for his choices (fitness permitting) and let us know if you agree...
Goalkeepers
RAY'S PICKS: Joe Hart, Ben Foster, Fraser Forster
MISSING OUT: Jack Butland, Rob Green, Alex McCarthy, John Ruddy
RAY SAYS: I thought it was a really good performance from Joe Hart against Germany. I was pleased for him as I think he's a good character. This is just a low point for Joe but I'm sure he'll get his form back for Manchester City and for England and be a major goalkeeper in time.
Defenders
RAY'S PICKS: Glen Johnson, Phil Jagielka, Gary Cahill, Phil Jones, Chris Smalling, Ashley Cole, Leighton Baines, Kyle Walker
MISSING OUT: Steven Caulker, Michael Dawson, Kieran Gibbs, Joleon Lescott, Steven Taylor
RAY SAYS: Defensively, I don't know what Roy knows at the moment. What is his best back four? Is it Cole at left-back or is it Baines? Is it Johnson or Walker at right-back? Smalling played alongside Jagielka on Tuesday night, but will it be Cahill who plays in there? I think he's got to find his best back four and stick with it because it's so important that the back four and the goalkeeper get a good understanding together. I think he's got to learn that and he's got to sit down with Gary Neville and people in the backroom staff and say 'who would you think after the last couple of games could play at centre-half and right-back and left-back?'
Midfielders
RAY'S PICKS: Steven Gerrard, Jack Wilshere, Theo Walcott, Tom Cleverley, Frank Lampard, Andros Townsend, James Milner
MISSING OUT: Ross Barkley, Gareth Barry, Michael Carrick, Stewart Downing, Jordan Henderson, Adam Lallana, Aaron Lennon, Ravel Morrison, Leon Osman, Alex Oxlade-Chamberlain, Raheem Sterling, Ashley Young
RAY SAYS: I think he'll stick to the people he knows like Gerrard and Lampard - that little bit of experience - and try and bring in a few others. I've not even mentioned Ross Barkley and he's going to be a real talent in a few years. I thought Townsend was probably the best player against Germany and I thought Lallana did well. That's going to be the big test for Roy Hodgson because there are always some surprises in the squad. It's whether Lallana's done enough. Cleverley I thought was ok, a little bit sloppy at passing at times but he won the ball back well in midfield which is what you need.
Forwards
RAY'S PICKS: Danny Welbeck, Wayne Rooney, Daniel Sturridge, Rickie Lambert, Jermain Defoe
MISSING OUT: Saido Berahino, Andy Carroll, Jay Rodriguez, Wilfried Zaha
RAY SAYS: One of things that Roy's got to take away from the Germany game is whether Sturridge and Rooney are the best partnership. I've seen glimpses that it could be. But maybe Lambert and Rooney might play better together. Rodriguez? Probably not, but Lambert again came on and did well.
And who is in the first XI?
RAY SAYS: For me, my team at the moment would probably be Hart, Johnson at right-back and I will stick Cahill at centre-half with Jagielka. I will go with Cole as an experienced left-back - Baines has been great but I think Cole is just that tournament player. In centre midfield I'll have Gerrard and Wilshere - if Wilshere's fit that's the big question - and I think Townsend's been fantastic, so he'd be on the right-hand side. Welbeck, if he was fit, is on the left and then you look at Rooney, probably just behind Sturridge. I think against Germany there were a couple of occasions he could have been a bit quicker and picked the right option, but he's going to grow as a player and get better and better. That would be my XI at the moment.
Do you agree with Ray Parlour? Would you be happy with this squad in Brazil? Post your 23-man squad in the comments box below and we'll publish a range of your selections.