'Zlatan's the best'
Steven Caulker will again face Rooney & Van Persie when Cardiff City host Manchester United on Sunday. But the United pair will be far from the first time the centre-back has faced a lethal striker or two. Here, Caulker talks tough opponents from Ibrahimovic & Aguero to Holt & Becchio...
By Peter Fraser - Follow me on Twitter @SkySportsPeteF
Last Updated: 25/11/13 9:56am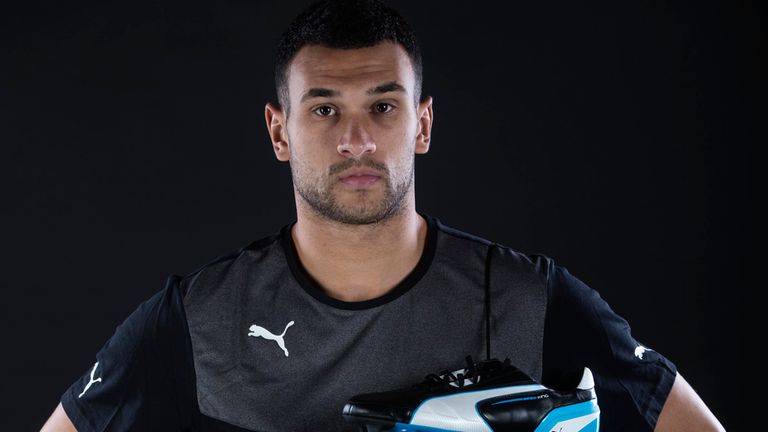 Since moving to Cardiff City in an £8million deal in the summer, Steven Caulker has been enjoying an excellent season. However, on Sunday afternoon, the giant centre-back faces one of his biggest tests of the campaign when he comes up against Manchester United.
The 6'3'' former Tottenham Hotspur defender will be tasked with stopping United's in-form strike duo, Wayne Rooney and Robin van Persie, and will have to rely on the skills which have already this season seen him block more shots - 19 - than any other player in the Premier League.
Caulker, who is also in the top 10 defenders in the division in terms of the highest number of clearances, does enjoy a good record against Rooney, having not allowed the England star to score in three past matches. But Van Persie, who is an injury doubt, has scored twice in four previous meetings.
Van Persie and Rooney, though, are far from the only goalscorers former Yeovil, Bristol City and Swansea City man Caulker has come up against in a career which, despite being aged only 21, has already seen him play in League One, the Championship, the Europa League and internationally.
Here, speaking at the launch of the new black, white and blue PUMA King football boot, Caulker talks Sky Sports through his plans to combat United, picks out the most difficult strikers in the Premier League and Football League - including world stars, traditional British No.9s and wildcards - and explains what it is like to face German legend Miroslav Klose, who has scored 14 goals at World Cups, and also make an England debut in a game when Sweden's Zlatan Ibrahimovic scored four times.
Rooney & Van Persie
"Everybody in the Premier League knows what Robin van Persie is capable of with his left foot. If you give him half-a-yard, he will put the ball in either corner of the goal. So, with players like that, you have to be tight and be aware they want to play off your shoulder. You also have to be careful not to over commit.
"Wayne Rooney likes to drop in deep. We have to be wary of how tight we go on him. So that means communication will be key and we cannot give him too much time and space. He has never scored against me in the Premier League. That is maybe a bit a coincidence and I have done well against him. Rooney is a very good player but when I have played against United, he has played a bit deeper. The gaffer will be drilling us with his tactics over the next few days."
Premier League Predators
"Sergio Aguero is probably the hardest player in the Premier League to play against. His goal for Manchester City against Chelsea, when he peeled off and buried the ball in an instance, is a sign of his skill and a worry you have when you are playing against him. He is very sharp, strong and quick. Being half of my size, it is also sometimes difficult to catch him if he gets half-a-yard. It is all about concentration when you play against Aguero.
"Daniel Sturridge is also very skilful and has been having a fantastic year at Liverpool since moving in January. His goalscoring record speaks for itself and his link-up play with Luis Suarez has been exceptional. Sturridge has proved himself now as one of the top strikers in the Premier League. At the same time, Suarez is a player who is nippy and can get in and out. His finishing is also second to none. The team has to keep its shape and not allow them space."
Euro Stars
"Zlatan Ibrahimovic is the toughest player I have played against in my career. It was a masterclass that day when he scored four goals. He was so strong, quick and had every attribute. He is one of the world's greatest. Ibrahimovic did not say anything to me during the game but I felt he had a real presence about him. It was a case of showing him respect but also definitely not fearing him. You do not want to fear any opponent. In that split second you spend fearing, they have extra space to shoot.
"I also played against Lazio's Miroslav Klose in the Europa League last season with Tottenham. His movement was frightening. He is slightly older now and has lost a yard of pace but his movement was still brilliant. These are the type of games I want to play in so I get the experience and develop as a player. Playing against Klose was a test but we kept a clean sheet."
The British Target Men
"Grant Holt has scored against me seven times but it is not just him; I always seem to have a struggle against Norwich City! They seem to be my bogey team. Holt is difficult, as is Southampton's Rickie Lambert. They are two players who I played against back in League One. They are tough to play against but, taking nothing away from Holt and Lambert, I still have to say Ibrahimovic is the most difficult!"
"But I do find it more difficult to play against the small players who can twist and turn. They are naturally quicker than me so they are the type of players who you have to watch and read the game. As a 6' 3'' centre-back, if you commit yourself too early, it is often difficult to get back. I would rather go toe-to-toe with a six-foot-plus player and use my physical strength."
The Wildcard
"Luciano Becchio, when I was at Bristol City, especially in the Championship, was a tough one. He was a very good goalscorer and in a game we played against Leeds United in 2010 he came on as a second-half substitute and scored a hat-trick. That was a shock. He was a good player and would cause a lot of teams problems but, on another day against me, he would not be so successful."
Steven Caulker wears the super soft PUMA King football boot, available now from ProDirectSoccer.com. Head to PUMAFootballClub.com to conquer unique challenges and get closer than ever to PUMA players.