Craig Mackail-Smith, Kevin Davies and Guy Branston on Joe Hart and how they've handled the drop
Kevin Davies, Guy Branston and Craig Mackail-Smith on being dropped and how Joe Hart will deal with it.
Last Updated: 27/11/13 3:24pm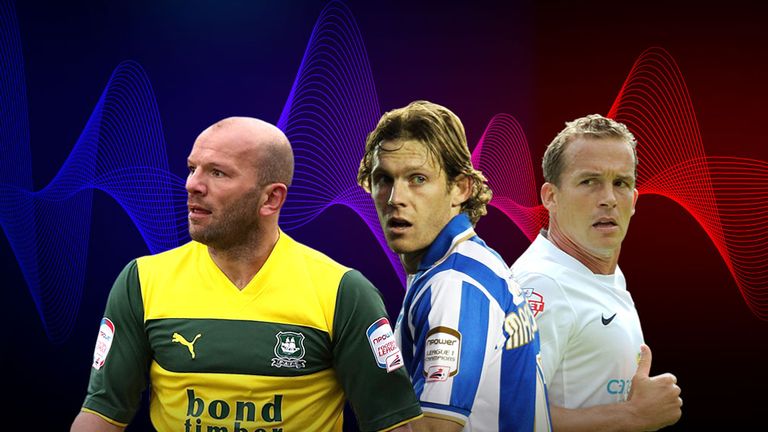 As well as a weekly blog from Crystal Palace striker Kevin Phillips, we will also be speaking to some seasoned campaigners in the Football League.
Brighton striker Craig Mackail-Smirth, Preston frontman Kevin Davies and Plymouth defender Guy Branston - who all appear on Sky Sports News Radio's Football League Hour - will be chatting to us about all manner of footballing issues.
This week we've asked our bloggers about coping with being dropped from the first team.
Manchester City goalkeeper Joe Hart hasn't played for the Premier League side in a month and his replacement, Costel Pantilimon, has not put a finger wrong since stepping in.
Hart and England manager Roy Hodgson are now facing a dilemma - heading into a World Cup year with the country's number one goalkeeper not playing. Adding to the pressure on Hart are reports linking City with Spain and Real Madrid goalkeeper Iker Casillias, who could potentially arrive in the January transfer window.
Here's what our bloggers make of the situation at the Etihad and how they've dealt with the drop in the past...
CRAIG MACKAIL-SMITH
I think the couple of mistakes Joe Hart has made were a little bit rash on his part and obviously each time he made a mistake it was in the back of his mind. Then the press build it up to be bigger than it actually is.
There are plenty of other keepers out there that have made worse mistakes but because he's England number one and Man City's number one, he gets a lot more scrutiny from the press and the manager has to make the change.
Joe would want to be playing, whether that's at Man City or another club. You want to feel like you're in form and have some confident game time under your belt going in to the World Cup. I think it's hard if you're a bit rusty going in to a major tournament, so if he's not going to get back in to City's line-up he'd want to go out on loan - I doubt Manuel Pellegrini would let a keeper of that quality go out or loan, or leave though.
I've been dropped quite a few times in my career. It's not a nice feeling because obviously you want to be playing in every game and you want to score goals but sometimes your form goes and the manager needs to bring in the players that are performing.
When you have a little blip and you're not playing well you kind of have to play yourself out of it, find that confidence and that little bit of luck needs to go your way as well, sometimes mentally these things are hard to take.
When you're in that situation you have to try and relax. If I'm not scoring I try and concentrate on getting goals and doing all the right things but I think I've come to realise that the further you step away and try to relax and just keep doing what you need to do on the training ground and take that pressure off yourself, you tend to perform better and things start to go right a lot quicker.
I think there can be a little bit of tension between yourself and the manager if he drops you, especially if he was the man that brought you in to the club because you want to score for him and prove yourself. Obviously if that doesn't happen he's going to be putting the pressure on you, maybe questioning himself and it becomes a bit of a strange relationship. You need someone who understands what you're going through all the way and keeps giving you the confidence to go out there and score the goals.
KEVIN DAVIES
I just think that Joe Hart is quality and his attitude will prevail because there's no doubt about it, he's England's best goalkeeper. I think he's been consistent and done really well for Manchester City over the last two or three seasons. He's played a lot of football and as a goalkeeper if you make one or two mistakes it really gets highlighted.
I firmly believe that Hart will come back. I trained with him that week I was with England and he loves playing, loves training and works extremely hard with the right attitude so I don't think it will take long.
Sometimes it's good to be given a chance to sit back as a player and re-motivate yourself. Even if you play at the top level if you're taken back from it for a while it can help.
One of my best friends is the goalkeeper at Bournemouth, Darryl Flahavan. It's different for them because they know automatically if they're number one or number two in a team.
It's different for outfield players, as long as I'm given a reason for being dropped by the manager then that's fine; it's all about being a team and getting the right results. If the manager wants to play a certain way and a certain style which doesn't suit my style of play then that's fine, as long as you know that. With the amount of games that I've played, especially at Premier League level, sometimes you need a rest.
I had a couple of incidents at Southampton where Gordon Strachan didn't play me and I got released aged 25 and didn't have a particularly good relationship with him.
I've seen it where players have been on a run of games and all of a sudden they find themselves not on the bench but out of the squad. As someone's who's that bit older I try and speak to the players and talk to them about the feelings going through their head, make sure they have the right attitude in training and tell them they'll get the chance to get back in.
If they're not taking it too well I advise them to go and talk to the manager and see what his reasons are and where he stands. I think players are pretty good with it though, I've seen one or two let their heads go down and not do the right thing and spit their dummy out a bit to try and get a move away, but generally I think players show good attitudes towards being dropped because it's all about the team.
GUY BRANSTON
Joe's been at the top of his game for a long time. It's hard being dropped but you have to deal with it the best way you can and that's by working hard on the training pitch because the harder you work on the training pitch the more luck you get on a Saturday.
He's had a fantastic run of games and has been the focal point of the City team whilst also being England number one and now he finds himself in the position - at a young age - where he's been dropped. He's still in a great place though because he's the best goalkeeper we've got in the country and he's young; often keepers don't flourish until they're in the thirties when they've stopped those little mistakes. He'll be disheartened but he shouldn't be too down on himself.
I think the stories linking Joe Hart with a move away is just speculation used to write a story. No football club would want to lose Joe Hart out of their squad and I don't think anyone would want him to leave Man City.
I think people made a bit of mountain out of me saying I was training with the 'bomb squad' or the 'mushrooms' on the Football League Hour last week Listen to the show here. Whatever you wanted to say about it it's just banter within our dressing room when you're not involved in the first team.
I'm someone who trains hard every day and if that doesn't impress the gaffer then I don't know what will. There's no malice in what I said, I'm waiting for the gaffer to call me in and when he wants me in the team I'll be ready because I know I train hard and that's what he appreciates.
I haven't been playing well, let's be honest about it, I've not been playing well so I'm not playing. Footballers need to face up to it sometimes and say 'you know what, I've been dropped for a reason' and the reason that I've been dropped is because I've not been playing well, it's simple. So what I need to do is find the answer on the training pitch of how to get back in the team and playing well and that's done by working hard. It's worked before for me in the past when I've been dropped and it will again for me in the future.
Don't forget to tune in to the Football League Hour every Thursday night at 7pm on Sky Sports News Radio or download the podcast here