Right to reply?
Tottenham earned a point in a 2-2 draw with Manchester United on Sunday but attention quickly shifted to a row between Andre Villas-Boas and journalist Neil Ashton in the post-match press conference. Adam Bate had a front-row seat for the spat and gives his take on events...
By Adam Bate at White Hart Lane
Last Updated: 02/12/13 10:00am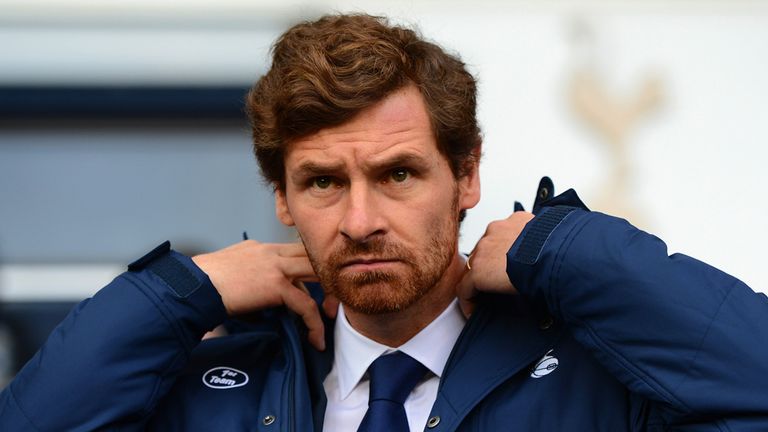 "We cannot dwell too much on the events of last Sunday at the Etihad," began Tottenham manager Andre Villas-Boas in his programme notes for the visit of Manchester United at the weekend. However, the Portuguese coach was rather less interested in moving on from the criticism that came his way after that 6-0 thrashing at the hands of Manchester City.
"Isn't it great when there's a nice and relaxed atmosphere," joked one experienced journalist as the dust settled on a tense exchange in the claustrophobic environment of the White Hart Lane press room on Sunday. Villas-Boas had taken exception to a week of negative headlines in the wake of such a miserable defeat and he was determined to air a few grievances of his own.
Daily Mail duo Martin Samuel and Neil Ashton were the chief offenders and it was the latter's presence that sparked the confrontation. Ashton had written a scathing article under a headline claiming "Any of us could have had AVB's success at Porto," while Samuel's piece appeared below the words: "What's the beauty of being Villas-Boas? It's always someone else's fault." The furore had gone on all week with Ashton even reporting that Luis Enrique - sacked by Roma last year and now enduring mixed fortunes at Celta Vigo - is being lined up as a replacement for Villas-Boas.
The Porto line seemed a little reductive. Radamel Falcao and Hulk did indeed score 74 goals between them in that triumphant treble season but presumably the manager's presence had something to do with it. If players playing well are to become a stick with which to beat successful managers, then Pep Guardiola, Jose Mourinho et al are really in trouble. And yet, it was the implication that Villas-Boas had attempted to disassociate himself from the City defeat that seemed to particularly annoy the Spurs boss.
Respect
Asked if he was getting respect, Villas-Boas said: "No, I don't think so. I'm talking about people who insult my integrity, my human values, my professionalism. One of these people is sitting over here. He insults the success I have achieved at other clubs and I don't think it's fair. It's a lack of respect." Speaking directly to Ashton, he added: "Even mixing the words that I said in the press conference. I never said that the players should be ashamed of themselves. We is us. We is everybody at the club. Why did you think there was any intention to separate myself from it?
"You can easily understand. I don't have to explain. You have always chased people and attacked people. You don't attack them from the front. You sit and write, attack the integrity, the competence and human values of the other person and you don't even know that person. We've never had the chance to sit down and talk about this. Only when I give you that chance, when I know you and you know me, can you reach the conclusions that you are. I think your and Martin's articles were completely out of order. That is my opinion."
It was an uncomfortable exchange, with Ashton intent on ensuring it was a two-way dialogue. But quietly and purposefully, Villas-Boas made his point. And he had a good one. Dramatic defeats quicken the pulse but some perspective is needed here. After Sunday's 2-2 draw with United, they remain just one point behind the defending champions and are only four points adrift of Manchester City in third. Fine margins.
Given that Villas-Boas should also have credit in the bank after guiding Spurs to their best ever Premier League points tally last season, the contrast with David Moyes and Manuel Pellegrini is a pertinent one. "I don't want to undermine other managers," said the 36-year-old. "(But) you can easily compare the situation. We have been sitting above Manchester City before and above Manchester United before. We haven't seen any of these personal attacks. I think that is unfair."
Unfair, perhaps. But it is important to stress this should not be painted as a mere media witch hunt with newspapers busily setting agendas rather than reporting events. Not when there are former owners and coaches wading into the debate. Not when Spurs supporters are booing substitutions, as they did when Aaron Lennon was withdrawn during the second half on Sunday. Ask the fan who yelled "Make sure you write AVB out" at the assembled media upon the final whistle whether Tottenham's problems are little more than an elaborate media construct.
Issues
Evidently, there are issues. And in the long term, these are likely to prove rather more significant than a spat with the host of Sunday Supplement. There are doubts over the suitability of the formation. The 28-year-old striker Roberto Soldado, a £26million acquisition in the summer, has yet to look entirely comfortable in the lone front role and Villas-Boas admitted in the post-match press conference that a switch to 4-4-2 is being considered ahead of the midweek trip to Fulham.
There are personnel problems elsewhere too. With Nacer Chadli in unconvincing form against United, Villas-Boas is still searching for his best wing pairing let alone which flank to play them on. He is little nearer getting the balance right in midfield either, where question remains as to whether the skill-sets of Sandro, Mousa Dembele and Paulinho are sufficiently broad for Spurs to play with the necessary pace and creative incision. Sandro's goal on Sunday was a beauty but the fact it's the team's only one from open play in almost eight hours of Premier League action is a concern.
Meanwhile, Tottenham's best centre-back, Jan Vertonghen, continues to operate at left-back and the club's all-time record signing Erik Lamela finds himself out of the entire 18-man squad - Villas-Boas confirming that a "technical decision" rather than an injury was the cause of his omission. It would be difficult to be persuaded that technical director Franco Baldini, seen wandering around the car park alone at half-time, will be at ease with that particular call.
Time might yet yield the answers to many of these questions. And after being the only coach among the top six to lose his best player in the summer, Villas-Boas surely deserves that time. Wednesday sees his team visit Fulham, before they travel to face Sunderland on Saturday. Six points from matches against two of the bottom three look eminently achievable and could move Spurs up into the top four by the end of the week. But it seems that moving forward, for both Tottenham and Andre Villas-Boas, might be easier said than done.