FIFA still sweating
Bryan Swanson, Chief News Reporter for Sky Sports News, reflects on the FIFA press conference ahead of Friday's World Cup draw in Costa do Sauipe, Brazil.
By Bryan Swanson
Last Updated: 06/12/13 11:41am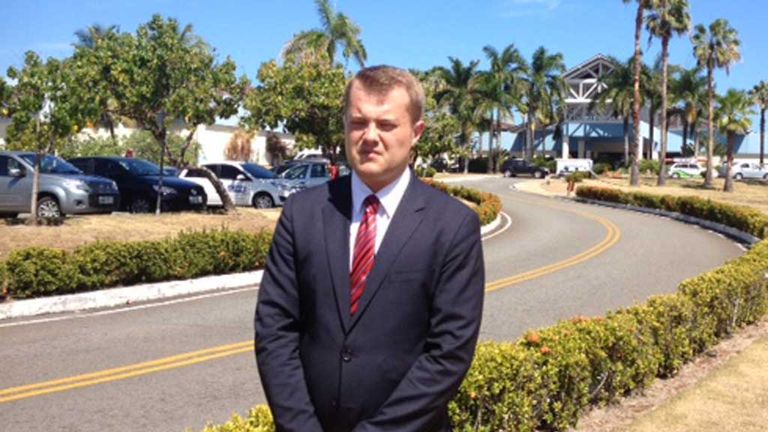 FIFA president Sepp Blatter likes to maintain an air of composure during his news conferences. Unflappable. In command. In control. Even in soaring temperatures, in a seaside resort where iguanas slowly move around the scorched grass outside, Blatter is coolness personified in his suit jacket, shirt and tie.
In the vast air-conditioned hall, Blatter responded to an ordinary question about the state of Sao Paulo's stadium with an extraordinary answer.
"We have received information that it will be ready on 14 or 15 April," he said.
There were raised eyebrows as journalists from around the world quickly double-checked the World Cup schedule.
"That's less than eight weeks before the opening game!" whispered the Brazilian reporter next to me. "Wow, this is big news."
It had been hoped that every stadium would be finished by February but FIFA's all-powerful Executive Committee was informed that there would be a further delay in Sao Paulo.
The site of the tragedy last week, where two workers were killed, is still subject to an accident investigation.
Alternative?
Does world football's governing body have an alternative plan should the stadium not be finished in time to stage the opening ceremony and opening game?
"It is a question of trust that it will be done," said Blatter. "God and Allah willing no more accidents will arise. For the time being there's no Plan B."
For the time being. Those four words could prove highly significant if it becomes clear that a completion date in mid-April remains too optimistic.
Blatter is well aware that, even without divine intervention, the health and safety of workers must remain the number one priority, however quickly they must finish construction.
But he is also aware that the show must go on and some even bigger decisions may need to be made early next year. The harsh reality is that trust alone cannot complete a stadium.
On Wednesday, Aldo Rebelo, Brazil's Sports Minister, compared the country's preparations to organising a wedding and said: "I've never seen a bride arrive on time - but never saw a marriage that didn't go ahead."
By his own admission, FIFA's president is praying that no-one is left waiting at an unfinished altar, with nowhere to go, in Sao Paulo on 12 June.