Massive for Moyes
David Moyes is feeling the heat, while Everton's trip to Arsenal is the pick of an intriguing round of Premier League fixtures after a bonus midweek bonanza of breathtaking action. We pick some likely talking points ahead of what could be a crucial few days for several top flight bosses
By Nick Miller
Last Updated: 06/12/13 9:38pm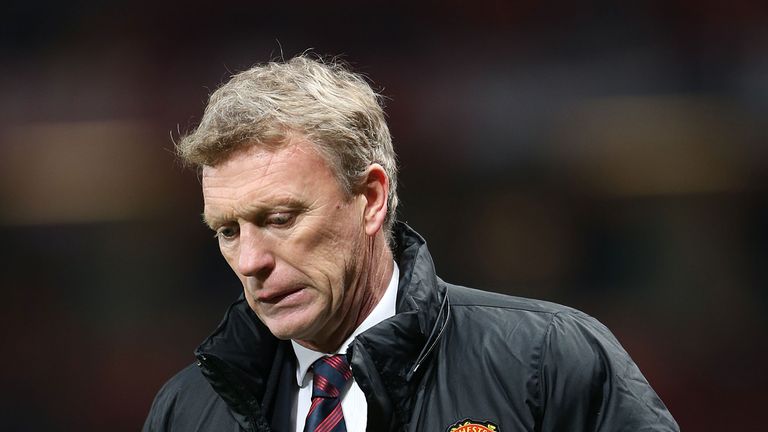 More Moyes misery?
"I've got nothing to suggest anything else," mumbled David Moyes when asked if United could make up the 12 points they currently trail Arsenal by.
Ah, but we have David. How about already dropping 80% of the points United missed out on last season? How about no wins in the last three? How about games and points lost by completely ceding the midfield thanks to inadequate personnel? How about a troubling reliance on two strikers, one of whom is streaky, while the other is showing signs of returning to the bad old days of frequent injury? How about a bizarre passivity after Everton scored on Wednesday, when a United side of yore would have roared back and at the very least made the visitors sweat for their points?
The good news for Moyes is that the rest of December looks fairly manageable. After Newcastle on Saturday, they face Aston Villa, West Ham, Hull and Norwich. All games you'd expect United to win, and win with relative ease. The problem is that not only do United have to win those games, you wouldn't necessarily trust the team that has dropped points against Cardiff and West Brom to win them either.
Another problem is the United team. As well as injuries to Michael Carrick and Robin van Persie, Wayne Rooney will be banned this weekend after picking up his fifth booking, as it turns out only delaying the suspension he should have received for booting Jordon Mutch in the calf by a week. Marouane Fellaini playing behind Javier Hernandez might be an option for Moyes, which is not an especially inspiring prospect, but possibly what United are stuck with.
Still, none of that will fly, excuse-wise, on Saturday. In all likelihood, as long as Moyes keeps United above the 'embarrassing' threshold, he will keep his job this season. However, back-to-back home defeats might nudge them closer and closer to that mark.
Here's our full take on Wednesday's defeat to Everton.
Hipster heaven
Call me the 'H' word all you like, but this looks like being not only the most interesting game of the weekend, but maybe even the season so far.
Think about it - it's a game between two teams who play interesting football, both of whom are either at the top or very close to the top of their respective games. Both are high on confidence - Arsenal due to their position at the top of the table, Everton because of the events at Old Trafford and their own fine recent form.
The game has significance in the league table too, with Arsenal warding off Chelsea, and Everton looking to overhaul Liverpool and get into the top four.
So cancel all your plans for 4pm on Sunday and watch it.
Whet your appetite by joining Ray Parlour to reminisce over the same fixture back in 1998, which saw Arsenal over the line in that season's title race. Read Sky Sports Vault here. We've also got Jamie Carragher's take on Romelu Lukaku's magnificent form form for Everton.
Saints slipping...?
Mauricio Pochettino declared that Southampton's defeat to Aston Villa on Wednesday was largely down to individual errors at the back. Whether it was his fault or his players, that loss was their third in a row so for a team with slightly higher expectations these days than merely surviving, they need to stop that trend on Saturday. The problem there is they are playing Manchester City at home, who for 75 minutes at least cruised against West Brom. And are, you know, theoretically pretty good.
If Southampton do lose, they may suffer the indignity of being below Manchester United in the table. Read Jeff Stelling's take on all-things Southampton here.
The Pulis-factor
After a calamitous start to the season Crystal Palace's of survival chances were viewed as somewhere between 'grim' and 'non-existent' by sages up and down the land, but that was before Tony Pulis arrived, and whatever he has done since poking his baseball cap around the Selhurst Park door, it is working.
Of course, beating West Ham in their current state is not something to get too excited about, but by golly it's a start. A win at home to Cardiff would similarly not be cause to invite the Palace Crystals around for tea and medals, but it will probably put them level on points with the fourth-bottom Hammers.
And who would've predicted that, even a few weeks ago?
Points mean prizes/survival
For all their general incompetence this season, Sunderland's home performances have actually been a little better than their results suggest. They have of course beaten Manchester City and Newcastle, and gave bloody great scares to Chelsea and Manchester United.
And for all the encouraging noises Gus Poyet has made (more of him here), after winning two of his first three games in charge, they have taken one point from the last three.
They face a Spurs side who, despite the win over Fulham, are still far from convincing. There's a fragility and an uncertainty to Andre Villas-Boas' side that could be exploited if Sunderland play like they did in the latter stages of the Chelsea game.
They could do with the win, too. With Crystal Palace remembering how to pick up points and Rene Meulensteen now installed at Fulham, they could quite quickly find themselves five points adrift at the bottom of the table, should results go awry at the weekend.
End of a beautiful friendship?
"Of course he has, he is our captain," said Mark Noble when asked if Kevin Nolan, who hasn't scored a goal this season and whose substitution in their last three games has, shall we say, not exactly been greeted with universal disapproval by the Hammers' fans, had the backing of the players.
"Kev is brilliant in the dressing room and he has been unbelievable for us. He is big enough and strong enough to handle all that sort of stuff, so I am sure he will be fine.
"He is the gaffer's man and he looks after the dressing room and all of the problems in there. You need someone like that. I do not think the gaffer has taken him off because of the way he was playing, he just wanted to change things."
Of course, Noble was hardly going to say 'Aye, he's bobbins. Drop him, Sam', and it hardly seems fair to single out one player who has been bad for West Ham recently, but Allardyce has to do something, and that something might have to end up being dropping his captain and for so long talismanic player.
The Hammers need a win at the weekend to stave off the relegation zone pack, but the bad news is they're facing Luis Suarez and Liverpool, who didn't do too badly on Wednesday evening.
A problem called Dimitar
"I don't usually speculate as nobody knows what will happen in January but what I can tell you is he is not happy at Fulham. He would like, if possible, to find another option" - Emil Dantchev, Dimitar Berbatov's agent.
"The most important thing is that we have to focus from game to game all the way up to the beginning of January and I had some good chats with Dimitar. He is a player that really cares for this club and I think that was evident in the way he played tonight" - Rene Meulensteen.
We'll see, but if Fulham are to get out of trouble, you imagine they will need a fit, in-form and committed Berbatov to do so.

AVB v Daily Mail
I can remember getting stick as a player from certain journalists or ex-footballers and it makes you so angry. But it's part of football and you just have to let it go, writes Sky Sports Jamie Redknapp.
The fact is, when you spend £100m and lose 6-0 you can't expect everyone to go 'never mind, that's the way it goes'.
I've said before that I do have sympathy for Villas-Boas because a lot of the new arrivals at White Hart Lane would have been signed by Franco Baldini, rather than the manager. Erik Lamela is an example - Baldini would have seen him at Roma and said 'we need to get him'.
The problem with the Director of Football role - which I think can work - is that when the big-money signings aren't producing the goods it's the manager, who hasn't had much to do with buying the players, who gets the stick.
Read the whole of Jamie's column here, while Adam Bate's bird's eye view of the press conference everyone is talking about here.
Merson's predictions
Sky Sports' very own Paul Merson tips wins for Arsenal, Manchester City, Liverpool and Chelsea - but can see both Manchester United or Tottenham dropping points. Read his predictions in full here.