Arteta exclusive
Ahead of Wednesday night's decisive game with Napoli in the Champions League, Sky Sports speaks to captain Mikel Arteta to learn about Arsenal's ambitions to conquer Europe, the talent of Mesut Ozil, and the rediscovered fear factor within Arsene Wenger's squad
By Peter Fraser - Follow me on Twitter @SkySportsPeteF
Last Updated: 12/12/13 9:02am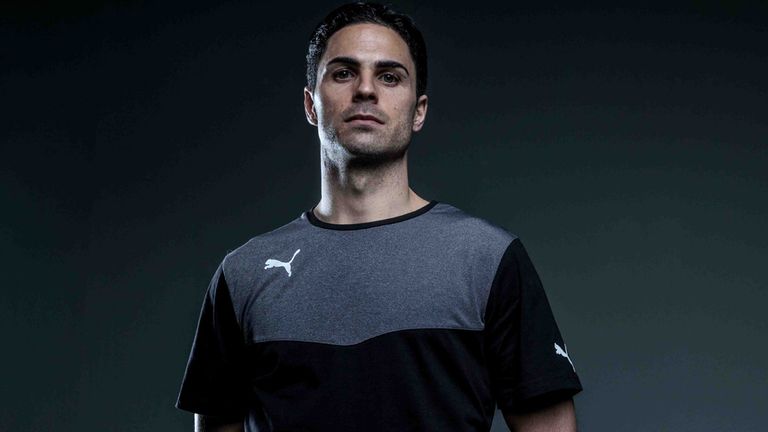 "The attitude of the players for me is absolutely focused, ambitious, and that is what pleases me very much, because it shows the players want to do well until the end of the season." Those were the words of Arsenal manager Arsene Wenger in his pre-match media conference before Wednesday's showdown with Napoli.
It is a decisive night for the Premier League leaders in Europe. They just need to avoid a 3-0 defeat in Italy to progress to the UEFA Champions League second stage for the 14th season in a row. But this is no time for complacency when the opposition can boast the managerial talent of Rafa Benitez and the formidable atmosphere of the San Paolo Stadium.
Wenger's demand for attitude is therefore essential and it is clearly replicated among his players, as Sky Sports discovered this week when speaking to Arsenal captain Mikel Arteta. Here, in an exclusive Q&A from PUMAFootballClub.com, the in-form midfielder outlines his club's potential to win the European Cup after rediscovering their fear factor.
Arsenal must only avoid a 3-0 defeat at Napoli in order to qualify for the knockout stages of this season's Champions League. What is the key to avoiding any complacency and what is the outlook of the squad ahead of the game?
"The squad is always professional, first and foremost. As soon as you set foot on to the pitch you must want to win and believe that you can win, and that is your sole aim and focus. We want to win the group, and keep the momentum going into the knockout stages. We also know that a lot of Arsenal fans are travelling to the game, and we want to reward them with a great performance and hopefully three points."
Having beaten Napoli 2-0 at Emirates Stadium on Matchday Two, how much are you looking forward to the return fixture in Italy and trying to silence the famous San Paolo Stadium atmosphere?
"Away fixtures in Europe are always tough and this will be no different. It is important for us to focus on the job on the pitch and play our usual game. The atmosphere when we played Napoli at the Emirates is one of the best I have experienced in the Champions League. We know it will be the same when we play at their stadium and that their fans will get behind the team, as will the Arsenal fans who are travelling to support us. It should be a fantastic atmosphere and we hope we can put in a performance to match."
Who are the danger men you will have to beware when playing against Napoli in the final group game and what is it like to play against teams managed by Rafa Benitez?
"Napoli are a top team, and they have great players all over the pitch. In the game at the Emirates they made it hard for us and the whole team deserves a lot of credit for getting the result we did. We know Benitez sets up his teams in a well-organised fashion, and that they will be very compact and hard to break down. We will need to be very patient and hope that when we do create opportunities we can finish them."
You made your Champions League debut against Italian opposition in the form of AC Milan in 2001 when you were at PSG. What do you remember of those days and how have you changed since as a player?
"Making my Champions League debut at the San Siro was fantastic. Ten days before I had been playing in the reserves for Barcelona, and then suddenly I was playing in the Champions League at the San Siro. It was a bit of a shock in that sense but it was a really good game and I have great memories from it. When I was at Barcelona and then at PSG I played in a similar position to the one I play now, as a deep central midfield player. At Everton I played a more attacking role but now at Arsenal I am in the more defensive position again. So in some ways I am playing in a very similar way now to how I was then. But of course I have learnt a lot from playing with fantastic players and working with amazing coaches."
How important is progress in the Champions League in order to underline Arsenal's pedigree this season? Can Arsenal win the Champions League?
"Every team in the Champions League is there because they are a top team. We have seen in previous seasons that any team can win the competition, so why not us? We have to perform at our best in every single game to do it. But of course it is possible. We have to stay focused. At the moment we are playing very well and we are loving our football and enjoying the pleasure it is giving the fans. We have a fantastic squad, with competition for places, which you need to compete in both the Premier League and the Champions League."
Arsenal have suffered narrow defeats in the last 16 of the Champions League in the past two seasons. Does this feel like underachievement for a club like Arsenal and in what ways does it act as additional motivation?
"Arsenal have been unlucky, not just in the Champions League but in competing for all trophies. Everyone talks about how many years it has been since we won a trophy, and no-one wants to end that run more than the players. The fans have been fantastic this season, so we would love to repay them with a trophy. If that is the Champions League then that would be incredible. But for now we just need to focus on performing at our best in each game and then at the end of the season hopefully we will have something to celebrate. There is belief in the dressing room. We are enjoying the moment and enjoying the way we are playing."
Which other clubs have impressed you so far in this season's Champions League and why?
"Every team in this competition is dangerous. There are big teams like Barcelona, Real Madrid, and Bayern Munich, who are all winning their groups. If we are to compete against them we will need to be on top of our game."
What has been the secret to Arsenal's excellent form in the 2013 calendar year and why?
"We have more belief and we are starting to create a bit of fear in the opposition and that gives us a better chance to win. When you are on a good run and the confidence level is high, it makes everything much easier. We know there will be tough moments this season and it will be important that this team reacts well when that happens. Earlier this season we were under huge pressure, after the defeat against Aston Villa, so it is a credit to everyone at the club that we turned that around."
You are in superb personal form. Is this currently the best you have played in your career and do you believe you get the credit you deserve for your personal performances?
"The whole team is playing as well as we have since I have been at Arsenal. We have had a fantastic start to the season. We have a lot of desire and ambition in the dressing room and that is translating on to the pitch. That is down to the squad, not individuals. You cannot compete in the Premier League or the Champions League with just one good player, you need a squad and competition for places."
How does Mesut Ozil compare to the best midfield team-mate you have played with in your career and why?
"The arrival of Mesut Ozil has had a huge impact. It sent a message to other teams about us which has made a psychological impact on the pitch. He is someone on the pitch who can win the game by himself. The more players you have like that the better chance we have to win the games. He is a very special player. But there is competition throughout the whole squad, not just the midfield now. When there is competition everyone works harder and it raises the level."
Mikel Arteta wears the ultra light PUMA evoSPEED 1.2 football boot, available now from ProDirectSoccer.com. The PUMA evoSPEED 1.2 features a unique GripTex upper for improved control and touch in wet conditions. Head to PUMAFootballClub.com to conquer unique challenges and get closer than ever to PUMA players.