Setting the pace
Burnley boss Sean Dyche discusses maintaining a lofty standing and pulling together as a collective.
Last Updated: 12/12/13 4:52pm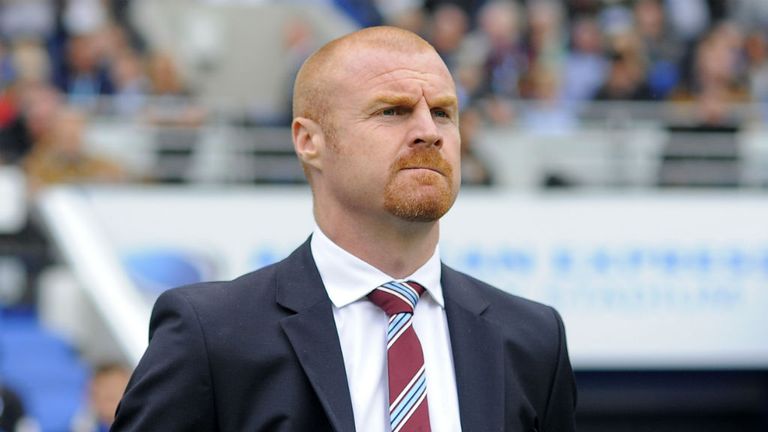 The 2013/14 campaign is now well under way, with divisions beginning to take shape.
Here at Sky Sports we will look to take you to the very heart of the Sky Bet Football League over the coming months, with our Spotlight features intended to give you a greater insight into the clubs and players that keep us on the edge of our seats.
We hope to bring you the views and thoughts of a representative from each of the 72 teams over the course of the season, with those involved asked to give their take on the division they compete in, the club that pays their wages and those we should all be keeping an eye on.
Burnley's Sean Dyche is next into the hot-seat, with the Clarets boss taking time out to discuss maintaining a lofty standing and pulling together as a collective with Chris Burton.
Success is dependent on a number of factors, but what traits do you feel have served Burnley best so far?
I think there has been a mixture, really. The tactical framework of the team has been good, mixed together with the freedom to go and play and pass through the units and be effective in attack. It's then really glued together by the work ethic of the players and the demand of the players. I think that's a healthy mixture. You add in the mentality and the freedom and the clarity of thought to go and win, and you're on to something. There has been that nice mixture of different things.
You've had your first testing spell recently, but that's going to happen in the Championship isn't it and it's about how you respond to those runs?
To be honest, it was a run of draws. That can happen in the Championship. It's a really tough division. We finished that with a good win against Barnsley. You can never underestimate the power of this division and how hard it is to win consistently. We've made a good run at that so to have a few draws, we certainly weren't over-thinking that. That's just a reality of this division and how tough it can be. We're playing Leicester on Saturday, who were going along great and then lost two back-to-back, and you wouldn't have called that. That's how hard the division can be.
You've obviously got a few more tests to come over the next few weeks haven't you - three of the next four away from home to take you through to the end of the year?
Like I say, the challenges come thick and fast. We've worked hard this year to give ourselves the right to win games home and away - if you look at our record, we've done well in both. We're not too worried about away games. We like to be at Turf Moor, we like to perform there, for obvious reasons in front of our own crowd, but the team have been motivated and ready to go wherever we have played. That's what we insist from them and that's what we look to do.
Does the Leicester game take on any added importance or is it still too early for games to be seen as potentially pivotal?
I think it's another important game amongst many. I don't think, like you suggest, it's a pivotal game because it's too early for that kind of thinking. But it's an important game and one which we will both want to win. I'm more aware of us and what we have got to do to win it, so that's what we will focus on.
What's your mindset heading into the game - you have gone three without a win on the road, so are you going to change anything?
No, we'll go about our business in the right manner. If you look just previous to that, we were flying. We have got no reason to over-think what we're doing. We've had a couple of injuries, a couple of people go down, but they are about back in contention, which adds to us. We haven't got a massive depth of squad, but that adds to it and gives us that way that we can change things and operate in the fashion we were doing early season. But we're not too worried about the run recently, we're more interested in what comes next - and that starts on Saturday against Leicester.
What you have been doing has been working hasn't it, you have only drawn one blank so far this season - at Watford - so it's all about you imposing yourself on teams?
I think so. We certainly look to do that. I always say, when we get the mix right we're a really good side. Other teams can say that in the division, the main thing is consistency and delivering performances consistently. We have done that well. That's one of our key focuses, because if you can deliver high-quality, consistent performances, then you have got a fair chance of getting the outcome you want - which is to win. That's another one of our key markers, to be ready tactically, physically and mentally in order to go and do that.
Looking at the boys up top, what has clicked for Sam Vokes and Danny Ings this season? Has it just been a case of getting them to play with belief in their own ability?
We chatted with the players at the end of last year and we made it clear the focus and attention we wanted to put on them and how they could come into the season in order to deliver that. They did some fine work in pre-season as a collective, and Danny and Sam were part of that, and then they have just learnt to play together and learnt to use each other really wisely. Many of the team have, it's not just them. They get all the plaudits for the obvious reasons, they score the goals and they have been doing ever so well for us, but there is a great support network behind that and other players out there. The back four have been solid, the keeper behind them, the midfield unit have played progressive football and intelligent football that is full of energy and full of running. We'd like to think that the whole unit is delivering and it's just topped off by the lads at the front who have scored a lot of goals.
It was important that you did deliver as a unit wasn't it after losing Charlie in the summer? It was important that somebody stepped up.
Of course, and we made that clear. We wanted somebody to find that clarity in their play to be the next version of Charlie. No-one is the same as each other, it's just another version of him and someone who gets goals regularly. We promoted that to the players, we promoted that to the front players, we want that freedom for them to be in a position to go and score and collectively score like they have done. We worked quite a lot with that, with them, but they've taken the responsibility of delivering performances for themselves and for the team. Long may that continue.
You got good money for Charlie and paid nothing out over the summer, so is there a kitty there for January to strengthen?
The club have made it clear that we have to cut our costs, we have to cut our cloth and shop accordingly. The money from Charlie, it was made clear to the fans that we had to use that as wisely as we could as a club to make sure that the books balance and make sure that the club is in a healthy enough position. Now, there may be some finance available, it's not going to be massive, it's not going to be radical finance, but there may be some available if the right player comes along. If we think we can affect that situation, then we will certainly look to do so.
And it's obviously vital that no-one goes - Danny is going to start attracting interest isn't he, and the likes of Kieran Trippier as well?
To be honest, when you're going well, whatever side you are, you are always going to attract attention from other clubs - certainly the more powerful clubs up the ladder in the Premier League. But we're not too worried about that. The board have made it clear that the club are in a good stable position. There aren't major resources to go around, but it's stable and it's in good health financially at the moment. It would have to take a very large fee or a very large offer for the board to consider that. At the moment we are focused on the boys being with us and what we're looking to achieve.
For now, is it all about managing expectations and making sure no-one gets carried away?
I think the main thing is managing the outside expectations. We have our own expectation and the players have shown already that their minds are set on going hard in every game and trying to maintain their performance levels, so that's our expectation and we'll see where that takes us.
Have you allowed yourself to contemplate what could happen? It's important to set targets isn't it and there is no harm in setting them high?
Our target is the next game, it always is. We had an agreement in the summer about that, be ready for the next game and be ready to go hard in the next game. Anything is built one step at a time, so that's what we'll be looking to do.
Sean Dyche was talking to Sky Sports on behalf of Sky Bet, the Title Sponsor of The Football League.
For a wide range of match odds and specials on all Football League matches and a £5 free bet every week, go to skybet.com.