Testing period
With Steven Gerrard ruled out for the next month, Sam Drury looks at how Liverpool will cope in midfield in the short term and when the captain eventually hangs up his boots...
Last Updated: 13/12/13 1:07pm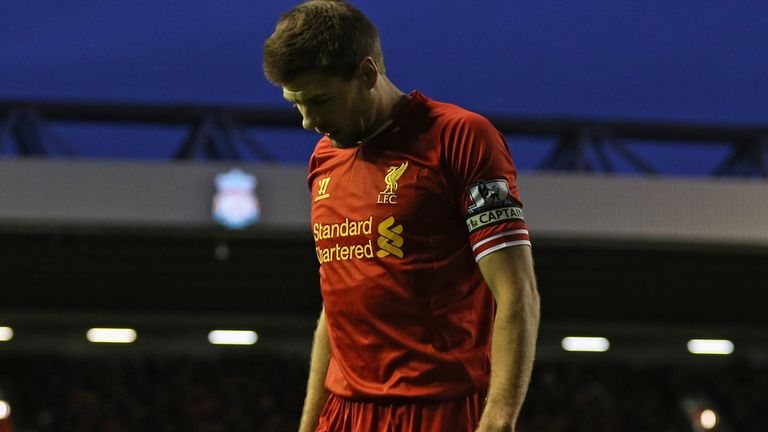 It is easy to see why some find it hard to imagine a Liverpool side without the talismanic midfielder. Indeed for a new generation of Reds supporters the Huyton-born star has been a fixture of the team throughout their lifetime.
Yet Gerrard will be 34 shortly after this season comes to an end and the harsh reality for Liverpool fans around the world is that he cannot go on forever. Brendan Rodgers' side will have to learn to cope and adapt to life without the iconic number eight sooner rather than later and, with Gerrard ruled out for at least month, they have the opportunity to prove they can do just that - at least in the short term.
Liverpool travel to Tottenham this weekend but a hamstring injury picked up in the 4-1 victory over West Ham means the England skipper will have just a watching brief as the two top four contenders face off at White Hart Lane. He is also likely to be absent for the small task of a further two away trips between Christmas and New Year against Manchester City and Chelsea, as well as home games with Cardiff and Hull either side of those fixtures.
The midfield has been the subject of debate amongst Kopites throughout the season and how Liverpool manage without Gerrard during a run of four games in 11 days over the festive season could go a long way to determining whether the Reds can be seen as title challengers, top four contenders or whether they are set for another season away from Europe's elite.
It could also be a chance for Rodgers to see what a Liverpool team of his without Gerrard might look like and in which areas they will most need to improve once he does hang up his boots. Indeed, there have been suggestions that the Liverpool manager has had to compromise slightly on how he wants his team to play in order to accommodate the Champions League winning skipper.
How much truth there is to that is unclear but, nevertheless, how the Reds line up in the middle of park in the next few games will be worth keeping an eye on.
For the majority of the season Gerrard has been partnered by Lucas Leiva but after a series of indifferent showings the Brazilian was dropped to the bench for the recent home matches with Norwich and West Ham.
Joe Allen came in and impressed, in particular in the win over the Hammers. The Welshman was composed, boasts a greater range of passing and is noticeably more mobile than the man he replaced. However, after Gerrard was withdrawn on Saturday, a pairing of Lucas and Allen in the centre of midfield initially struggled.
Allen had been excelling in a deeper role but Lucas' arrival saw him moved further forward and it took them a few minutes to adapt before the duo looked comfortable, after which Liverpool scored two late goals to seal the win.
In all probability it will be this combination that lines up against Tottenham with Philippe Coutinho and Jordan Henderson the men most likely to start in the advanced roles in front of them. Nominally, Henderson will cover the right hand side with Coutinho doing similar on the left, but, with the one natural wide man Raheem Sterling seemingly having the freedom to switch wings, both players are able to drift centrally on a regular basis, in particular when Sterling is occupying their wing.
It is a fluid three in a 4-2-3-1 formation but all three are willing and able to press and close down defenders when the ball is lost - one area in which Liverpool may improve without Gerrard. At 33-years-old he is not able to cover the same ground as he once could, certainly not over 90 minutes.
The trio of Allen, Lucas and Henderson in particular are well suited to an intensive pressing game and whilst it is something that Liverpool have started to re-introduce in the past couple of games, it is possible that the added energy in midfield could see its effectiveness increase.
The statistics certainly back-up the notion that the midfield may be a better unit out of possession than with Gerrard in the side. Allen, Lucas and Henderson all put in challenges more often that Gerrard whilst the former two also recover the ball on a more regular basis. The down side comes with the fact that Lucas commits a foul on average every 37.51 minutes in comparison to Gerrard's every 85.93 minutes.
This can be put down to the Brazilian going in for tackles on a far more regular basis but equally it could be argued that there are times when jockeying the opponent may be the better option rather than risk committing a foul, as he is prone to do.
In most aspects though, Liverpool look set to become a more cohesive unit defensively in the middle of the pitch. When in possession though, it is a very different story.
Whilst both have had to play in the more defensive role of the deeper midfielders, Lucas and Allen's chance creation from open play doesn't come close to Gerrard's. Add in the chances Gerrard has created with his excellent set piece delivery and the loss to Liverpool is even greater. One positive though comes from Henderson who, in his more advanced role, has actually created chances more frequently than his captain.
His range of passing is another thing that Liverpool will miss. Gerrard's ability to switch the play with one swift swing of his right boot is something the other midfielders at Rodgers disposal simply cannot do with the same consistent accuracy.
Allen and Lucas, most would assume, also carry less of a goal threat than Gerrard. As a threat, few would argue but in terms of actual numbers from open play, none of them have actually found the net. Gerrard has scored three times, twice from the penalty spot and one free-kick but as with the men expected to replace him, zero from open play.
The deeper role he now plays partially explains this but what Liverpool will surely require when Gerrard does retire is a goal-scoring midfielder. Over the years the midfielder has always chipped in with goals and having a player who can fulfil that role once he's gone is crucial for the Merseysiders.
The lack of goals within the Liverpool midfield is evidently something of a worry for Rodgers, his attempts to sign Henrikh Mkhitaryan in the summer prove as much. The Armenian struck over 20 goals from midfield for Shakhtar Donetsk last season and would have provided much needed goals to a midfield sorely lacking them.
As it was, the lure of Champions League football with Borussia Dortmund saw him opt for Germany over England, highlighting something that will be key if Liverpool are to find a replacement of the necessary quality when Gerrard does call it a day. Of course, any like for like replacements of similar quality will be hard to find. Indeed, if such a player does exist, without Champions League football the chances of Liverpool persuading them to come to Anfield over the likes of the Allianz Arena, the Camp Nou or even White Hart Lane would be extremely slim.
More likely is that Rodgers and Liverpool will look to bring in a player more naturally suited to playing in the way which the Ulsterman favours. Arguably Liverpool already possess such players to fulfil the more attacking role. Coutinho for one, as well as youngsters Luis Alberto and Suso, currently on loan at Almeria, look to fit the bill and providing they can develop as Liverpool hope, they could save the club from having to spend big.
What is for sure though is that both in the next few weeks and in future, they will struggle to find a player as influential as Gerrard capable of inspiring his team-mates and intimidating opponents in equal measure.