King of the hipsters
Hull City manager Steve Bruce is seen as an unfashionable football figure but as he continues to bring tactical variation and intriguing signings to the Premier League, Adam Bate makes the unlikely case for him to be seen as a hipster icon. Stick with it...
By Adam Bate - Follow @GhostGoal
Last Updated: 29/12/13 9:38am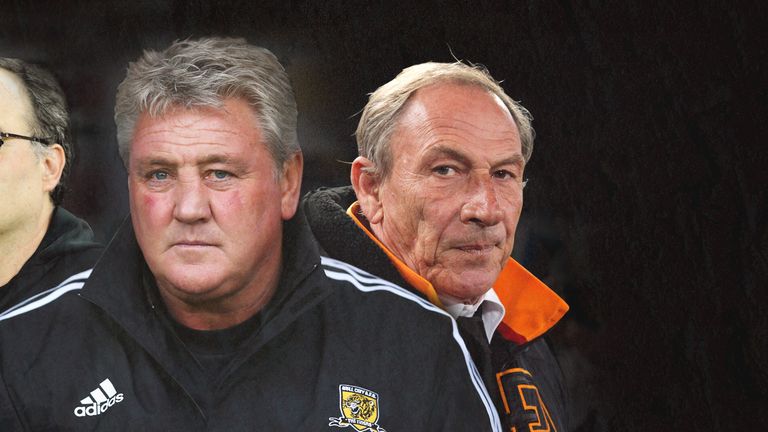 Steve Bruce is unfashionable. He's 52 and a familiar - if asymmetric - face in English football, having managed seven clubs in a 15-year management career. Unlike hipster icons such as Zdenek Zeman, Marcelo Bielsa and Jurgen Klopp there is no rush to emulate his manner on the sidelines or the playing style of his teams. Brucistas will not be dropping his name on coaching courses in order to gain easy credit as a progressive force for good in the game. But something strange is happening at Hull City.
The urban dictionary defines a hipster as, amongst other things, an independent thinker who rejects the culturally-ignorant attitudes of the mainstream. The tight-fitting jeans, old-school sneakers and thick-rimmed glasses might have to wait but Bruce has proven himself a manager committed to doing things his own way at the KC Stadium since his low-key appointment in the summer of last year.
Not for Bruce the pesky accepted wisdom of the ages such as 'Don't pick your own son, he's rubbish'. Not when Alex Bruce is part of the last defence to keep out Luis Suarez (he'd scored six in four prior to that and a fairly silly eight in three since). And for those who were subjected to Hull's goalless draw with Stoke on Sky Sports at the weekend - young Alex present and correct in the back three - just remember that every true hipster knows that goals are overrated.
Tactical variety has been the most obvious feature of his individual approach. The homogenised methods of the haves and have-nots of the Premier League has long seemed a peculiarity, with 4-4-2 giving way to 4-2-3-1 with lemming-like inevitability. Surely the lesson of David and Goliath is not that the result is a freak but instead that the underdog posed a new problem. And yet, Roberto Martinez's initial success playing three at the back with Wigan was seen as inspirational rather than influential.
Bruce might not have found himself compared to the charming Spaniard too often - he led Wigan to 11th in his only full season in charge, in contrast to Martinez's four-year high of 15th for starters - but tactical variation is something both men share. In fact, it is difficult to recall a promotion more dependent upon a manager's formation than Hull's second-place finish in the Championship last term.
Every other team in the top 12 that year scored more goals than the Tigers but Bruce had identified a way to accumulate points and outfox the rigid banks of four that routinely emerge from Championship tunnels. The benefits of a back-three when up against two strikers are well-documented and that spare man helped Hull boast a miserly defensive record that saw them notch eight 1-0 wins over the course of the campaign.
Dare to be different
Of course, the real test of Bruce's nous has come in the Premier League where the 4-2-3-1 is king. Crucially, he has shown a willingness to adapt his plans - to dare to be different. When his Hull side were pitted against Jose Mourinho's Chelsea in the opening game of the season, Bruce elected to risk obvious criticism and abandon his established system at the first time of asking.
"We've predominantly played three at the back last year and been very successful doing that," he told Sky Sports. "People will probably be questioning why we've moved to a back-four. But very few teams now play with two strikers up the top end of the pitch, that's what we're experiencing. So we've gone with a 4-3-3."
While Chelsea claimed the points, Hull performed impressively and, well into November, Manchester City and Tottenham were the only other teams to inflict defeat on his newly-promoted side. Flexibility was key. Their first win came against Norwich with a 4-5-1 but it was a 4-4-2 that accounted for Newcastle at St James' Park. By the time Liverpool were the visitors on the opening day of December, it was that old friend, the back-three, that was bamboozling Brendan Rodgers.
"He's found a formation in 3-5-2, which a lot of managers wouldn't play, and it's been brave," Tigers forward Sone Aluko told the Hull Daily Mail last season. "People have criticised it but he's stuck with it. If the players don't believe in what we do then there's no point in turning up, you'd get beat every week. He's given us a formation to work with and we believe it can win us games. That gives you a lot of confidence."
Aluko himself was a shrewd free transfer acquisition in the summer of 2012 and a player who can fulfil a variety of roles for the team - something Bruce has had to rely upon in building a squad capable of adjusting to his demands. Maynor Figueroa was purchased for his ability to switch between full-back and left-sided centre-back and is also a reminder of Bruce's imaginative work in the transfer market, having first arrived in England from the Honduran leagues back in 2008.
Compatriot Wilson Palacios was another to make the journey from Honduras to Bruce's Wigan first-team, while Colombia international Hugo Rodallega was signed from Mexican club Necaxa. These were not the stodgy signings of a coach limited to the environs of these shores - and the success stories continue. In the summer, Hull paid £1.8million for Evian forward Yannick Sagbo and the 25-year-old has responded with a series of eye-catching performances.
"You have to admit you're always taking a bit of a gamble when you're signing somebody from France," Bruce acknowledged earlier this month. "Can they adapt quickly and settle down. It's a different game (but) Yannick is adapting well." He has also made effective use of the domestic loan market with the signing of England international Jake Livermore from Spurs. Even Danny Graham is back on the scoresheet.
Signings from abroad, loan bargains from closer to home and those looking to find their way again... It's a disparate bunch at Hull City but that last group represent perhaps the most intriguing. Aston Villa once paid in excess of £8million for Curtis Davies but Bruce found him languishing in the Championship and the 28-year-old defender has been a revelation this season, even sparking talk of an England call-up.
Ditto Tom Huddlestone. Hull's record signing has long been regarded as a glorious talent but as the years ticked by the odds on him fulfilling such promise lengthened. Dragging his burly frame around the midfield, Huddlestone had looked something of an anachronism in the fast-paced world of the Premier League. But there was always that spectacular range of passing to bring joy to the neutral - arrowing balls up the field with bewildering accuracy.
All that was needed was a manager to indulge such talent rather than fill his midfield with scuttling scrappers. Perhaps a foreign visionary willing to place the emphasis on moments of high quality rather than the endless hustle and bustle of the English game. Instead, it is that man Bruce who has offered Huddlestone the opportunity to showcase his talents by placing him at the fulcrum of Hull's team. It all hints at an open-minded attitude.
"I had a chance to speak to Steve Bruce and I liked his ideas, his role for me within the team, and what he wants the team to do and the way he wants them to play," said Huddlestone upon signing for Hull, recently adding: "He has a lot of belief in me and hopefully I've implemented what he wants. I think we've shown we're not one of those newly-promoted teams who just lump it forward. We have good footballers who are all comfortable on the ball."
Tactical innovation, imaginative business in the transfer market and a willingness to give ball-playing midfielders a platform denied them at more fashionable clubs. And yet, some still see Bruce as yesterday's man. "There was an article that said I was not internet-friendly and how could I be a Premier League manager?" he revealed in an interview with The Guardian back in April. "Those slurs are just an insult. You get tarred with that tag."
What's in a name? Well, Hull supporters know a thing or two about the importance of such matters right now. But when it comes to the team's manager - like the city itself following the announcement that it will be the UK's culture capital in 2017 - perhaps the time has come for things to change. Challenge the perception. Say it out loud. Steve Bruce: Hipster icon.